New York's Top Children's Fashion Trends
New York's Top Children's Fashion Trends
New York Fashion Week, also known to fashionistas big and small as NYFW, just ended. Loving fashion and great style the way we do at Kidpik, we decided to take a page out of one of the industry's biggest events and see how New York's top children's fashion trends can be incorporated into your closets right now!
Combing through everything from runway looks to street style, here are a few of our favorite trends that even the smallest set can get from shopping at Kidpik.
1) TREATED DENIM: Classic with a Twist
Denim has always been a staple for everyone from rock stars to those who love a cool casual look. Runway designers are setting a new norm by adding a 'more-is-more' twist to this staple fabric. We're talking about dyed, acid-washed, and touches of metallic fabric that make denim outfits a showstopper.
In the world of children's fashion, Kidpik is leading the charge by offering denim in a variety of washes, colors, and styles. Boys can opt for pull-on knit denim pants and distressed skinny jeans, while girls will love the look of denim with pieces like an icon vest or a ruffle back denim skirt. If it's diversity you seek, Kidpik's denim selection has it in loads of combinations.
2) LILAC: The Cool New Color Code
When it comes to color, white has always been a staple for spring and summer. But this time, NYFW introduced us to a new pastel player—lilac. The runway showcased this hue on a dress with floral lace, a ballgown skirt and a trench and even some crochet pieces.
Kidpik has already taken note and introduced a Lucky in Lilac pre-styled box. Embrace this color in a variety of ways by grabbing a ruffle yoke jumpsuit and a prism stripe fleece cardigan, and eyelet ruffle top, among other things. Pale purple is the shade to rock, especially if you are aiming to keep your little one at the forefront of fashion.
3) THE PREPPY PLEATED SKIRT: A Nod to Classic Street Style
The preppy pleated skirt made a significant appearance in street styles during NYFW. It's no wonder that this look is trickling down to the younger generation as well. Kidpik offers a variety of styles that follow this trend, ranging from traditional simple pleated skirt with stripe elastic waistband to metallic versions and even floral and plaids.
The choices are plentiful, ensuring that your child can sport this classic look with a modern twist.
4) Bows are Back: The Ultimate Accessory
Taking cues from 'coquette' and 'balletcore' trends seen on the fashion runways in New York, bow detailing has become an important fashion element. Designers are integrating bows not just as hair accessories but as a central part of tops, skirts, and even handbags.
Kidpik has embraced this trend wholeheartedly, offering bows on tops, shoes, dresses, and barrettes. The bows range from small, subtle details to voluminous, statement-making pieces that add a touch of sophistication or playfulness depending on the style.
5) The Mary Jane Flat: Comfort and Style Go Hand in Hand
The line between runway fashion and street style has always been fun to discover. This year it got exciting the resurgence of Mary Jane flats. Brands like Chanel showcased luxurious versions of this classic footwear. And we understand why. They combine practicality, a touch of polish, and a dash of whimsy. These are the same elements that are key for children's footwear.
Kidpik Mary Jane flats and sister styles like ballet flats for girls that come in colors like black, pink, and more, embellished with just the right amount of sparkle. These flats make sure that your little princess does not have to trade comfort for style and ensure a perfect head-to-toe look.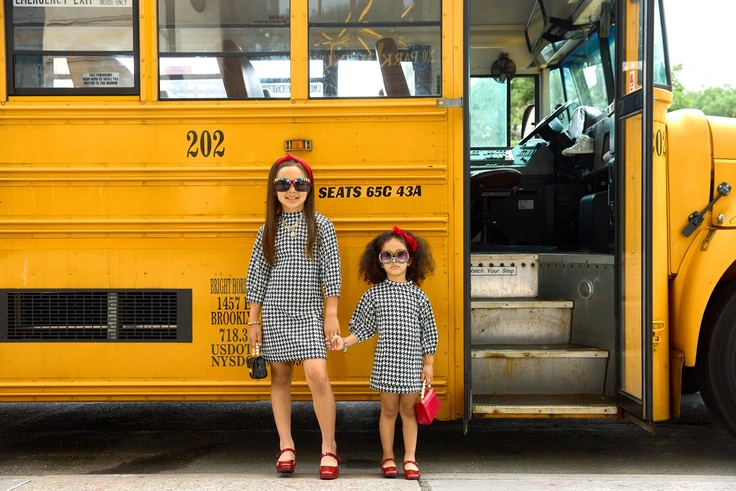 Ready to try Kidpik?
Tell us about what your child loves (and doesn't love!) and our stylists will do the rest. They'll receive customized, surprise fashion delivered on your preferred schedule to unbox and try on at home.
Get Styled
Skip, pause, or cancel anytime.