Kid's Holiday Fashion Trends: Celebrating Memories, Moments & Individual Style
Kid's Holiday Fashion Trends: Celebrating Memories, Moments & Individual Style
As the first leaves of fall have gracefully fallen to the ground and the unmistakable scent of festivities fills the air, families everywhere are gearing up for the much-anticipated holiday season. Among the merry chaos of preparations, one activity that often takes center stage is choosing the perfect outfits for special occasions and picture-perfect moments.
It's not just about the items you wear but the memories you make when wearing those cute custom outfits; it's about treasuring these memories, forging bonds, and creating tales that last a lifetime.
The Historical Significance of Dressing Up
Throughout history, dressing up for special occasions has been a celebrated tradition across cultures. Clothing has always been a marker of time, events, and societal values. In many ways, our ancestors marked significant life events, from births to weddings, with specific attire.
The holidays are no different. They offer a break from the ordinary and invite a celebration of the extraordinary, and our attire reflects that. So, let's welcome it and dress up for the season with us.
The Magic of Matching Outfits
Today, family-matching outfits have gained immense popularity. From matching sweaters to coordinated pajama sets, families worldwide are embracing this trend. But what's the allure? For starters, it brings a sense of unity. It's an external representation of the family unit, saying, "We belong together." The giggles shared when everyone dons their matching sets, the fun family portraits, the group selfies - it's about togetherness.
At Kidpik, we follow the trends, match trends we like to wear ourselves and make them within reach for your kids. You can be on trend, matching your kid's outfit.
Creating New Memories and Traditions
The holidays present countless opportunities to start new traditions in the flurry of festivities, from fall fests to light shows. It could be setting a theme each year, dressing accordingly, or scrolling for outfits together as a family activity. These traditions become the backbone of cherished memories.
Children might not remember every gift they received, but they'll undoubtedly remember when the entire family dressed for the occasion and shared a great meal.
More Than Just Outfits: Building Bonds
Beyond the threads and fabrics, dressing up is an opportunity to bond. It's a collaborative effort. Parents and children come together, discussing, planning, and eventually choosing their unique outfits. It's about listening to each other's preferences, laughing over silly choices, and respecting individual styles.
Savoring Each Celebration
With numerous events lined up, from dinners to dress-up parties, it's essential to be truly present. The holidays can blur if we get caught up in the hustle. Instead, it's about savoring the small moments - the awe in a child's eyes witnessing their first light show, the heartfelt conversations over dinner, or the shared laughter.
Chronicles of the Digital Age
Photographs are our windows to the past. While posed pictures have their charm, candid captures often hold more emotion. They show genuine reactions, spontaneous dances, hearty laughs, and moments of contemplation. These unscripted snippets, set against the backdrop of shimmering outfits, become treasures to look back on. At Kidpik, we will ensure your custom picture-perfect look is ready in seconds.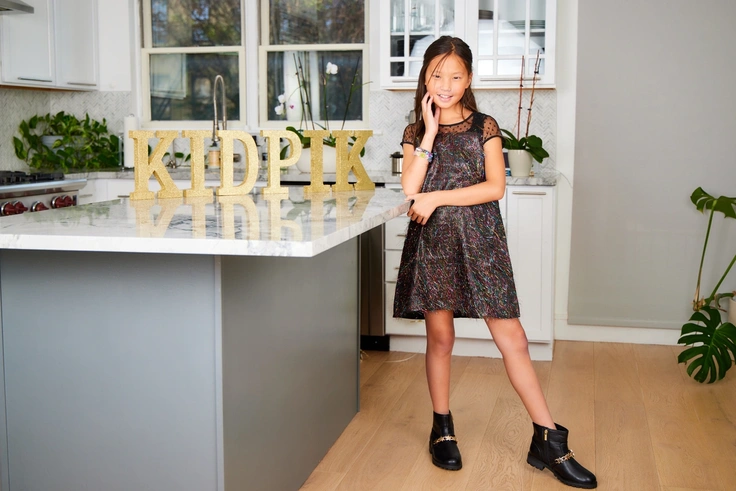 Crafting a Style Statement for Every Festive Event
As the festive season rolls in, there's an inherent desire to look our best. But it's not just about looking good; it's about feeling incredible. The choice of attire can set the tone for the festivities, bringing out a person's unique style and personality.
Kidpik's Fashion Ethos: Celebrating Individuality
At Kidpik, we understand that every child has a distinct style. Our collections aren't just about following the latest trends and allowing every child to express themselves. Whether it's a sequined dress that sparkles brighter than the Christmas lights or a comfortable hoodie perfect for a night of Hanukkah celebrations, Kidpik has something for every occasion and every child.
Accessorize to Amplify
While the outfit acts as a canvas, accessories are the brush strokes that complete the picture. The right accessory can transform a simple outfit into a masterpiece. Whether it's the dainty necklace, the festive headband, or those sparkling shoes, each piece adds a touch of magic. Encouraging kids to choose their accessories can also instill a sense of responsibility and an understanding of coordination and style.
Involving Kids in the Fashion Journey
One of the most memorable aspects of the holiday season is the anticipation and preparation leading up to it. Involving kids in choosing their festive outfits can be an enlightening experience for them. It's an exercise in decision-making, understanding budgets, and realizing the value of things. Such activities provide a practical lesson in responsibility and make kids feel valued and heard.
Fostering Creativity and Imagination
The festive season is a great time to foster creativity. Why not turn dressing up into a fun project? Let kids mix and match, come up with themed outfits, or even add their personal touches with DIY elements. This adds a unique touch to their outfits and keeps them engaged and excited.
Kidpik's Commitment to Fashion Excellence
Fashion is an ever-evolving landscape, and at Kidpik, we pride ourselves on staying ahead of the curve while ensuring that our young customers feel confident and stylish. We meticulously craft every collection, considering the children's unique personalities who will wear them.
Encouraging Self-Expression
Clothing is more than just fabric; it's a canvas for kids to express themselves. Kidpik believes in nurturing this expression by offering many choices that cater to different tastes. Whether your child is into bold patterns, prefers solid hues, loves ruffles, or opts for minimalist designs, Kidpik has it. Every piece encourages kids to be themselves unapologetically.
Interactive Fashion Fun
One unique aspect of Kidpik is the interactive fashion experience we offer. We encourage kids to be a part of the fashion conversation. This could involve online quizzes to find their style preferences, fashion challenges where they can style an outfit and share it on our platform, or even fashion craft ideas they can try at home. The idea is to make fashion fun, interactive, and a medium of learning and growth.
Quality that Speaks Volumes
At Kidpik, every stitch tells a story of dedication. We understand that kids need durable, comfortable, and stylish clothing that stands the test of time and play. Therefore, we invest in quality materials and craftsmanship. Our pieces are designed to look good and provide maximum comfort, ensuring that kids can play, explore, and enjoy their festivities without a hitch.
The True Essence of the Festive Season
As we wrap ourselves in shimmering outfits and indulge in the festivities, it's vital to pause and reflect on the true essence of the season. Beyond the glitz and glamour, it's a time for gratitude, love, and reflection. It's a time to give back, spread joy, and cherish life's simple pleasures.
Celebrating with Kidpik
With Kidpik by your side, every moment becomes a celebration. Our curated collections ensure your child looks their best and feels incredible. From the intricate detailing on our outfits to our commitment to quality, every piece is a testament to our dedication to making your child's festive season memorable.
The Journey Ahead
As the year comes to a close and we stand at the threshold of new beginnings, let's carry forward the lessons learned, the love shared, and the memories made. And as we step into the future, let's do it in style, with confidence, and with Kidpik.
Remember, every outfit tells a story, and with Kidpik, it's always one of joy, love, and celebration.
Ready to try Kidpik?
Tell us about what your child loves (and doesn't love!) and our stylists will do the rest. They'll receive customized, surprise fashion delivered on your preferred schedule to unbox and try on at home.
Get Styled
Skip, pause, or cancel anytime.