7 Summer Wardrobe Colors and Patterns That Our Stylists are Obsessing Over
7 Summer Wardrobe Colors and Patterns That Our Stylists are Obsessing Over
As summer brings along its warmth, it also brings a vibrant color palette that we eagerly anticipate each year. From the shades that remind us of sunsets to patterns inspired by tropical paradises. At Kidpik, our stylists have identified seven trending summer wardrobe colors and patterns that they're obsessing over for your little ones.
1. A Splash of Color
Embrace the energy of summer with vibrant shades of orange and turquoise. These colors pop against the bright summer light, bringing a playful spirit to your kid's wardrobe. Think of dresses in bold orange, turquoise tees paired with denim shorts or skirts, or a fun combination of both colors. These shades scream 'fun in the sun' and are an instant mood booster.
2. Neutrals for the Ultimate Basic
While neutrals are traditionally big during fall and winter, they make for excellent basics during summer too. Khaki shorts, denim dresses, and versatile white sneakers offer a balance to the vibrant colors of the season. Neutrals also provide a blank canvas, allowing your child's personality and style to shine. They can be paired with bold colors and patterns, making them an essential basic in your kid's summer wardrobe.
3. Barbie Inspired Looks
This summer, let's take a fashion cue from everyone's favorite fashion icon - Barbie! Embrace the pinks, sparkle, and everything fashionable that defines Barbie's style. These colors aren't just fun and girly. They're also cool, stylish, and a nod to the fashion-forward feeling that Barbie has represented for decades.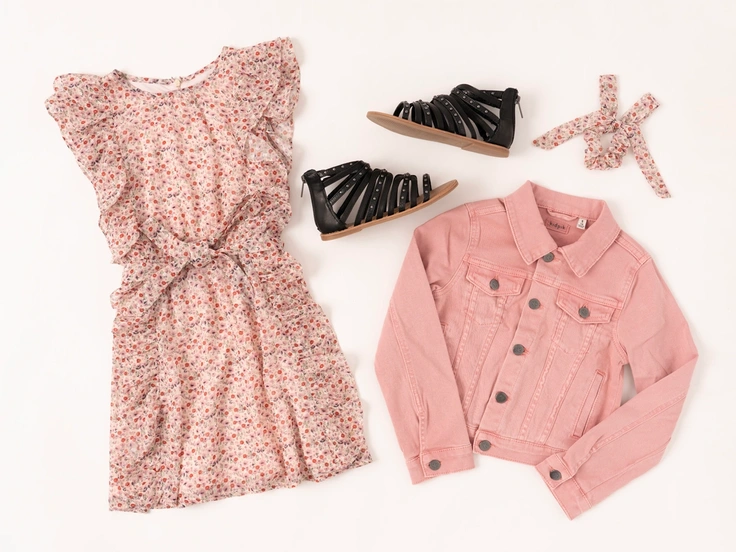 4. Americana - Red, White, and Blue
Nothing says summer like the classic combination of red, white, and blue. For boys, this color scheme translates into the "American Athlete" pre-styled box with graphic tees, striped shorts and front zip jacket. For girls, it's all about "Red, White and Cute." Think of chic coordinating tops and bottoms – and don't forget the footwear! It's a color palette that's perfect for those Independence Day to Memorial Day celebrations or simply to embrace the sunny summer spiritfilled with BBQs and days at the pool.
5. Tropical Prints are like Paradise
Who doesn't love a slice of the tropics in their wardrobe? Tropical prints are all about lush florals, vibrant colors, and a breezy vibe. For boys, we're moving beyond the traditional Hawaiian shirts and incorporating these prints into graphic tees and solid summer hoodies for cooler nights. From palm trees to tropical flowers, these patterns will make every day feel like a pool day!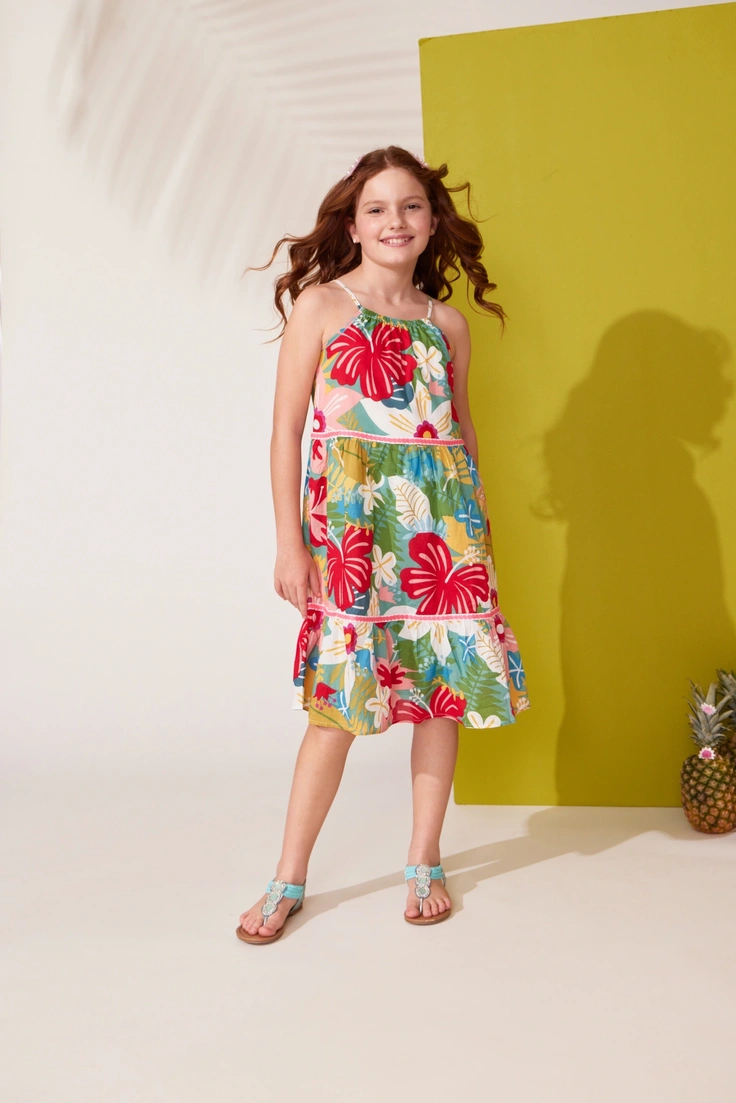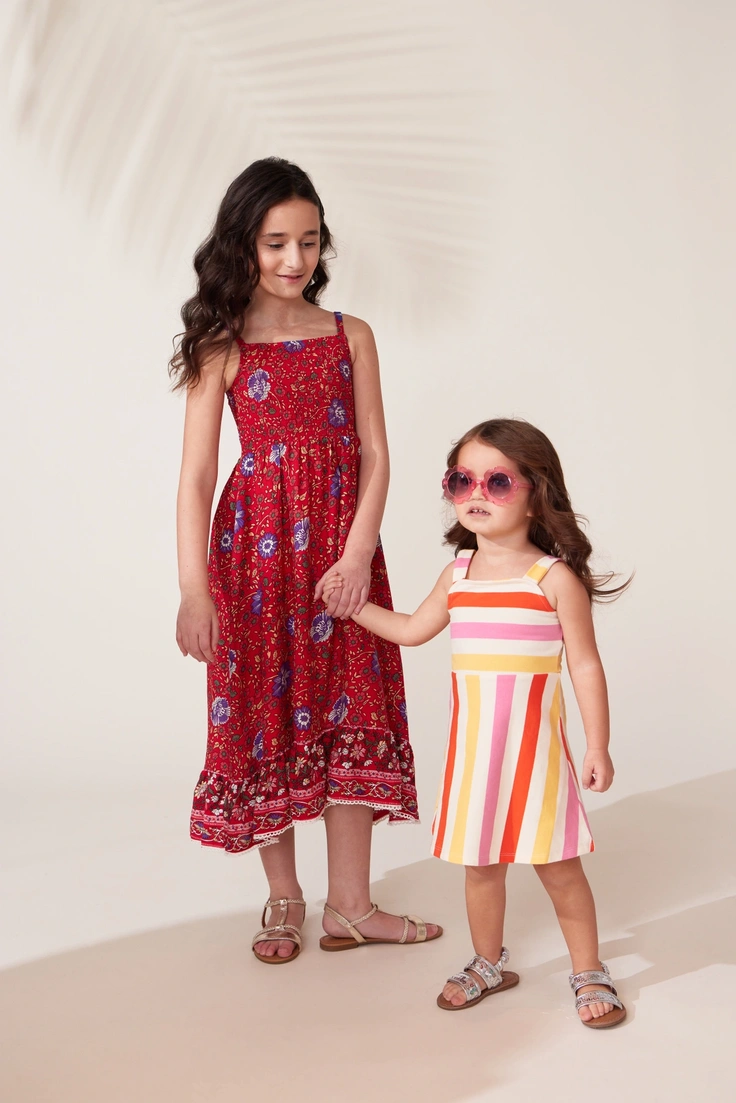 6. Stripes with a Stylish Twist
Stripes are a classic pattern that never goes out of style. This summer Kidpik's stylists are giving them a colorful twist. Imagine stripes in bold orange, bright yellow, or a mix of both. These fun patterns offer a fresh take on a timeless design. Whether it's a striped dress or a cool tee, your child will look effortlessly stylish.
7. Fresh Citrus Colors
Lastly, nothing embodies the freshness of summer like citrus colors. From tangy oranges to zesty yellows, these shades add a refreshing touch to any outfit. A two-piece set in clementine, acolorful yellow tee, or a mix of both.
What's great about focusing on these color trends is that they allow you to showcase your child's personal style. Embrace the season of sun, surf, and style with Kidpik's Summer Collection - the perfect blend of fashion and fun!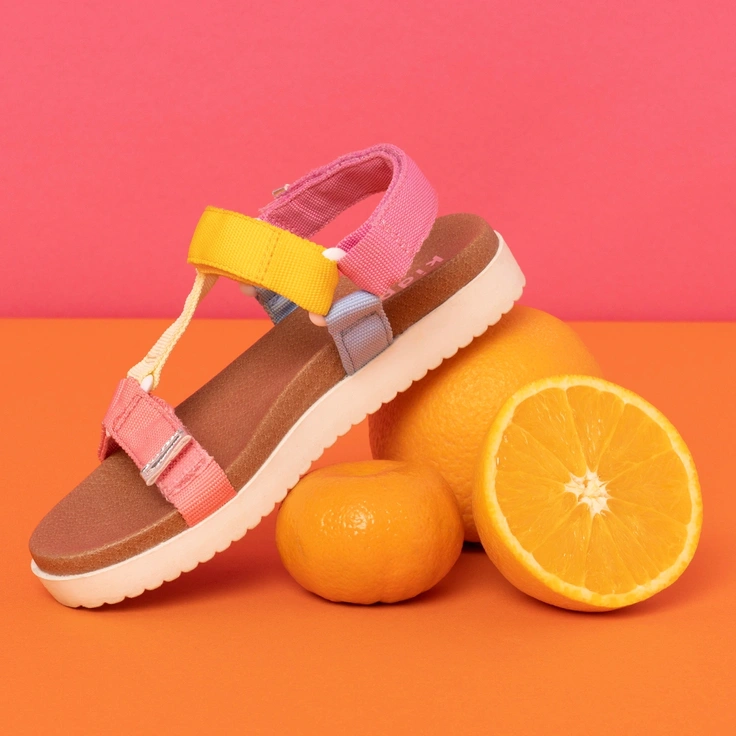 Ready to try Kidpik?
Tell us about what your child loves (and doesn't love!) and our stylists will do the rest. They'll receive customized, surprise fashion delivered on your preferred schedule to unbox and try on at home.
Get Styled
Skip, pause, or cancel anytime.