Teach Your Kid to Style: How to Mix and Match Patterns
Teach Your Kid to Style: How to Mix and Match Patterns
Mixing and matching patterns is so much fun, especially when you're putting together cute outfits for kids. We've got so many trending patterns coming through girl's fashion right now, and so many different styles to play around with. It's an exciting time for pattern lovers!
Patterns can be fun, but a lot of parents don't feel totally confident when it comes to styling patterns and creating cute outfits for their girls.
That's why we've put together this guide. We'll talk all about patterns and fashion for girls, including tips on how to encourage your girl to explore her style, feel confident with patterns, and have fun with kids' fashion! Do polka dots go with plaid? Does floral play well with animal print? We'll help you answer all these common questions and more with our list of 10 styling rules for matching patterns.
But first, let's talk about your girl…
Why Kids Love Patterns
It's important to try and see patterns from your kid's perspective, before you try to teach her to do anything with them. Because most young kids LOVE patterns. You might've already noticed this if your girl has a favorite patterned cute outfit. For kids, patterns are a fun way to express their style, wear what they love, and be themselves!
So as parents, we've got to be careful when we teach our kids about patterns because we don't want to squash any budding stylists or make them feel like their style isn't cool. Because it totally is! There's nothing cooler than a kid who's confident in her style and knows what she wants to wear.
The trick here is to gently encourage your girl to wear her favorite clothes in ways that make her feel comfortable and make her favorite patterns stand out and look even better than before. Because that lemon-print skirt deserves to shine!
Don't rush your girl – it might take some time. But if you get it right, your fashionista will be mixing and matching patterns like a pro in no time.
Look for These Current On-Trend Patterns
There are so many patterns to choose from when you're putting together cute outfits for kids. We've looked the current fashion trends and runways, and here are some of the patterns you'll see a lot of this season (and beyond):
All kinds of stripes

Animal prints

Camouflage prints

Check

Geometric prints

Large-scale

floral art

Patchwork

Plaid

Polka dots

Pop culture prints, like pineapples, ice cream cones, love hearts, and emojis

Snakeskin print

Tie die

Tropical florals

Watercolor prints
Patterns That Mix Easily
If you and your girl aren't feeling 100% confident with mixing patterns to create cute outfits for kids, this is the perfect place to start. Keep it simple, because simpler prints are easiest to mix. Prints like:
Animal prints

Check

Gingham

Houndstooth

Polka dots

Simple floral patterns

Stripes

Textured fabrics, like lace, broderie, and smocking
If a pattern is simple enough or super small scale (in that you'd struggle to see what it is from a few feet away), you can almost count it as a neutral and mix it with any other patterns you want!
Pattern Mixing for Adventurous Girls
Ready to be more adventurous? Or perhaps your girl LOVES pairing up different patterned styles? Try your hand at mixing patterns that are complex, like:
Bright and loud colors

Complex textures

Large-scale repeated patterns (like florals)

Lots of different colors
10
Style Rules for Matching Patterns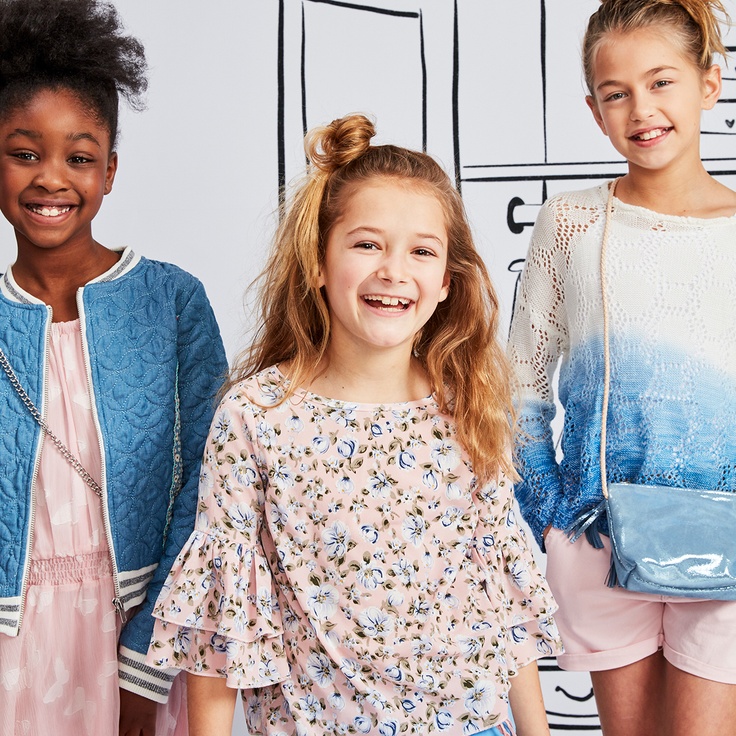 Whether you're feeling adventurous or not, you can always mix your patterns up and create some super cute outfits for kids if you follow these 10 rules:
1.
Match
C
olors,
N
ot
P
rints
Complementary colors and shades can really pull your girl's clothing and style together, even if the patterns are totally different. For example, she might include two patterns that are heavy on whites and greys, and one of those patterns might have an accent color, as well.
2.
Mix
in Solid Colors to Break It Up
If your girl is new to pattern mixing, the safest way to do it is make sure her two chosen patterns don't touch! Pop a solid color in the middle to break them up. For example, she might have a patterned tee under a block-color skater dress, and patterned tights layered under that.
Speaking of solid colors… here at kidpik, we've just announced a new way you can add basics to your wardrobe. And it's perfect for color blocking and giving you plenty of new options to style your patterns and create cute outfits for kids. It's called Basicsbykidpik! We'll share more on that in a little bit…
3.
Balance
Your Silhouette
Rather than putting all your girl's prints into one section of her outfit, try to spread them out.
✅ Print top + print shoes = cool!
✅ Patterned jacket + patterned skirt = yay!
❌ Patterns all up top but none down the bottom… nope!
4.
Pick
One Dominant Print and One Complementary Print
If your girl's going to mix two prints, let one be dominant and take up more space (like a dress, patterned tights, or a long cardigan) and let the other complement it (like a hat, shoes, accessory, or shorts).
5.
Think
Scale
One larger scale pattern can look amazing balanced out with a smaller scale print. That way, they're don't compete for attention.
6.
Invert
the Colors
One cool way to mix patterns is if they're the same pattern, but opposite colors. For example, thin white stripes on a black top, mixed with thin black stripes on a white skirt. That way, you create a super cute outfit for your kid that's matchy-matchy but not overdone.
7.
Accessorize
If your girl adds a belt, she can instantly tie together a patterned top with a differently patterned skirt or pants. Or add in printed accessories like a scrunchy, bag, headband, or even shoes!
8.
Keep
Prints On-Theme
If your girl loves flowers, then why not mix a floral print tee with a floral-patterned skirt? Or a stripe tee with stripe pants? It totally works and can create a really cute outfit for your kid.
9.
Think
Texture
Coordinating cute outfits for girls is about more than choosing the right prints – consider the fabric type and silhouette, too. Mix it up between flowy prints and tailored patterned pieces, and the outfit will look a lot more balanced overall.
10. The Most Important Rule? Be
Yourself!
That's right - you have our permission to break every other rule we've listed above!
So, if your girl wants to mix and match her favorite patterns, let her! There's something quite endearing about mismatched cute outfits. For kids, it might be the only time they'll get away with it. And anyway, it probably says a lot about your girl's personality – she's the kind of girl who knows what she loves and doesn't care too much about what people think. And to that we say…YOU GO GIRL!
Easily Match Patterns and Get Cute Outfits for Kids
Want to make your pattern matching super simple?
When you order a kidpik clothing subscription box, you get three fully coordinated outfits. That means everything in your girl's subscription box matches. So, patterns or not, you never really have to worry about figuring out what goes with what.
But chances are, if you've been a long-time kidpik subscriber, your girl's options to mix and match are endless! With a new monthly box of clothing coming to your doorstep every month, there are always new ways to pair clothing that you've just received with some of your girl's all-time favorites. So hopefully you'll find these tips useful to help you create cute outfits for your girl from her entire wardrobe.
Plus, there's a new way you can do even more mixing and matching with kidpik…
Add Basics
by kidpik
We're so excited to launch our brand new sister site, Basicsbykidpik! We've designed Basics by kipdik so that our amazing subscribers can purchase individual basics.
That means you can take that mix-and-match creativity further with even more options to play around with. Plus, get the best of both worlds. You'll know what Basics by kidpik items you're getting because your girl can choose exactly what she wants, but still enjoy the excitement and surprise with the 7 items in her monthly subscription box. You'll be all set to mix-and-match cute outfits for your kid to your heart's content, all without ever having to head to the mall.
Sign up for a kidpik subscription box
Or
Order Basics by kidpik direct TODAY!
What's Your Girl's Go-To
Pattern?
We find most girl's wardrobes feature a lot of at least one type of pattern… so tell us: what's your girl's go-to or favorite pattern? And how does she style it? Let us know your answer in the comments below!
Ready to try Kidpik?
Tell us about what your child loves (and doesn't love!) and our stylists will do the rest. They'll receive customized, surprise fashion delivered on your preferred schedule to unbox and try on at home.
Get Styled
Skip, pause, or cancel anytime.