Denim Dreams: Our 12 Favorite Ways to Style Girls Denim
Denim Dreams: Our 12 Favorite Ways to Style Girls Denim
Denim is a versatile, comfortable fabric that's equal parts fashionable and practical, making it perfect for kids' clothing! And this spring, it's all about denim.
Denim is such a classic look – it's been in fashion since… well, before your girl was born, that's for sure. Probably since before you were born, too. But if you're not used to styling your girl's denim outfits, you might not know where to start or how to finish off her look. Especially now that you can get denim in nearly any color of the rainbow! 🌈
Blue jeans are a classic item that can last forever in any wardrobe, but colored jeans are a great way to add a splash of color to your kids' clothing and wardrobe. With purple, red, green, and more denim colors, the options are endless! And now that we're hitting spring, it's the perfect time to get more colorful with your girl's wardrobe and help your girl express her individual style.
Current Denim Trends
This spring, you can expect to see a mixture of classic denim styles coming back in and new takes on how to wear denim. Watch out for trends like…
All the Colors!
We're loving the current trend towards colored denim jackets and skirts - especially brights and pastels. Your girl can wear these styles color on color or mixed with spring florals to pull out the pops!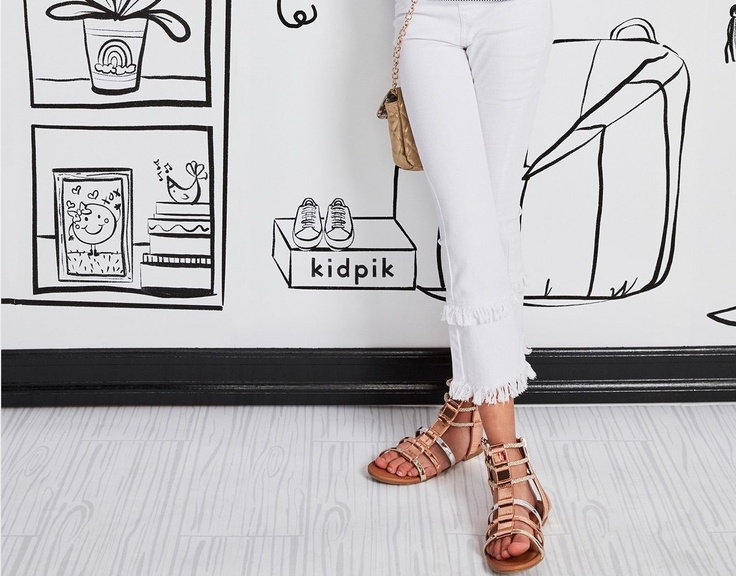 Traditional and New Denim Silhouettes
Expect to see a mixture of what's worked the last few seasons, plus some new shapes. And let's make sure the denim has stretch! When it comes to jeans, skinny jeans are still really on-trend, but the flare is officially back in style this season. Fringe and ruffle jeans add an extra layer, along with lace. Other on-trend embellishments are side taping, stones, and sequins.
Elastic waist jeans are also on the rise. Which is great for your girl because they're so easy to wear and a lot more comfortable than traditional zip jeans.
When it comes to skirt length, anything goes. Same for dresses – there are a huge mixture of silhouettes and shapes available!
Styling Your Girl's Denim
While denim on its own is fine, you can do so much more with it by dressing it up or down and pairing it with different pieces of kids clothing. So, let's cover some of our favorite ways to style girl's denim for different occasions so you can confidently help your girl nail her look every time.
1. Trendy Sneakers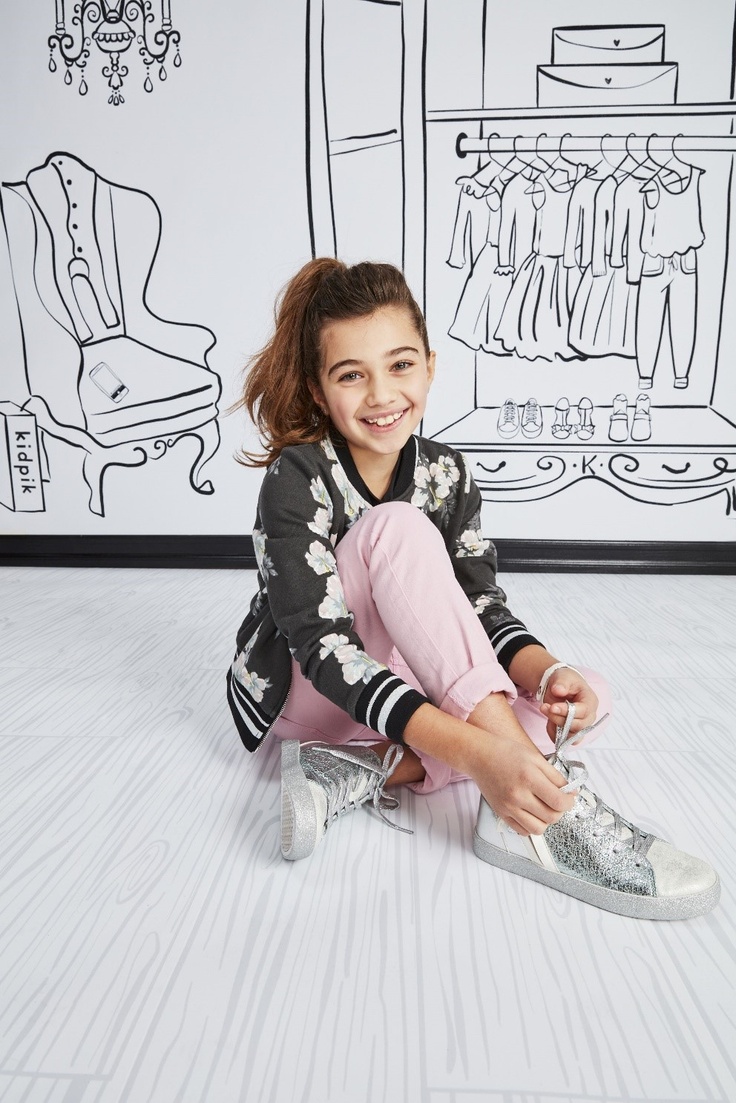 There's something so right when you pair denim with sneakers, you know? Whether it's colored denim jeans or an indigo denim dress, sneakers will complete your girl's look perfectly.
2. Embellished Cardigan
Embellished cardigans are a super fashionable kids' clothing look right now, and they go great with denim. The combo is very 90s, which trendy girls will love. The sweet cardigan style can soften your girl's silhouette, providing the perfect contrast to solid denim jeans, shorts, or dresses.
3. Sun Hat
It's spring – the sun is out, the birds are singing, and it's the perfect time for your girl to rock a straw sunhat. A classic straw hat will look super sweet paired with simple denim shorts or a denim dress. All it takes a few minutes for your girl to be all ready for a day at the beach or the park!
4. Layered Tee
One of our all-time favorite looks is a denim pinafore dress with a layered tee underneath. It ticks all the right boxes for kids' clothing – fun, playful, comfortable, and age appropriate. Your girl will love wearing her layered dress to school and playdates.
5. Colored Leggings
Colored leggings are a kids' clothing essential these days. If your girl's wearing a denim dress, she'll look super cute with colored or patterned leggings layered underneath. And they're perfect for transitioning her wardrobe from the cooler part of spring right through to the start of summer.
6. Ballet Flats
We love ballet flats with denim, whether it's long denim pants, a denim skirt, or a dress. Ballet flats are the perfect shoe for girls with a classic or girly style to pair with denim. They're sweet, feminine, and so comfortable.
7. Waist Belt
A waist belt is one accessory your girl won't want to be without, especially when wearing denim. Because denim isn't usually stretchy (although it can be), a belt can help give your kids' clothing some much-needed shape and help it fit better if your girl's between sizes. Your girl can use her belt to cinch in her loose denim dress at the waist, or hold her jeans or shorts up so they sit just right on her waist or hips.
8. Cross-body Bag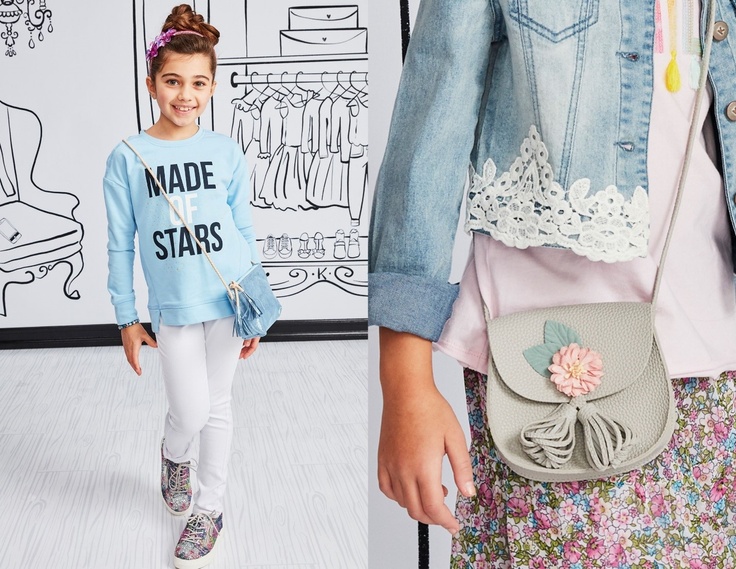 Denim looks good with nearly any accessory, but one of our absolute favorite looks would have to be denim with a cross-body bag. It's practical and stylish – but effortlessly casual, which is the exact look you want to go for your girl's wearing denim. A cross-body bag is also a great size for your girl to carry around some sunglasses, snacks, and a small bottle of water, which is always good to have on hand as the weather warms up!
9. Floral Scarf
A floaty floral scarf is the perfect spring kids' clothing accessory - and it looks amazing with all colors of denim! Match your girl's scarf to her denim or go for a contrasting pattern or color to make her colored jeans stand out even more. She can wear it around her neck, tied in her hair, or around her waist. The perfect way to add a sweet, girly twist to your girl's denim outfit.
10. Fitted Jacket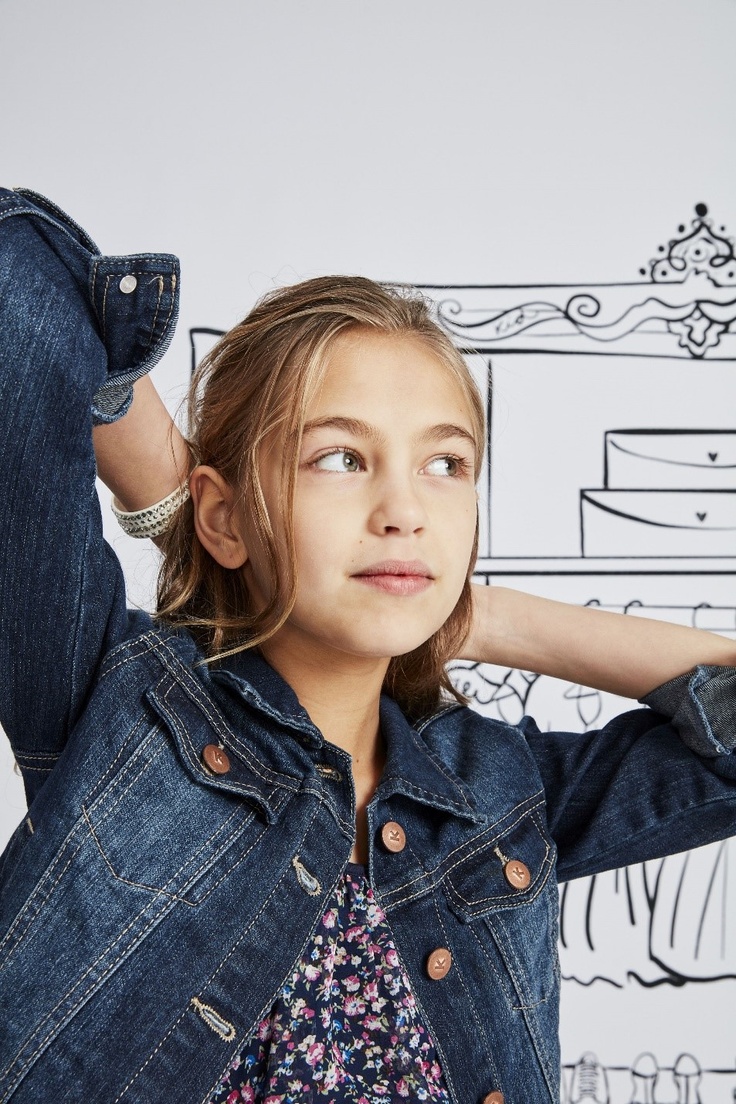 Here's the question… can you wear a denim jacket with a denim dress or denim jeans? We say… YES! If your girl loves denim, then go for it – denim on denim is totally in right now. But if not, any kind of fitted or cropped jacket will look great here. When it comes to denim kids' clothing, anything goes.
11. Waterfall Cardigan
If your girl's wearing fitted skinny denim jeans, a loosely flowing top or cardigan will provide great contrast in style and texture. For easy mix-and-match kids' clothing, a neutral colored waterfall cardigan (like white, cream, grey, or black) will let your girl's denim jeans shine, especially if she loves to wear colored denim.
12. Skater Dress
Last but not least, we love seeing girls layer their favorite dress over denim skinny jeans. Skater dresses are usually the perfect length for layering because they can show off your girl's jeans underneath. Plus, they're fitted up top for a flattering silhouette. Another tip – don't be afraid to mix trendy colored skinnies with your girl's favorite dress, either – you might be surprised at what looks she can pull off, so try experimenting with different colors and patterns and see what works.
Whether you tone your girl's denim up or down, always choose kids clothing items that are super comfortable for your girl and fit with her personality. Because that's the best part – your girl's denim is like a blank canvas, so you can make it work for your girl's unique style with just a few tweaks.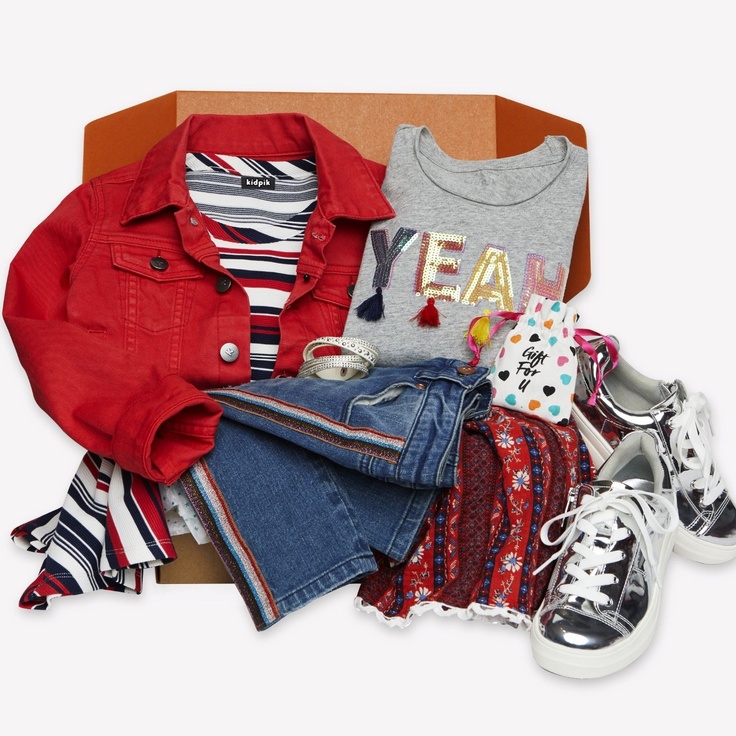 Easily Style Your Kid's Clothing with kidpik
We've given you a lot of styling tips here, but the easiest way to style your kid's clothing and denim is with kidpik. Here's why:
Our clothing subscription boxes bring you on-trend fashion every month (or as often as you decide)
It's 100% customized to your girl's unique personality and style
Each box comes with 7 items, creating 3 fully coordinated, mix-and-match outfits for girls
We include a pair of shoes and accessories to match your kid's clothes
Your girl can try everything on in the comfort of home, and gets 7 days to decide on what she wants to keep and what she wants to send back
Sound like what you need? Subscribe to get a kidpik monthly kids clothing subscription box and get new pieces each month to style with your girl's denim classics or colorful jeans! Plus, we have plenty of trendy girls' denim coming this season, so subscribe to kidpik today to make sure your girl gets the pieces she wants.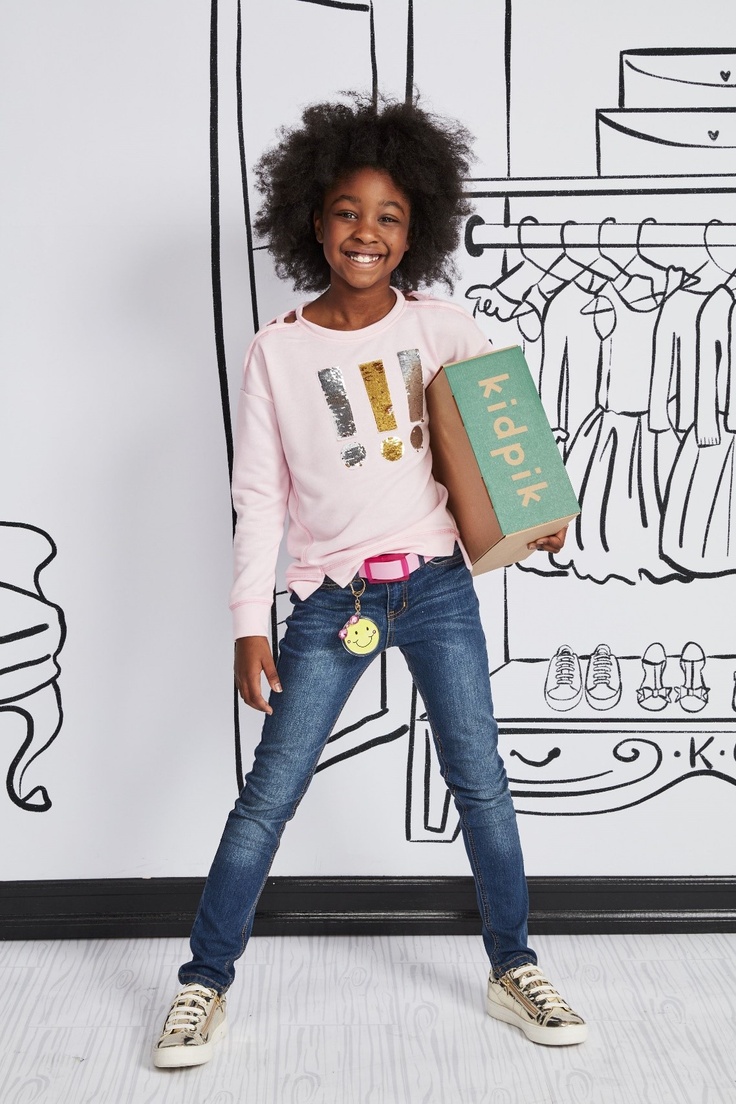 What's Your Girl's Favorite Denim Piece?
Is there a piece of denim clothing your girl wears over and over again? If so, what is it? And what's her favorite way to style it? Let us know your answer in the comments below!
Ready to try Kidpik?
Tell us about what your child loves (and doesn't love!) and our stylists will do the rest. They'll receive customized, surprise fashion delivered on your preferred schedule to unbox and try on at home.
Get Styled
Skip, pause, or cancel anytime.