Fun Custom DIY Sneakers Activity for Kids with Project Runway Star
Fun Custom DIY Sneakers Activity for Kids with Project Runway Star
This one is for kids and adults! At kidpik, we love to craft and create and are all about expressing your unique style! So, we teamed up with our friend, Layana Aguilar, designer, and founder of @TheFashionSquadSchool, for the perfect project to add a fun pop of color and unique style to your spring wardrobe. Join on us Thursday, April 1st on our Instagram page @kidpik to follow along as Layana inspires you to create your own, one-of-a-kind sneakers, with help from her daughter, Kaya.
These DIY sneakers are sure to be a hit with your kid. If you have younger ones, you can paint fun baby shoes for your baby or toddler. Take your kids' shoes to the next level by changing the color of the shoelaces and styling them with fun socks. Take a family trip to the craft store to gather your supplies and then get ready for some crafting fun!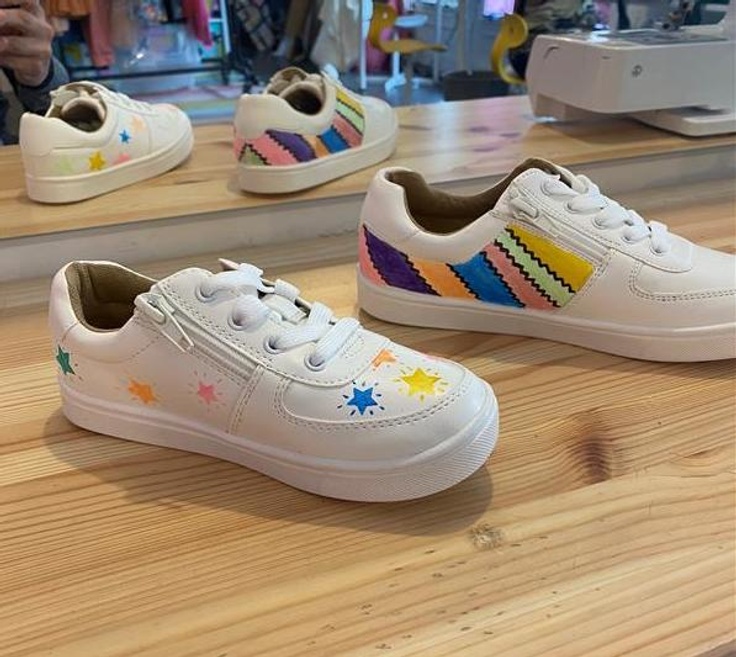 Here's what you'll need:
- Your creativity!
- An adult to supervise this activity *the paint, markers, and glue are permanent and small pieces are involved. This craft should not be done without adult supervision
- Your phone or device to follow along on @kidpik's Instagram channel
- White sneakers - Layana will use white pleather kidpik sneakers for the kids' demo and Daybreaks by Nina sneakers for the adult project. You can use canvas shoes or white canvas sneakers
- Angelus leather paint
- Fabric markers
- Paintbrushes + sponges
- Painter's tape
- Stencils
- Gems
- Permanent Glue
- Colorful laces
Total time: 45 mins
kidpik subscription boxes for boys and girls sized 2T-16 perfect for your budding fashionistas. Take our fun style quiz, and then choose to receive a box every 4, 6, or 12 weeks. Our team of expert stylists takes it from there by using your responses to style a personalized box just for your kid!
Ready to try Kidpik?
Tell us about what your child loves (and doesn't love!) and our stylists will do the rest. They'll receive customized, surprise fashion delivered on your preferred schedule to unbox and try on at home.
Get Styled
Skip, pause, or cancel anytime.