Girls' Clothes & Style Basics: What to Wear for a School Presentation
Girls' Clothes & Style Basics: What to Wear for a School Presentation
With the school year a couple of months in now, presentations and oral book reports will probably be due soon! If you're freaking out about what to wear or how to prepare, don't worry. You've got this. Check out our tips to get ready for your upcoming school events here!
All About
Girls' Clothing and Style
Tips for Events

When you're preparing for an event, it helps to think of every aspect so you feel ready for anything. And that includes what you'll wear! Here are some tips to get your style right every single time so you're ALL confidence.


Stick to your style

- don't try to be someone else just because you've got a special event coming up... just be yourself and don't stray TOO far out of your comfort zone.
Focus on comfort

- soft, comfy fabrics that keep you just the right temperature will help you get your presentation done without distractions.
Be visible

- bright colors, glitter, and sparkles will help you shine when all eyes are on you
Don't forget your accessories

- a sparkly necklace and a totally-you bag will take your outfit from okay to on-point.
Consider your colors

- depending on the event, you might want to go classic, or bright and loud!
Layer it up

- especially at this time of year, you'll want to be prepared with a sweater or hoodie to help you stay warm.
Shoes make the outfit

- don't leave your shoes out when you're planning what to wear.
Mix and match

- if you've got a few different events coming up, try to create some mix-and-match outfits from a few key pieces, so you get more wear out of them.
Pick Your Outfits
Now's the perfect time to start organizing your girls clothes to create outfits for those upcoming events and presentations. It's all about picking the right girls' clothes for style and comfort. Here are some items you might like to pair together to create trend-right outfits and looks...
Classic: Jeans + plaid shirt + boots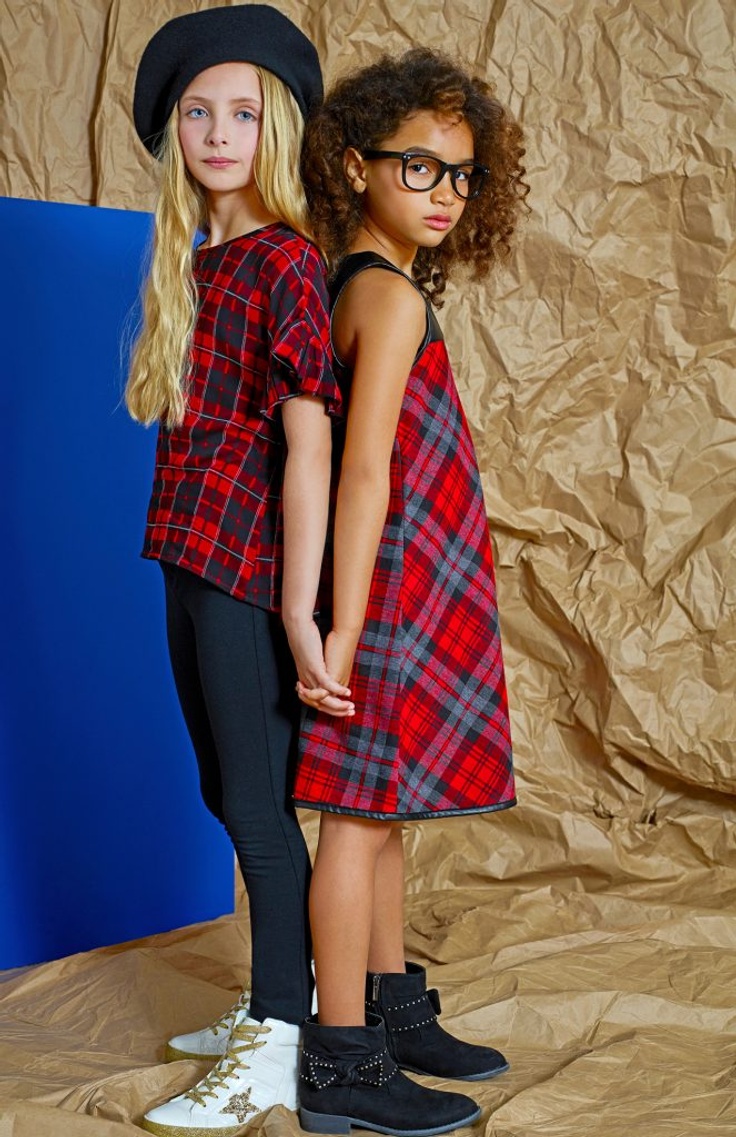 If your style is fairly classic, this is a great look for you! Casual and comfortable, but dressy enough for a presentation, you'll feel confident in your favorite pair of jeans and boots, with a trendy button-down shirt.
Girly: Maxi dress + denim jacket + flats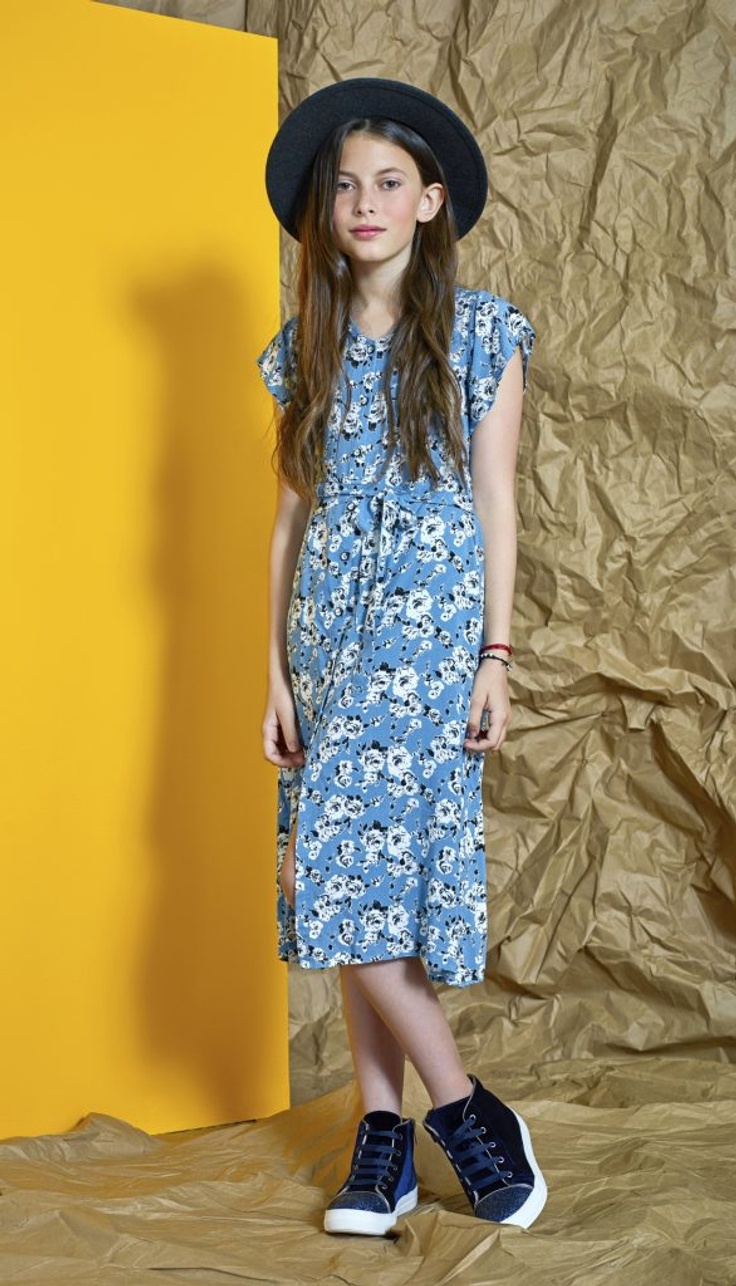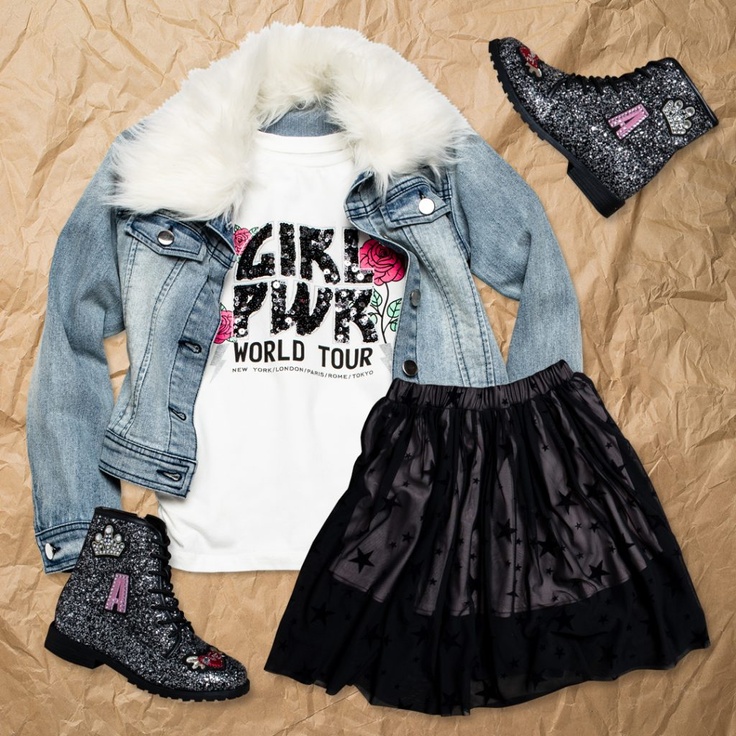 If you're more of a girly girl, embrace it! One of our top picks right now is maxi-dresses or skirts, matched with a denim jacket. Pick a print you love, and pair it with either ballet flats or high top sneakers. Give a little twirl and take a bow... you've got this, girl! Clothing styled and presentation-ready!
Trendy: Moto Jacket + dress + boots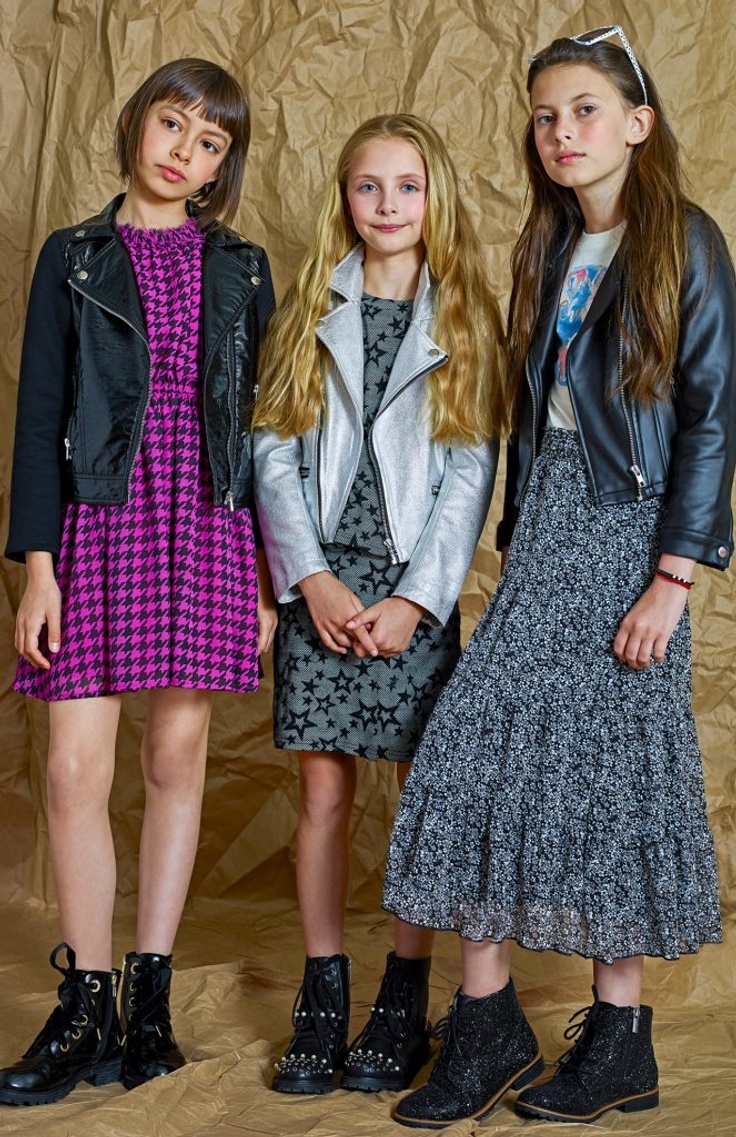 So you're always on-trend and your style's a bit edgy? Mix things up with a dress in your favorite color, a pair of boots (or lace up hi-tops), and a leather-style jacket. If it's cold out, just pop some tights on underneath and you're good to go. Above all else, look for girls clothes styled for comfort, confidence, and fun!
Active: Top + cardi + leggings + sneakers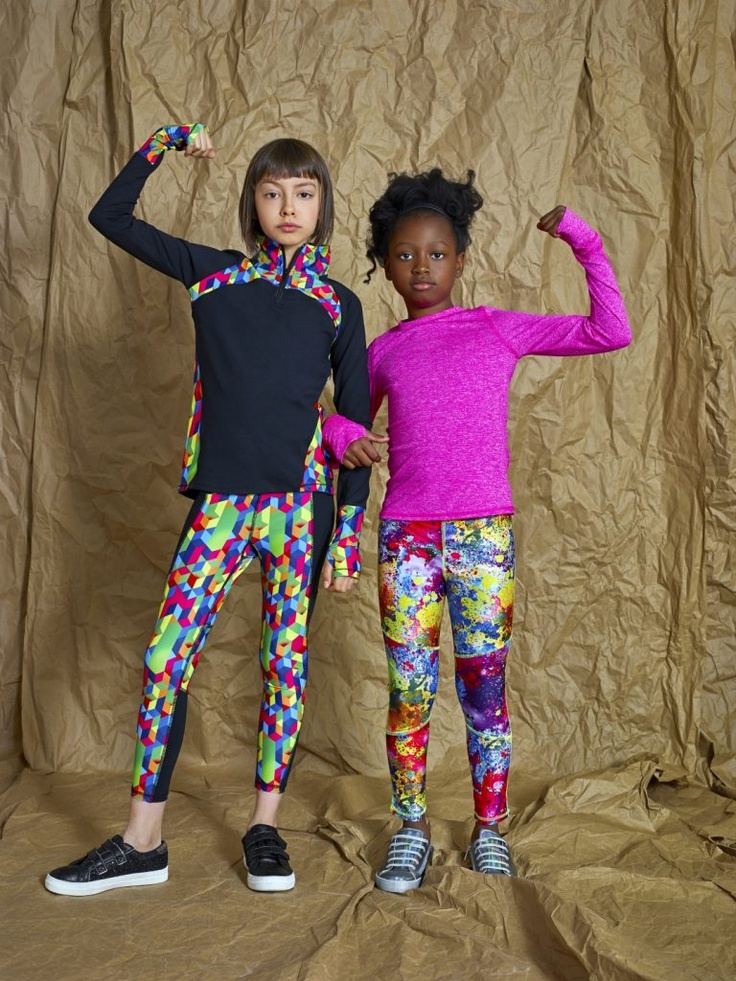 Just because you're headed to an event doesn't mean you have to get out of your comfiest clothes. If you love to rock a sporty style, then you'll love this outfit combination. Put on your favorite tank top, sneakers, skinny jeans (leggings), and a cardi.
Don't forget your accessories!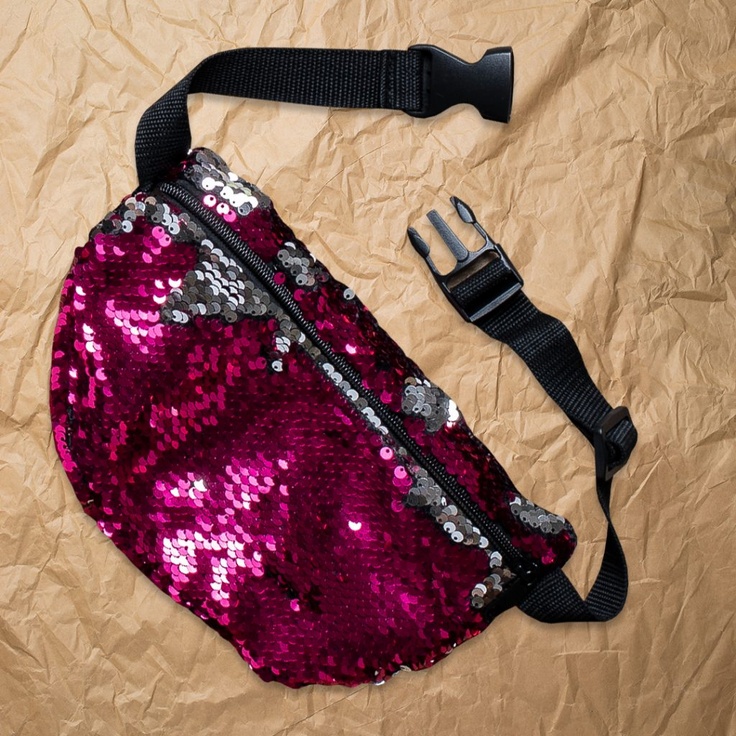 Girls clothes styled without accessories is like cake without icing. Sure, it does the job, but we can all tell there's something important missing! Here are few items you might want to accessorize with:


Time to Prep? Practice Makes Perfect

If you're getting ready for an important school event or presentation, you'll need to prepare more than just your outfit. So we've put together our top tips for making the most of your practice and prep time:


Record yourself

- practice in front of a camera and watch it back later to see where you can improve.
Time your talk

- especially if you need to stick to a set length during your presentation (it might end up a lot longer or shorter than you expect!).
Experiment

- try a few different things, like switching up the order of your points or asking questions aimed at your audience.
Rehearse with an audience

- ask your parents, siblings, or friends to watch your presentation so you can get used to having an audience.
Body language

- think about your posture and try to stand up tall.
Fine tune your voice

- think about your tone and speed so that your presentation is easy for listeners to follow along.
Memory triggers

- try to remember the main points, but don't memorize your presentation line-by-line... if it helps, create some note cards for your practice sessions.
Test your focus

- you could add background music or put a TV show on during your practice, especially if you think you'll be presenting in a loud or busy environment.
Timing

- give yourself at least a week or so to practice so you have enough time to avoid cramming.
Feel More Confident With a Mantra!

So, you've got your outfit sorted and you've been practicing every moment you get. But another wonderful way to boost your confidence is with a mantra!

A personal mantra is something you can say to yourself over and over again. The more you say it, the more natural and believable it becomes. Your mantra might help you focus during preparation, work towards a goal (like earning an A+!), or overcome a fear (like speaking in front of the class).

Here are some mantras you might want to repeat to yourself to help boost your confidence:


My audience wants me to succeed!
It doesn't have to be perfect
I am strong and courageous
I'm not afraid, I'm just excited


Want some more inspiration? Anytime the kids fashion team here at kidpik needs a little motivation (in between mixing and matching girls clothes, styled for our lovely customers), we just watch this video:



And of course, it might not be a mantra, but another amazing way to boost your confidence is with your body language. Smile, stand up tall, and put your best foot forward (especially if you're wearing a cute and stylish pair of shoes). When you move your body with confidence, you'll often feel more confident on the inside too!
Mom's Corner

Hey mom! This little bit of the article is just for you. We know you want more than anything to help your kid give a great presentation. You can't do the presentation for them, but you can help them with your wisdom and encouragement leading up to the event. Here's what you might do:


Lead by example

- show your girl how you're working to achieve your goals and do difficult things as well, whether it's at work, in the community, or your home.
Show them other examples - find some videos online to show her what a great performance looks like (we love

TED talks for kids

!).
Create rehearsal opportunities

- let your girl practice and build confidence by speaking up at family events. Or just encourage her to practice her presentation with you in your living room a few times
Create leadership opportunities

- encourage your girl to pursue leadership roles and opportunities at school or community organizations.
Nurture the skills

- encourage your girl to take part in extracurricular activities that nurture these skills (like Toastmasters, kids' theatre, etc.).
Practice with an online audience

- if your girl wants to practice speaking, one option might be to create a YouTube channel and record some videos to share
Be supportive

- encourage your girl to be herself and let her know you're proud of her - no matter what. That is the ultimate confidence boost.
Share your own experiences

- let your girl know if you were scared and how you used to prepare for presentations and events when you were a kid.
Get Event-Ready With a Fully Styled Outfit

There's a lot involved in prepping for an event or presentation, but you don't have to do it all on your own. Kidpik can help! Get a fully styled outfit (or 3!) delivered straight to your door in our kids clothing subscription box.

Ready to start? Take our super fun quiz where you can tell us your favorite style, colors, and size. Whether you're a classic girl, a girly girl, a trendy girl, or a sporty girl, we can find the perfect girls clothes, styled just for you. And best of all, there's no risk. and returns are free and you only pay for your outfit if it's perfect for your upcoming event!

Sign up today to get styled for free!
Ready to try Kidpik?
Tell us about what your child loves (and doesn't love!) and our stylists will do the rest. They'll receive customized, surprise fashion delivered on your preferred schedule to unbox and try on at home.
Get Styled
Skip, pause, or cancel anytime.