Girls' Pencil Skirts Are A Must-Have for Trendy Back-To-School Vibes
Girls' Pencil Skirts Are A Must-Have for Trendy Back-To-School Vibes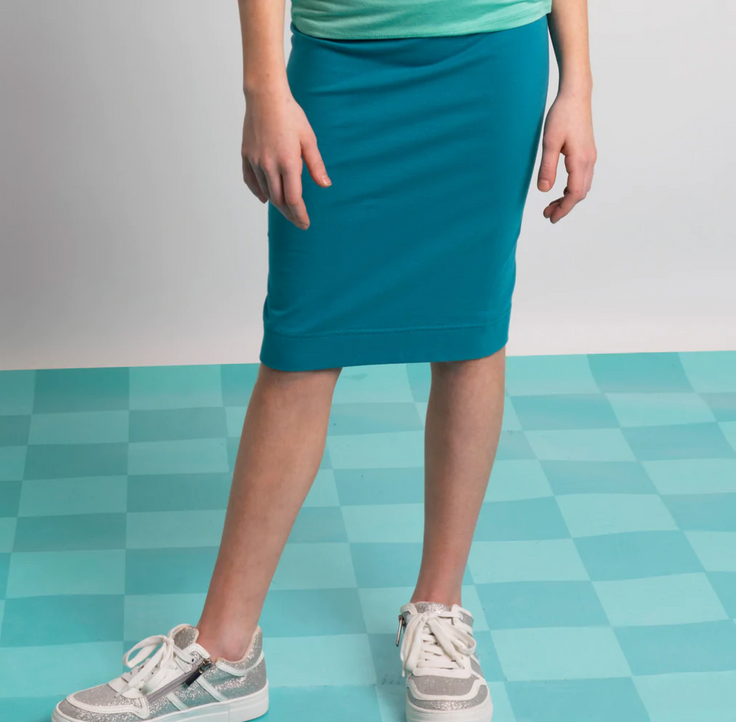 Pencil skirts for girls are a timeless classic that look cool for school from the first day of class until the last bell rings for summer.
Named for its pencil-like shape, this classic has never gone out of style – and for good reason. Pencil skirts are comfortable, timeless yet can be made to look trendy, and when made with soft fabrics that Kidpik is known for, can be easily named the most favorite item of clothing for back-to-school.
Style it her way
Pencil skirts are likely to be one of the most versatile pieces a girl can have in her wardrobe.
No matter the season, pencil skirts can be dressed up for birthday parties and dinner with extended family and friends or dressed down for schooldays or hanging out at the park.
It's fun to put the pencil skirt on a bed and place favorite tops next to it. Try out different combinations and take a selfie for practice!
Comfort is confidence
We all know that when our kids wear what they love and it's comfortable, there's an amazing feeling that comes with it.
They can pay better attention at school, they are happier, and never want to take their pencil skirt off! That confidence and comfort is from soft fabrics, no tags, and with the perfect amount of stretch for freedom of movement.
Color combos
Kidpik knows that pencil skirts for girls are a big trend and that's why it's offered in a dozen color combinations! Imagine the mix-and-match fun she can have as she gets ready for her favorite activities.
Layered looks
Get to the head of the style class with a layered look.
Especially when the seasons change to cooler mornings and warm up later in the day.
Pick a denim jacket or fun hoodie for a day of school or a sweater for dressier occasions.
Be sure to glam it up with your favorite footwear. Fun fashion sneakers pull it all together.
Extra Credit
If your girl is looking for extra credit on the subject of style, here are a few quick tips to get things started when shopping for pencil skirts, according to kidpik stylists.
Incorporate vibrant colors – Every girl has a favorite color and there's no reason why she can't have it in her wardrobe. Colors we're loving right now are blue sapphire, jadeite, and pink peacock. It's like a trip to the candy store!
Accessories with her favorite pieces – No girl is too young to accessorize! Luckily, every box comes with an exciting accessory like sunglasses, a fun hat, or easy to wear bag to hold essentials.
Embrace mix-n-match – Pencil skirts for girls are a wardrobe staple and can create totally unique looks when styled with denim, vintage floral ditzy prints, stripes, and tie-dye. It's all about creating combination that your girl will love.
Focus on quality – Parents can shop with confidence when they know that an item for their child is well made. Kidpik stands behind products and provides the best possible experience for your growing girl.
View all kidpik collections & outfits or learn more about taking the 3-minute quiz to have our stylists create a unique outfit for your child.
Ready to try Kidpik?
Tell us about what your child loves (and doesn't love!) and our stylists will do the rest. They'll receive customized, surprise fashion delivered on your preferred schedule to unbox and try on at home.
Get Styled
Skip, pause, or cancel anytime.