Children's Clothing: How to Measure Kids for Clothes that Fit
Children's Clothing: How to Measure Kids for Clothes that Fit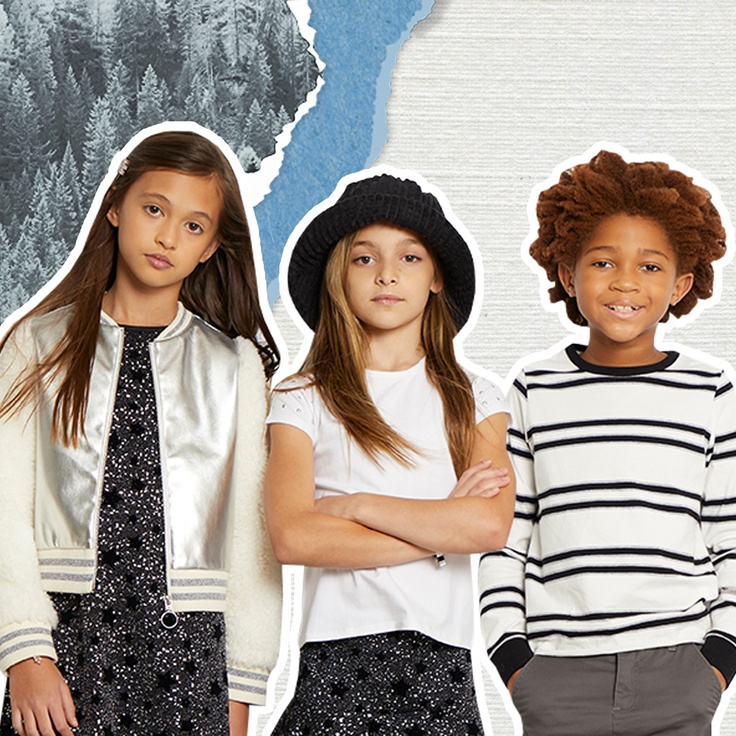 How do you measure kids for the right fighting clothes for boys and girls?
According to research, up to 37% of buyers return purchased clothes because of incorrect fits.
When buying clothes for your children as first-time parents, you often buy something that's a size too big or small for them.
It mainly occurs as sizes vary from brand to brand. To help you identify your child's clothing size, we've created a beginner's guide to measuring kids for clothes.
A Quick Glance at How to Measure Kids for Clothes
To figure out your child's clothing size, you need to follow the steps mentioned below:
Chest-

Measure under your child's arms, across their bust, and shoulder blades while holding the measuring tape firmly. For girls, you must measure the fullest part of their chest to get the correct fitting.

Height-

Run the tape from the top of their head to the floor.
Hips-

Measure the fullest part of your child's hips by wrapping the tape loosely around their hip circumference.

Waist-

Measure your child's natural waistline.

Inseam-

Run the tape along the inseam, from the crotch to the bottom of the leg.
Step-by-Step Guide on How to Measure Kids for Clothes
The first step to determining your child's measurement is purchasing a tape to measure sizes. Look for soft tailors measuring tape to make sure you note down the correct dimensions. These tapes are readily available in supermarkets so it won't be challenging to find one.
To correctly use your size guide, you need to take the following measurements:
Chest/Bust

Height

Hips

Inside Leg
Here we share all the necessary steps required to create the perfect sizing chart by taking all the measurements correctly:
How to Measure Your Child's Height
Start creating your child's clothes size chart by measuring their height. To measure your toddler's height, ask them to stand against the wall as straight as possible.
Make sure they're standing on a flat surface and move their heels to the wall. Run the measuring tape from the top of their head right down to the floor. Ensure your child isn't wearing shoes or socks to get the correct measurements.
Get accurate toddlers clothing size measurement by keeping these tips in mind:
Ensure your child is looking forward and that their feet are together

Keep their arms at their sides and legs straight

Make sure your child doesn't slouch or move when you're running the tape down
How to Measure Your Child's Waist
You need to measure your child's waist above the navel button to get the correct fittings. Make sure you measure your child's waistline when they're wearing a thin t-shirt or top instead of a thick sweater to get accurate waist measurement. If not, you may end up purchasing a poorly fitted top.
For measuring the length of trousers, place the measuring tape just by the waistline curve and hold it slightly loose, up to the ankle, or parallel to the floor.
How to Measure Your Child's Inside Leg
Measure your child's crotch seam with your soft, tailor measure tape. Make your child stand upright with their legs slightly apart.
To get an accurate seam length, measure from the top of their thigh to the ankle. Ask your child to wear shoes so you can figure out where the trouser leg reaches above the shoe.
How to Measure Your Child's Hips
People often measure their child's hips instead of the fullest part of their bottom. You must wrap the tape in the right place and keep it parallel to the floor. Make sure your child is wearing leggings, shorts, or thin trousers to get accurate pants measurements.
How to Measure Your Child's Chest
To determine your child's bust size, wrap the measuring tape around the widest part of their chest, above their breastbone. Pass the tape underneath their arms and around their chest but avoid pulling it too tight. Take chest measurements over a thin t-shirt, top, or vest rather than thick clothes.
The Basics of Children's Clothing Sizes
When you visit baby's clothing stores, you'll likely see these sizing categories:
Baby-

Preemie or 0 to 24 months

Toddler-

2T to 6T

Little Kid-

4 to 6X

Big Kid or Tween-

7 to 16
Extended Sizing-

18 to 20
What to Remember when Shopping for Baby Clothes
To make sure you purchase the perfect baby clothes, keep a couple of factors in your mind. Get the perfect baby clothing fit by remembering these tips:
Different clothing brands may use other measurements based on their approach to sizing clothes. Keep track of these sizing guides to make sure you purchase regular-sized children's clothing instead of bigger or smaller ones.

Sometimes brands define a toddler's clothing size based on age ranges like 3 to 6 months. In such cases, consider sizing up by an inch.
Children grow quickly, so look for clothes that are an inch larger in size.
Tips and Tricks to Figure out Your Toddler's Clothing Size
Here we share quick tips and tricks you should remember to get the right size and fittings in kid's shirts and trousers:
Stick with a Couple of Favorite Brands
Choosing 1 to 3 favorite brands and purchasing from them is a great way to avoid sizing issues. While you do have the option of returning clothes that don't fit, it's always a better idea to stick to reliable brands, so you're not stuck in a loop of purchasing and returning.
Seek Waistbands with Drawstrings
Purchase right fits by looking for leggings, joggers, elastic cuffs, and other stretchy and loose-fitting material. Drawstring waistbands can be stretched, tightened, and folded; thus, they are ideal for growing kids.
In addition, avoid clothes with multiple buttons, snaps, and clasps for convenient wear and fitting.
Go Thrift Shopping
Thrift shopping is a win-win choice when buying kids' stuff. You can access an extensive collection of premium quality dresses and shoes at great prices. You can carry a long measuring tape and your kid's size chart to ensure you get all the nicely fitted clothes and shoes.
The Bottom Line
Measuring your child's size ensures you'll get the perfect fit. Although you can find one-size-fits-all charts at many local and brand stores, you'll fail to get a customized fitting. Having custom measurements allows you to get bespoke clothing without the worry of wrong sizes.
It is specifically helpful in situations when you're shopping abroad, and the size chart varies. Our in-depth guide will help you get the correct measurements to buy the perfect clothes for your little ones.
Ready to try Kidpik?
Tell us about what your child loves (and doesn't love!) and our stylists will do the rest. They'll receive customized, surprise fashion delivered on your preferred schedule to unbox and try on at home.
Get Styled
Skip, pause, or cancel anytime.