10 Cute Winter Outfits for Girls
10 Cute Winter Outfits for Girls
It's time for cute winter outfits for girls.
This season's all about drinking hot cocoa and sitting by the fire... and wearing your favorite warm, cute outfits!
For girls, it means rocking the layers, accessories, and ALL the coats and jackets.
In fact, winter is the BEST time to be on top of your fashion game because cooler temps mean fun layering opportunities and even more cute clothes for your girl to choose from! 
Let's talk about some of the latest girls' winter fashion - clothes she'll need in her wardrobe this winter!
We'll share how your girl can create the perfect winter look from her kidpik box. Winter clothes don't have to be boring!
Tips to Transition Kids' Fashion to Winter 
Good news - your kid probably already has a wardrobe of clothing and outfits they can keep wearing from fall to winter.
You might only need a few styling tweaks and extra pieces to bring her up to trend for winter 2021 and keep her comfortable in the coldest season! 
You can check out more tips on transitioning your kids' fashion between seasons in our previous blog, Kids' Fashion Trends: How to Be a Fall Fashionista.
Ready to check out what's trending? Let's dig a little deeper into the current styles you need to know to put together on-trend cute outfits for girls this winter.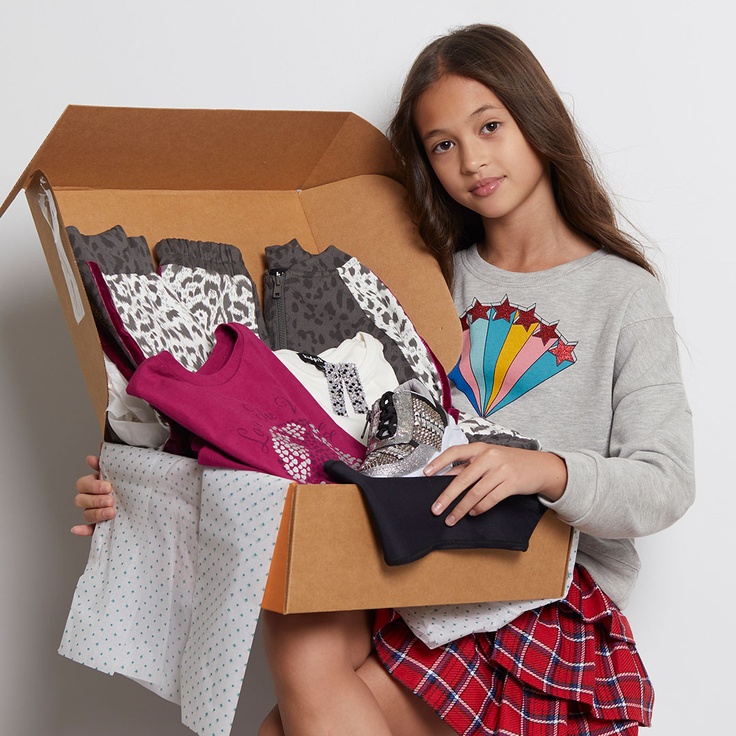 Winter Trends for Girls' Fashion & Clothes 
Winter Prints, Colors, Textures,  and Patterns
Dull days do not mean you have to say goodbye to cute outfits for your girl.
This winter, bright colors are very much on-trend, so don't be afraid to put on that bright pink or green sweater and rock it. And extra points if you combine it with your favorite denim.
We're seeing a lot of pinks, teals, and reds. But to balance out all that color, we're also seeing lots of natural tones.  
Plaid is also on trend this winter, whether it's a shirt, a dress, pants, or a jacket. It might be classic, but it can also be super edgy when you wear it just right. Speaking of edgy, we're also seeing lots of animal prints popping up everywhere. 
We've got some interesting textures on our radar at the moment, too. It's all about faux fur, metallic, and ALL that sparkle!
That's right - the glittery, sparkly trend that's been hanging around forever is officially here to stay. (YESSS!) 
Winter Tops and Shirts
This winter, it's all about choosing tops that make a statement about who you are! 
So don't be afraid to let your girl's personality shine through with colors, patterns, textures, and prints that are totally her.  Stock up on a knit sweater and long sleeve tops for layering.
How to Wear Dresses in Winter
Knit dresses are a girl's best friend in winter. Cozy, warm, and not too bulky, winter dresses are perfect for layering up! You can layer most of the dresses in your wardrobe to wear them year-round with a few simple tricks.
Add a long-sleeve shirt underneath and wear your dress like a pinafore (a classically cute outfit for girls right now). Add black leggings, tights, or skinny jeans underneath to keep your legs warm. Then add your girl's warmest jacket or cardigan on top.
The best part is, if she gets too hot, she can always peel back a layer! 
Pants and Skirts for Winter
Your girl can wear any skirt she likes through winter by adding a pair of skinny pants or leggings. Done! Or if she wants to rock a skirt without an extra layer underneath, go with a nice, heavy ankle-length midi skirt.   
You'll also want to swap her usual shorts for long pants. But you don't have to go with the typical black, chino, or denim pants... this season it's all about working those beautiful jewel tones into your girl's outfit. Don't be afraid of color and make a statement with pants!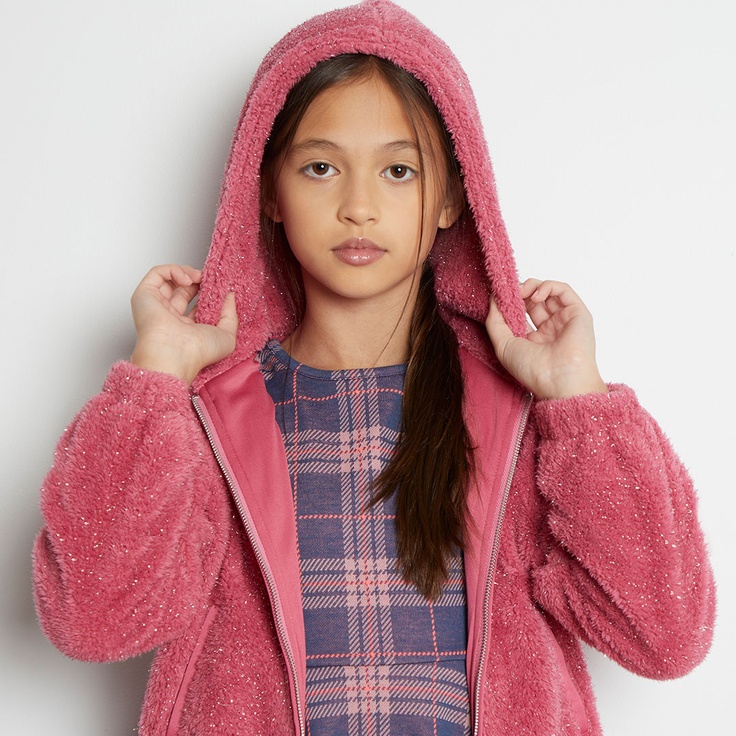 Outerwear  For  Every Occasion 
If you've been waiting for the perfect excuse to get your girl a fun faux fur coat, here it is: they're totally in right now.
Even better: oversized cardigans and cozy-warm knits your girl will never want to take off. Ever. We're also seeing a trend toward mixing colors and textures on jackets - think the leather look plus fluffy sleeves! And if your girl needs to dress up for a special event or occasion, a leather jacket is the perfect way to take her winter outfit from every day to WOW! 
Winter Accessories 
Dainty little bags are in, and we're loving them! Less like a bag, and more like a purse attached to a cross-body strap, these bags are perfect for holding just a few essentials, like some coins, snacks, or lip balm.  
Now let's talk winter shoes. Each year, we always look forward to new winter boots! 
Sparkly, animal print, faux fur, anything goes! Ankle boots and combat boots are perfect to wear with black jeans and a fun puffer jacket. Or, she can wear them with skinny jeans, skirts, and dresses so your girl can keep her feet warm and stylish no matter what the weather's like outside.  
Finally, have you REALLY got your girl's winter wardrobe sorted without getting some sort of winter hat? Of course not! Grab a cute hat with pom-pom to top off a super cute outfit for your girl and keep her head and ears fashionably warm.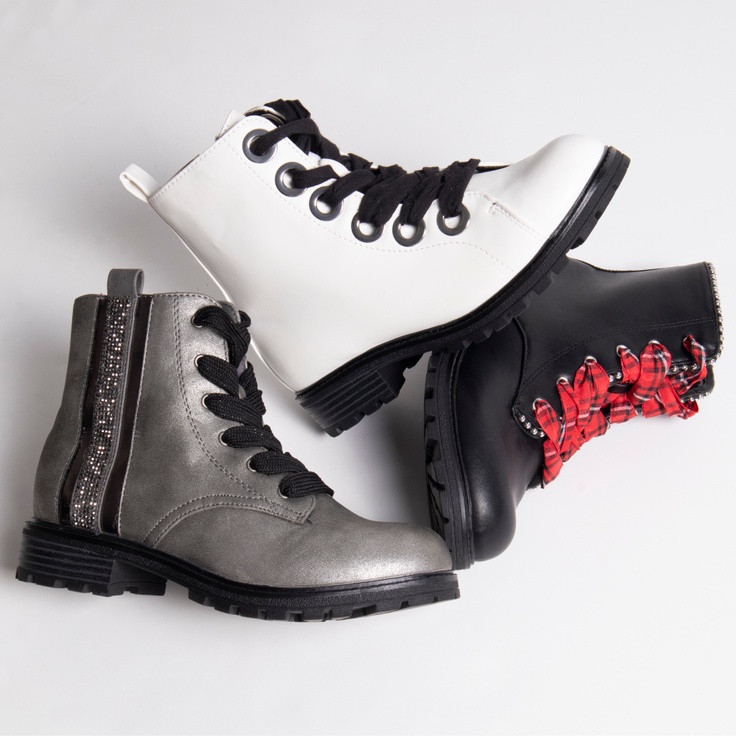 10
Ideas to Create
Cute Outfits
For
Girls
this Winter
Not sure how to translate these styling tips into cute outfits for your girl? No problem – we've mixed and matched a few ideas and clothing combos below…
Pair a soft plaid shirt with black skinny jeans and a denim jacket. Accessorize with a sparkle sneaker and a rhinestone headband.


Throw on a cute white tee with glitter detail, matched with a floral

maxi skirt

, then layer up with a black jacket

. Sparkle

flats and a bracelet finish this girly look perfectly.





For a trendy look choose a b

lack graphic tee with a

white print

over

a r

ed

skirt

with

black tights

. Add a w

hite hoodi

e, h

i-top sneakers

, and s

unglasses

, and your girl is good to go.




Take your girl's favorite floral print maxi dress from fall to winter with a cardigan

,

silver boots

, and a cross-body bag in coordinated colors.





Rock

a full-length jumpsuit with

a white tee underneath and a cool bomber jacket to keep warm.

A great pair of

flats and a necklace pull it all together.




Keep it simple with a black

long-sleeve tee

, r

ipped jeans

, and g

rey ankle boots

. Then add a surprise twist with a

fluffy,

faux fur

jacket

that'll keep your girl warm all day and night!




Get noticed in sparkly

tunic top

with r

ed skinny jeans

and a s

ilver moto jacket

. Add balance with simple b

lack ballet flats

and a black scrunchie.




Go sporty with a

l

ong

tee

,

print

ed

tights

, and a p

astel

pink and grey

hoodie

.

Add

s

neakers

and a warm s

carf

, this is a look that'll take your girl anywhere.




Say it loud with a hot pink tulle skirt paired with an oversized sweater. Black Mary Jane flats and a pink bow pull it all together.


Your girl will be the star of the show wearing a white tee with a black start print. She'll feel confident with a striped pink, white, and black skirt, navy blazer, and white sneakers.

Create the Perfect Winter Look
With
Your kidpik Box
Creating cute outfits for your girl can seem so overwhelming. How do you pull it all together and create lots of amazing looks she'll love while sticking to a budget? Here's what you need to do:
Sign up with kidpik

to get your first

clothing subscription box





Take your girl through the fun quiz to translate her unique personality into style





Choose from one, two, or three boxes per season you can start, stop and pause at any time





Our stylists will put together a box of coordinated

girls

clothing

and accessories, picked just for your girl (with 3 mix and match outfits per box)





Once it's delivered to your door, your girl

will unbox the fun!





She'll

try on the items and decide what she loves and what she wants to send back
Because your girl's kidpik clothing box is already fully coordinated, creating cute outfits for your girl this winter is so easy. Just put together her favorite pieces, and go!
Ready to try Kidpik?
Tell us about what your child loves (and doesn't love!) and our stylists will do the rest. They'll receive customized, surprise fashion delivered on your preferred schedule to unbox and try on at home.
Get Styled
Skip, pause, or cancel anytime.