Moms Sound Off: How Much Do You Spend on Your Kids' Clothes?
Moms Sound Off: How Much Do You Spend on Your Kids' Clothes?
Whether you get your girl's clothes from a kid's clothing subscription box or the mall, your budget is always an important point to consider.
How much is too little or too much to spend on your girl?
What's considered a good value for different types of kids' fashion?
And how can you find quality options that are still affordable and within budget?
We've pulled together the stats so you'll know what's considered a normal amount to spend on kids' clothes and give you some tips to help you get amazing value from your kids' clothing subscription.
What Moms Spend On Kids' Clothes
The average amount of money moms in the United States spend on their kids' clothing usually varies based on three main factors:
1. Family's income level (and budget)
2. The number of kids in the family
3. Where the family lives in the United States
According to a report from the United States Department of Agriculture, families might spend up to $1,280 annually on clothing, especially if you have tweens or teens. That's approximately 6% of the total costs to raise a child.
What do YOU spend each year on outfits for your girl? If it's more or less – don't worry! Every family has different needs and priorities, but it can be helpful to see the numbers behind what an average family might spend.
5 Factors That Affect Your Kids' Clothing Budget
Aside from your income level and your kid's age, you might also find your clothing budget affected by things like:
Your brand preferences – some moms prefer to get the latest kids' fashion and styles from more expensive designer brands, others shop at budget shops, and many moms sit somewhere in the middle
Your kids' school – you might save on kids clothes if their school has a set uniform
Your local weather – it might cost you a little more to keep your kid's clothes up to date if you have more extreme seasons in your area or if you need to buy more layers to keep your kid warm
Activities – if your kid is involved in extracurricular activities like sports, they'll likely need some extra outfits and special clothes
Events – if you go through a year packed with events like weddings and graduations, you might need to allocate a little more toward your clothing budget
Average Cost For Different Types Of Kids' Clothes
Let's dig a bit deeper into the cost of children's clothes by looking at some of the top kids clothing websites. Turns out, there's quite a big price difference between top designer and budget brands.
You might not be able to afford the designer prices for your girl, but that doesn't mean you have to settle for lower quality, budget clothing stores.
When you know where to look, you'll find there are plenty of brands that fit within your budget and offer high quality, affordable clothing!
Tip: for many families, that means finding a kids' clothing subscription box that fits their budget and needs. (Like kidpik! We'll talk more about this in just a little bit.)
Tips To Help You Find Affordable and Quality Clothes
Want to stretch your budget further and get more wear from your kids' clothes? Here are our top tips to help you find affordable clothes that are still great quality:
Avoid impulse buys – think carefully about items before you buy them and ensure your child has plenty of time to try them on at home (like they can with our clothing subscription boxes)
Buy from a reputable retailer – check the reviews and make sure other shoppers are happy with the quality they get
Size up (slightly) – to get more wear out of your kids' clothing, go up a size, especially with dresses and shirts where the fit can be slightly loose
But don't size up too much – too many parents buy years' ahead in sizes and end up storing away clothes that aren't on trend by the time they get them out OR they forget about them before it's too late
Look for new favorites – only buy clothes that your kids will love and want to wear again and again
Create a capsule wardrobe – our kids' clothing subscription box customers love the mix-and-match outfits they get each month
Embrace trends while they're cool – adding new and trendy items to your kid's wardrobe is fun… and getting on board with trends early means you'll get more wear out of your fashion
Mix it up with accessories – more accessories = more fun and more outfit options!
For some kids, fashion isn't just about clothes, it's a hobby and a big part of their identity. You're not just buying clothes, you're buying confidence! So while it's important to stick to a budget, it could be worth assessing your priorities and seeing if you can invest a little more in your kids' clothing if it's important to them. Only you can be the judge of that!
Could a Kids' Clothing Subscription Be the Answer?
For many parents, it is! Here's how a kids' clothing subscription box like kidpik can help you get the quality kids' fashion you're looking for and stick to your budget:
Quality – our clothes are high-quality and long-lasting without costing anywhere near as much as a designer piece
Loved – kids love wearing their kidpik clothes as much as possible, which means you'll get a really low cost-per-wear
Free shipping and returns – Your kid can try on everything at home and send back anything and everything they don't fit or love
Flexibility – you can start and stop your kids' clothing subscription at any time and choose 4, 8, or 12 boxes a year to match your needs and budget
Coordination – every kids' clothing subscription box is coordinated so you can mix and match to get more outfits
Affordable – we include affordable basics (like leggings and tops) you can mix with trend-forward items (like shoes and warm jackets)
Zero pressure – you'll never feel pressured to make an impulse buy because you get 7 days to decide which items to keep or send back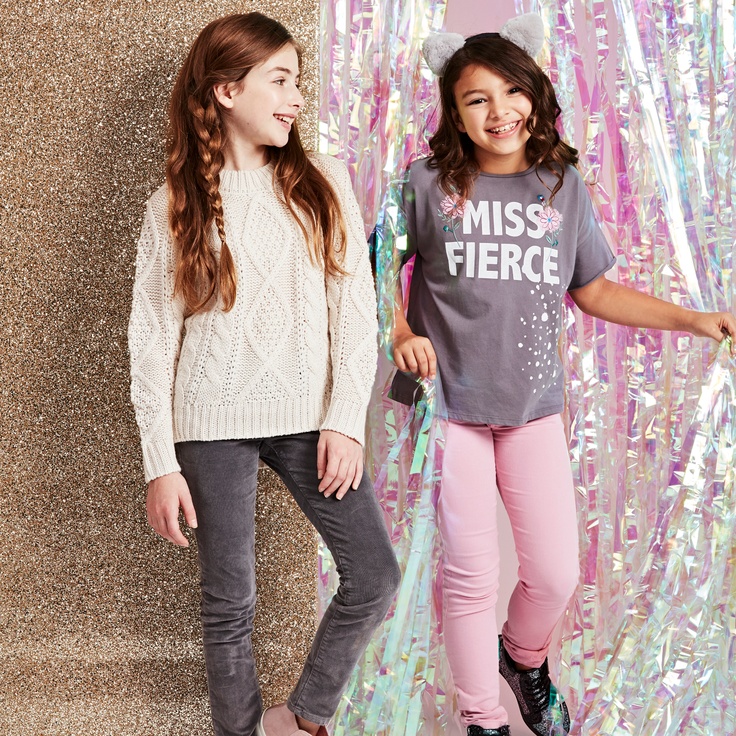 How Much Is An Average Kids' Clothing Subscription Box?
The cost of our box depends on the items we've handpicked for your girl. You'll also get a 30% keep-all discount if you decide to keep the entire box. With the discount applied, each item averages out to $13.50, and with 7 items, this comes to a little over $90 per box.
But you're in control of how much you pay – you can choose to return every item (for free!) if it's not for you. Or switch off your subscription at any time if your budget is tight. Or you might increase your subscription frequency when you've got more budget to work with. It's completely up to you!
Order Your kidpik Kids' Clothing Subscription Box
Ready to get started? It's as easy as 1, 2, 3…
1. Sign up for our clothing subscription box and we'll take your girl through a fun quiz to find out her sizes and what she loves
2. We'll pack a personalized box, just for her
3. Your box arrives at your door (with a free gift for your girl) and she has 7 days to try everything on
… and with free shipping and returns, you only pay for any items you choose to keep.
Start your kids' clothing subscription today!
Ready to try Kidpik?
Tell us about what your child loves (and doesn't love!) and our stylists will do the rest. They'll receive customized, surprise fashion delivered on your preferred schedule to unbox and try on at home.
Get Styled
Skip, pause, or cancel anytime.