Spring Break in a Box? Grab & Go With Your kidpik Kids' Clothing!
Spring Break in a Box? Grab & Go With Your kidpik Kids' Clothing!
While the weather outside is still cold, many families are already planning getaways – or dreaming - of warm weather destinations.
After all, spring break is coming up quickly, so why not get through the freezing weather by planning your vacation and spring wardrobe now? That way, you'll have your kid's clothing ready to go in time for the warmer weather and adventures just around the corner.
Here are 6 reasons why kidpik has your girl covered for spring break…
Reason #1:
Make
Vacation Planning
Fun!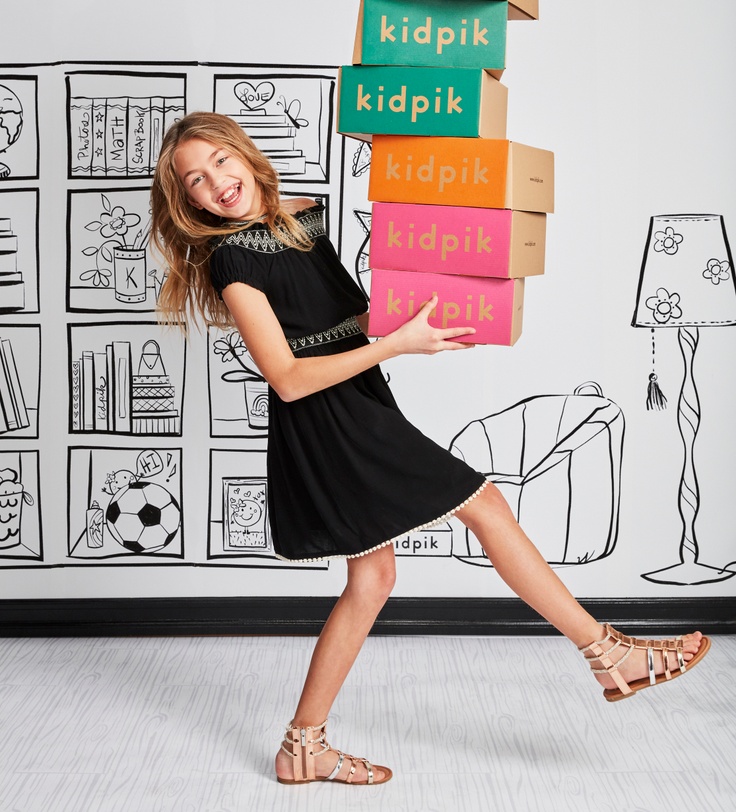 Planning a vacation is so much fun – you can research your favorite locations, tourist attractions, and more. You can start dreaming about all the things your family will do while you're away. Climbing mountains, visiting theme parks, picking fruit at the local farm, exploring markets – spring is the perfect time to get outside and go on a fun, family adventure!
But the actual nitty-gritty of planning (and packing) is less fun. Especially when it comes to figuring out coordinated kid's clothes and outfits that travel easy and fit the warmer season. You'll find that the best way to take the stress out of your vacation packing is with a kidpik fashion box. You'll get 3 mix-and-match, coordinating outfits (including shoes and an accessory) boxed up and ready to go. All you need is the perfect destination!
Reason #2: Minimize Your Stress
Vacations should be a time of fun! But so often, families end up stressed and fighting with one another. You're spending a lot more time together and you probably all have different ideas on how to spend that time. Add in the exhaustion of packing, planning, and long car/plane rides and you've got a breeding ground for exhaustion.
There's a lot you can't control about your vacation – plane delays, weather, a broken-down car – and we hope those things don't happen to you! But what you can control is getting the planning right, so your packing is stress-free and everyone knows what to expect. And one element you can easily get right is your kid's clothing! With your subscription box, you'll have one less thing to worry about when planning a vacation with kids. And one less thing to fight about!
"Eliminate the stress, just take the box and go," says Ezra Dabah, our founder and CEO here at kidpik.
Reason #3:
Smoothly Transition Your
Girl's
Winter Wardrobe
Spring is here! So, what do you do with your kid's clothing from last season?
As the weather gradually warms up, it's ideal if you can mix in some new, warmer weather pieces with your girl's winter wardrobe. That way, she'll still have her jacket and long pants for cooler days, but she'll be on-trend and outfit-ready for the warm days, too.
Among kidpik's spring collection of kids' clothes are floral dresses, jackets, and embellished tees with matching skinny jeans. These are perfect for mixing with your winter wardrobe to transition your girl into Spring. And they're looks that'll last your girl through to summer, as well.
Reason #4:
Spring into Spring with All the Right Colors
kidpik's designers and stylists are immersed in the fashion world so our range of kids' clothing is always on trend.
In your kidpik box, you'll get in-season spring colors and trendy patterns to bring your girl's wardrobe into the new season. With fresh florals and pastels, it's time to kiss goodbye the heavier winter colors and styles for a lighter look that's warm-weather ready.
Reason #5:
From Dinners to Playtime Outfits – She's All Sorted
After hanging out inside for much of the winter, your girl will be ready to get out, socialize, and explore. Figuring out what to wear for so many different occasions can be tricky, though, especially if you're on vacation with limited packing space.
But with kidpik, each box includes exactly what your girl needs for her vacation, from visiting theme parks to nice evening dinners. Because it's all coordinated, you can pack less but do more with your kid's clothes.
"Everything my daughters love and need for our vacation is in my kidpik box." says Natasha D'Anna of Twindollicious. "I only have to add a few basic items and we are ready to look good and relax. We save lots of time, my twins decide what trendy combinations to wear, and trip packing is a breeze."
Reason #6: Make More
Time for Adventuring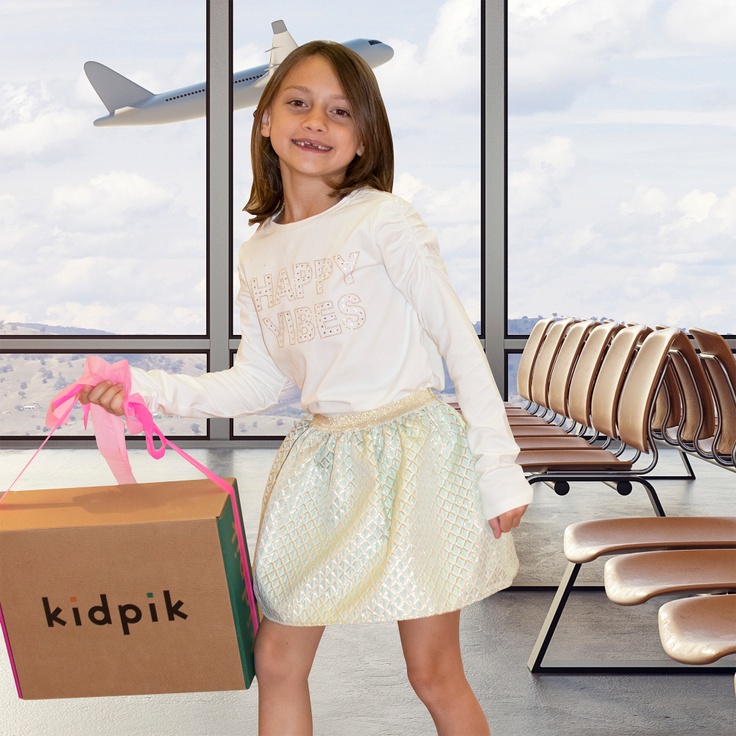 Vacations go by so quickly, so as parents, we want to make the most of every moment with our kids.
Your girl's kidpik subscription box is personalized, beautifully wrapped, and delivered free to your door. All you have to do is unbox the fun and your girl will be all set with kids' clothes for her spring break adventures. You don't have to go to the mall or spend hours trying to find kids' clothing online. With kidpik, you get more time for fun, relaxing, and enjoying the beautiful weather outside.
Reason #6:
Get
Kids'
Clothing
in Your Girl's Unique Style
Last but not least, kidpik delivers vacation-ready outfits that are hand-picked to suit your girl's personality. She'll be thrilled to unbox new kid's clothing and fashion from kidpik's Classic, Trendy, Active or Girly collections that she can enjoy on the trip and on warm, sunny days back home.
Classic Spring
Break
Looks
Your classic girl will love spending her spring break hanging with friends and family, reading a novel or two, and enjoying picnics outside. Here are some classic spring looks she'll love to wear wherever she goes:
Bright colored denim jacket

s

Cool sneakers

Frayed jeans

Colored denim skirt

s

Sparkly sequin embellished tee

s
Active Styles for Spring
Break
Your active girl is so excited for the spring break because it means more time outdoors, exploring, and moving her body. Here are some cute pieces she'll love adding to her spring wardrobe:
Motivational print tee

Leggings with a pop of color
Skater skirt

Sunglasses

Hoodie tee

Fluro tank

Cute and comfy sneakers
Trendy Style Vacay Clothes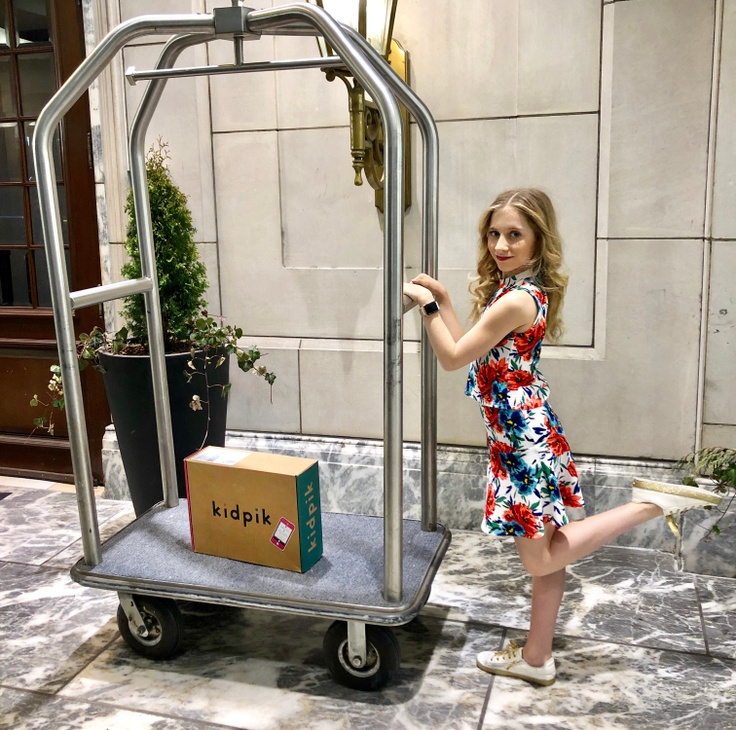 Your trendy girl is so ready to update her wardrobe with the latest on-trend looks and styles for spring. This spring, she'll love wearing:
Gingham skirt

Cropped jacket
Embroidery and applique patch embellished tee

Cross-body bag

Boot leg denim jeans

Dress with fringe hem

Button down colored denim jacket
Girly Springtime Outfit Ideas
The birds are singing, the flowers are out, and your girl is ready for some super girly kids' clothing additions. Spring is the perfect time for your girly girl to add these feminine pieces to her wardrobe:
Pastel denim jacket and skirt

Ballet flats
Floral headband

Floral

twirly

skirt

Soft cardigan

Pink denim jeans
Get Ready for Spring Break with kidpik
No matter your girl's style, kidpik has you covered with plenty of vacation-ready fashion, from colored denim jackets to star-studded jeans and fabulous shoes. We deliver head-to-toe outfits up to size 16, with footwear up to size 6, personalized just for your girl.
But don't just take our word for it. We shipped over half a million boxes, and over 13,000+ customer reviews (averaging 4+ out of 5 stars) and were voted the top kids' clothing subscription box in 2018. So, it's safe to say we're the #1 choice for families who want fashionable kids' clothing their girls will love.
1 in 2 families keep the whole box of kid's clothes to enjoy the 30% keep-all discount. But you don't have to keep all the items in your box – or any of them at all! The best part about kidpik is it's 100% risk-free with free shipping and returns. You only pay for the clothing your girl loves. It's the best and least stressful way to get your girl's spring break wardrobe.
Ready to get started? Sign up for your first box with kidpik!
Where Are You Going for S
p
ring
Break?
Before we head off to do our own vacation planning, tell us…
What plans do you have for spring break? Traveling anywhere exciting?
Let us know your answer in the comments below!
Ready to try Kidpik?
Tell us about what your child loves (and doesn't love!) and our stylists will do the rest. They'll receive customized, surprise fashion delivered on your preferred schedule to unbox and try on at home.
Get Styled
Skip, pause, or cancel anytime.