18 Springtime Fashion Tips for Girls
18 Springtime Fashion Tips for Girls
The sun is out, the birds are singing, there's a sweet scent of pollen in the air…it must be Spring!
With the arrival of Spring, we've got lovely warmer weather coming (finally) and some gorgeous new kids' fashion trends, so it's time to transition your Winter 2018 fashion into Spring! So, let's go through the trends you need to be on the look out for, different pieces your girl will love, and tips to help get her outfits ready for warmer weather while the nights are still cool.
Springtime Kids' Fashion Tips & Outfits for Girls
Ready to roll into spring in style? Here are 18 tips to help you incorporate Spring's best kids' fashion trends into springtime outfits for your girl.
1. Begin with Basics
Start with all your Spring essentials, then build on these! Color blocking is still very much a thing for Spring, so your basic plain tee or skirt can get a lot of mileage! If you're looking to build on your girl's basics with essential kids' clothes you can mix and match, check out Basics by kidpik.
2
.
Break Out the Florals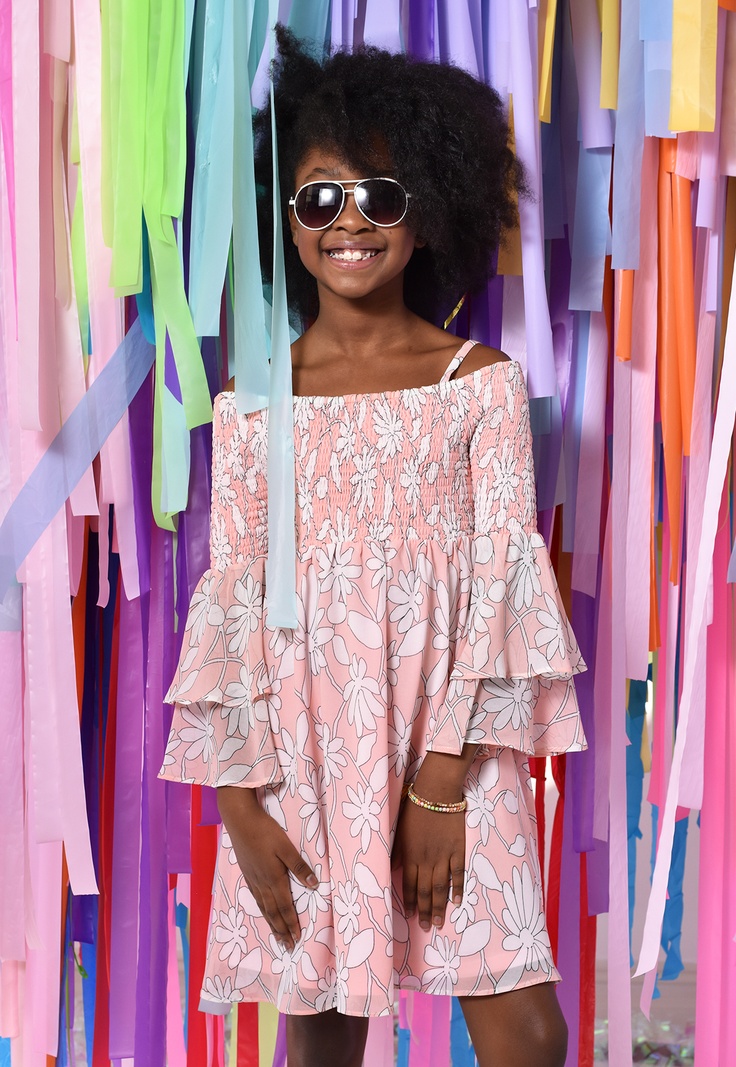 While there's absolutely nothing wrong with wearing florals year-round, Spring is when they really come into bloom. You'll see flowery kids' fashion everywhere this season.
"The first blooms of spring always make my heart sing."
— S. Brown
Girly girls will especially love the chance to wear all their favorite floral print dresses and tops – perfect for going outside to pick a flower, or to bring those spring vibes inside.
3
.
Layer with Sheer Fabrics
Sheer is super on-trend right now. So, how can girls incorporate it into their look this spring? It's all about the layering – so, layer a flowy, sheer top over a simple cami. Or wear a dress with a mesh skirt overlay for a fun, twirly look that's perfect for dressing up.
4
.
Work those
Fringes
and
Tassels
Fringes and tassels are in! You'll find them on items like frayed denim pants and skirts, embellished jackets and tops, and more. We think our trendy girls are going to love wearing tassels and fringes this season!
5
.
Bling it up with Sequins
If your girl LOVES bling, we're happy to report that sequins are here to stay for at least another couple of seasons. So, if you haven't jumped onboard with the sequin/glitter trend yet, you've still got time. Athletic girls can rock this trend with a sequin-embellished tee!
6. Embrace
Embroidery
The ever 'sew' pretty embroidery trend we've loved for the last few seasons is set to continue this Spring. Look for kids' fashion with embroidered detailing and embrace this crafty-cool trend!
7
.
Go Romantic with Ruffles
This spring is all about those romantic vibes, and that means ruffles! Ruffled skirts, ruffled dresses, and even ruffled sleeves are all super on-trend. Your girly girl will love going all out on the ruffles, or if she's more classic style, she might just incorporate one ruffled element into her outfit.
8
.
Bring on Pastel Hues
Think shades of soft pink, rose, lilac, and lavender. Or go pale lemony yellow, coral, and powdery blue. We're seeing pastel in all sorts of kids' fashion, but notably this Spring, it's all about pastel denim!
9. Beiges and Neutrals
Classic girls rejoice! It's super on trend to wear a neutral look this Spring, even head-to-toe beige is in. Add a pair of neutral black, white, or beige skinny jeans and a neutral cardigan to your girl's wardrobe and she'll be able to wear it again and again this season.
10
.
Update Your Shoes
Springtime means new shoes for your girl – not just because she's probably ready for the next size up, but also because the weather is changing. In Spring, you can have all sorts of weather (depending on where you live) from leftover snowy days and Springtime showers, to beautiful sunny days and beachy weather.
"In the spring, I have counted 136 different kinds of weather inside of 24 hours."
— Mark Twain
So, check your girl's shoe supplies and see what needs adding for this season. Current shoe trends perfect for Spring include:
Strappy gladiator sandals

Floral sneakers

Glossy and metallic sneakers

Tassel boot

ies

Ankle strap ballet shoes
1
1
.
Wear a Hip Bag
Hip bags are so cool right now, and the perfect addition to your girl's outfits this Spring. They're perfect for sporty girls who have a big day out full of adventures, and great for holding all those little bits and pieces she might need. Things like an extra hair tie, a packet of tissues, and a few coins to get a treat at the corner shop.
12. Go Bright
With
White
Spring is about fresh, new beginnings – so white is a perfect pick for a Spring outfit for girls. Whether it's bright white denim, a white tiered skirt, or white tee, you'll find it so easy to mix and match white pieces into your girl's Spring wardrobe. She'll be looking vacation-ready with bright and airy outfits ready for Spring and Summer!
13. Lovely in Lace
This season, you'll see plenty of kids' fashion with lace trimming on sleeves, hemlines, necklines, and lace overlays on dresses, tops, and skirts. Girly fashionistas will love incorporating lace into their outfits!
1
4
.
Say Hello to Polka Dots
As we mentioned in our previous article on Spring pattern trends, you're going to see a whole lot more kids' clothes with polka dots!
1
5
.
Add a Straw Hat
Not only is a straw hat practical for Spring days in the dirt and sunshine, but it can make a gorgeous statement to finish off your girl's outfit.
1
6
. Rock the Denim
This season it's all about denim in kids' fashion. Not just your standard blue/black denim jeans, either. Pastel and brightly colored denim, along with denim skirts, shorts, jackets, and dresses are all on-trend. Even denim-on-denim is totally cool! Read more about denim in our guide, our favorite ways to style denim.
1
7
.
Tailored
Fit Jackets
It's not quite summer yet, so it's important to make sure your girl has a couple of jackets and cardigans in her Spring wardrobe. One outerwear trend we're loving is tailored fit jackets because they're a great contrast to the floaty, ruffled shapes we're seeing, and can really balance out the outfit.
1
8
.
Hair Accessories
Finally, we absolutely must mention a few current hair trends. Scrunchies, big bows, and hair jewels are all on-trend and perfect for finishing off your girl's look. Styling tip? Try to pick hair accessories that link well to the rest of the outfit, with either similar colors, patterns, or embellishments.
You're Always On-Trend with kidpik
We've covered 18 trends your girl might want to try this Spring, so it's perfectly normal if you're feeling a tad overwhelmed right now. Luckily, there's a really easy way to make sure your girl's always on-trend…
Our monthly kids' fashion box comes with all the Spring style trends your girl needs to update her look for the season. And it gets better:
Everything is personalized to your girl's unique personality and style

You get 7 items that mix-and-match

kids'

fashion

and accessories to create 3

super

cute girls' outfits
It's all delivered to your

door

so you can skip the mall

Your girl gets 7 days to try it all on and decide what to keep and what to send back

You only pay for the clothing your girl decides to keep
Ready to get started? Get your kids' fashion sorted for Spring (and beyond!) with kidpik.
What's Your Girl's Favorite
Springtime
Activity?
Before we go, we'd love to know:
What's your girl's favorite thing to do in Spring? And what does she wear to do it?
Let us know your answer in the comments below!
Ready to try Kidpik?
Tell us about what your child loves (and doesn't love!) and our stylists will do the rest. They'll receive customized, surprise fashion delivered on your preferred schedule to unbox and try on at home.
Get Styled
Skip, pause, or cancel anytime.