14 Times You'll be Thankful for Your Clothing Subscription Box
14 Times You'll be Thankful for Your Clothing Subscription Box
For many, holidays mean fun get-togethers, family photo opps, delicious home-cooked meals - and a lengthy to-do list.
One thing you won't have to worry about if you've got a children's clothing subscription box is dressing your girl in a trendy outfit already styled head-to-toe (especially if you have a few extra options, in case of accidental cranberry sauce stains!).
In this article, we'll take a look at all the potential stressful situations around the holidays and how kidpik can be a huge time-saver.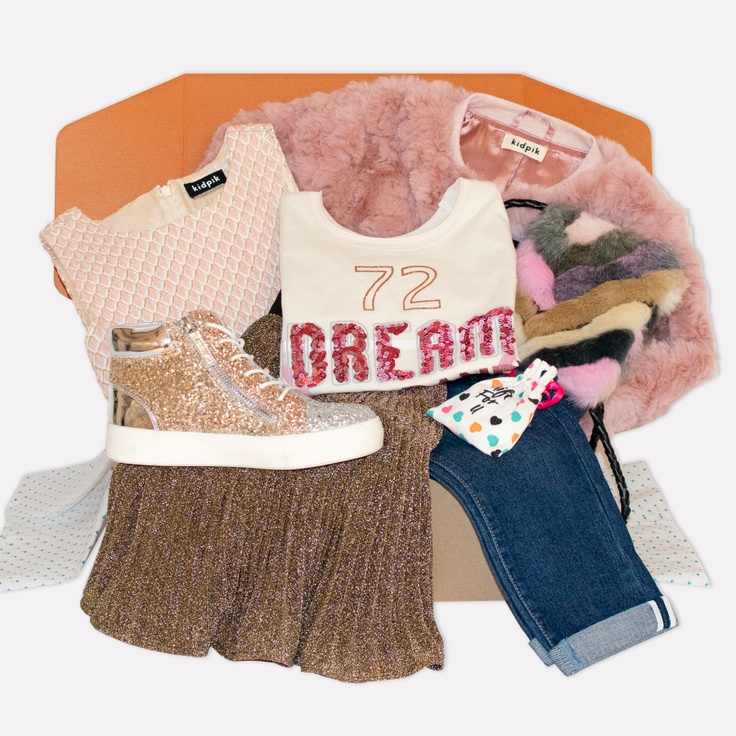 1. When You Pack Your Bags for a Trip
Got a special trip planned for the holiday period? Hopping on a plane for a holiday or taking a road trip to visit your family is exciting … until you're faced with the challenge of packing a week's worth of your girl's clothes to fit in a small bag - eek!
With kidpik's clothing subscription, you'll have a variety of fully coordinated outfits for girls and mix-and-match clothes. That way, you can pack fewer items and your girl can show off more unique looks!
2. When She Has a Holiday Growth Spurt
While you were busy planning the big family dinner and what gifts to get for everyone, your girl's had another growth spurt - of course!
But instead of heading to the (very busy) mall to update her wardrobe, you can easily change her sizing with your kidpik fashion subscription box. Just log into your online account and select the new size. It's that simple! Plus, you can pack up her old clothes and bring them along to the next family gathering… your girl's younger cousins will be thrilled with their "new" clothes!
3. When You're Tired Of Tacky Holiday Outfits
At this time of year, so many moms get a bit weary of the endless holiday decorations and tacky outfits. Does your kid really need to look like an elf? And will they roll their eyes at you when they look back on all the photos? (No… and yes.)
Thankfully, with your children's clothing subscription box, you'll always have classic, on-trend outfits you can dress your girl in. So you can save the tacky holiday outfits for just one or two days a year.
4. When Your Relatives Ask About Gift Ideas
"What can I get your girl this year?" The answer is easy!
A kidpik clothing subscription box makes the perfect gift, so if your girl's not already getting one, or she'd like to receive a box more regularly, she'll be thrilled to get a kidpik pre-styled gift box or kidpik gift card (or two or three!) for the holidays.
And you don't have to worry about the gifter getting your girl's sizing or favorite colors right, because she can choose them herself via her kidpik account!
5. When You Just Don't Feel Like Doing Laundry
It's the most busiest time of the year...
We're willing to bet you probably don't feel like doing laundry every day, even if you can somehow find the time for it. Wouldn't it be nicer to put your feet up for once instead of folding the clothes? (Umm, yes!)
If you've had your children's clothing subscription box for a few months now, your girl should have a nice, ever-growing collection of outfits she can wear so that you don't have to wash every single day.
6. When The Weather Suddenly Turns Freezing
It's time to layer it up, baby! One day, you can comfortably hang out in a t-shirt, and the next day it can feel like winter has come all at once. Suddenly you need to dig out last year's sweaters and jackets from the back of the closet!
But when you're signed up to a children's clothing subscription box, your girl's winter wardrobe is already handled. We're way ahead of you with the latest winter fashions before you desperately need them! Our subscription box l will have a full collection of clothes for this season - all just the right size and totally on-trend.
7. When Your Girl Helps in the Kitchen
One of the best parts about this time of year? Holiday baking. Gingerbread houses, pumpkin pie, sugar cookies, fruitcake… the list goes on. And you can't not get covered in flour when you're making gingerbread cookies, right?
The good news is, your girl will have plenty of backup clothing options to choose from thanks to her kidpik fashion subscription box. So she can help you cook up a storm in the kitchen (and do it in style).
8. When the Roast Comes With Cranberry Sauce
You don't have to avoid the best foods because your girl might spill something on her clothes. And let's be honest - it'd be a shame to have turkey without cranberry sauce, gravy, or all the other good toppings.
Your children's clothing subscription box means your girl will always have a backup outfit ready to go. Just make sure you get that stain out ASAP (follow our tips here).
9. When You Finally Get the Family Together For a Group Photo
When your whole family gets together once or twice a year, you can bet grandma will want an updated group shot of you all. Because look at how much the grandchildren have grown!
Your girl can look her best for the group photo in her favorite outfit from her children's clothing subscription box. And (just as importantly) she can express her own personality and style — which means she might actually want to be in the pic!
Tip: make sure that you bring a backup outfit (or two) in case she finds herself in a puddle a minute before the photo. It happens!
10. When You Just Don't Want To Face the Mall
Black Friday sales and pre-holiday crowds are everywhere this time of year. Sometimes (even for people who normally love shopping) the mall is the last place you want to go.
So when your children's clothing subscription box shows up, you can breathe a sigh of relief, because it's one thing you won't ever have to go to the mall for (unless you really want to!).
11. When You Want to Share Cute Snaps on Insta
Whether you're putting up decorations or heading out to look at the pretty lights, it's nice to be able to snap a cute family pic to share. Don't let that cute moment be ruined by worn-out clothes or an outfit that doesn't match! Your girl's outfit will be insta-ready every day thanks to her children's clothing subscription box with head-to-toe coordinated outfits.
12. When You Head Out to Special Events
Nothing is worse than getting ready to head out when your girl can't find something to wear! Maybe her shoes don't fit anymore or she doesn't have anything suitable for the occasion. Whether it's a school event, a gift exchange among friends, or something else, your girl will have plenty of outfit options from her children's clothing subscription box.
13. When You Pass On Amazing Hand-Me-Downs
Maybe when you were a little girl, you were lucky enough to get hand-me-downs from an older sister or cousin. It's great suddenly having a lot of extra clothes to choose from, especially when they've come from one of your favorite people. Well, your girl can be that person to her relatives or friends!
With her children's clothing box subscription, she'll have plenty of much-loved pieces to pass on once she doesn't fit them anymore. And because they're great quality, they'll have plenty of life left in them for the next girl (and the next).
14. When Your Girl is Confident - Inside and Out
Nothing makes you prouder as a parent than seeing and hearing your girl act confidently around other people. Whether she speaks up about opinions, stands up for others, or just struts her stuff with a little extra confidence, it's great to see she can hold her own.
What you wear really does impact your thinking, your confidence, and the impression you leave on others. And with a children's clothing subscription box that fits her unique personality, she'll feel empowered (and super comfortable) to be herself anywhere, any time.
Ready to Sign Up For Your
Children's Clothing Subscription Box
?
You're just in time to sign up for the upcoming holiday season. Our kidpik clothing subscription boxes will save time and energy over the holidays — after all, you've already got enough other stuff to worry about, right?
Getting started is easy - click below to sign up and we'll take your girl through a fun quiz to help us put together a clothing box she'll love. We'll deliver the box to your door and you can send back anything you don't want to keep.
Make your girl's life more fun (and fashionable) and make your life so much easier.
Sign up now to receive your first box!
Ready to try Kidpik?
Tell us about what your child loves (and doesn't love!) and our stylists will do the rest. They'll receive customized, surprise fashion delivered on your preferred schedule to unbox and try on at home.
Get Styled
Skip, pause, or cancel anytime.