Kidpik Launches NASA Capsule Collection
Kidpik Launches NASA Capsule Collection
The Kidpik NASA collection is truly out of this world. As we like to say, Houston, NASA apparel has landed at Kidpik! Although NASA (the National Aeronautics and Space Administration) has been around for over 50 years, the love people both young and old have for space exploration continues to grow.
Whether a kid is a science lover, space enthusiast, or is an aspiring astronaut, this is the collection that they will get excited about.
A Love of Science Meets Fashion Trend
Kids don't have to be space-obsessed to love what has become a growing fashion trend. Celebrities like Dua Lipa, Chris Evans, and Ariana Grande have all been spotted wearing streetwear with the NASA logo. Aspiring space cadets that have a love of cool logos will be over the moon with this collection that has a nostalgic vibe and reminds us of classic Americana which is always popular.
The capsule collection is part of Kidpik shop. Kidpik was founded in 2016 by Ezra Dabah, a leader in the childrenswear industry. Dabah and his team, which is made up of parents, creatives, and stylists, have over 30 years of combined children's wear experience. Together, they set out to deliver a solution for parents by delivering a fashion clothing box with personalized and stylized outfits for kids.
Houston, A Trend Has Landed!
The line features different types of jackets, pants, t-shirts, hats, and bags which are perfect for letting kids express their love for space. Using the signature "worm" NASA logo, the collection is in the reds, whites, and blues that we have come to love.


Bomber Jacket
Key pieces include a NASA bomber jacket available in Turkish Sea Blue. The front of the jacket has a space shuttle triangle patch, and astronaut academy logo patch, and American flag patch.
The jacket is made from a waterproof fabric and features quilted lining for comfort and warmth.
Jogger
Coordinating joggers have exclusive NASA graphics and are featured in a performance waterproof outer fabric with super soft jersey lining the inside and feature a pull-on waist.
Both the jacket and joggers, and all pieces in the collection, are available in size 4 – 16.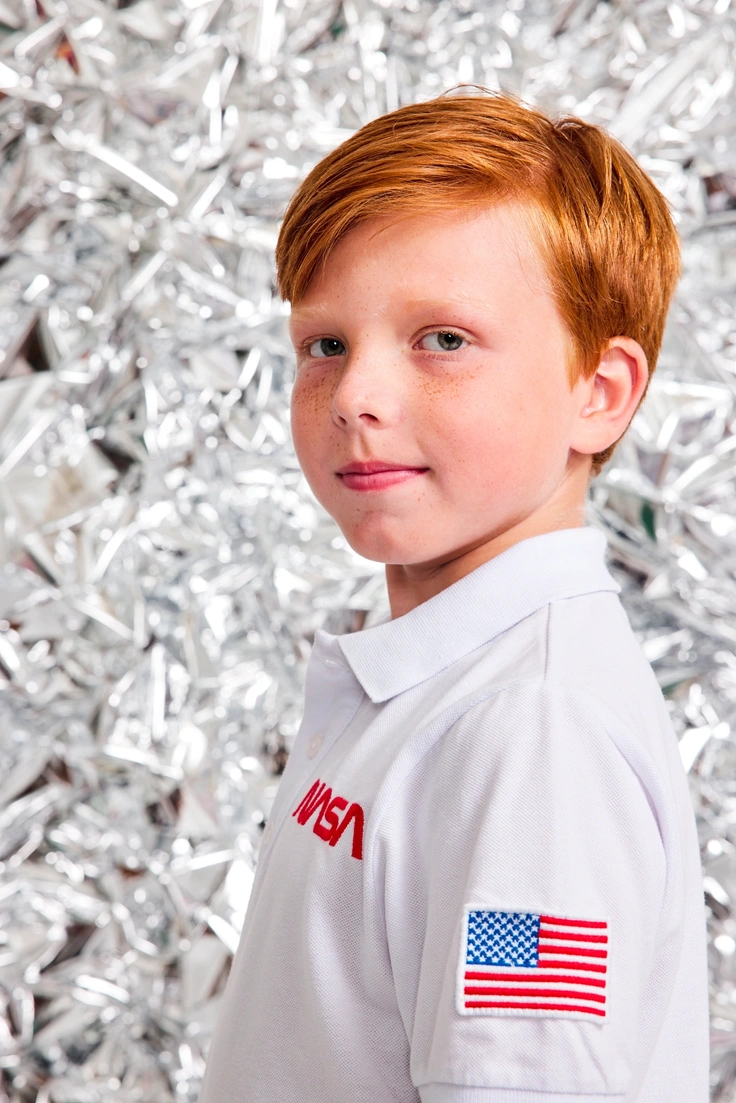 Polo Shirt
For those who like style with their science, the NASA polo shirt is the perfect match.
The design features a super soft pique fabric with NASA official patch on the front and American flag on the sleeve.
Hoodie
Hoodies are one of the biggest street style trends and paired with NASA logos, you have a winning combination.
A great basic for both girls and boys, this style comes in red and features a white graphic/verbiage/logo at the front chest. The brushed fleece is super soft and cozy.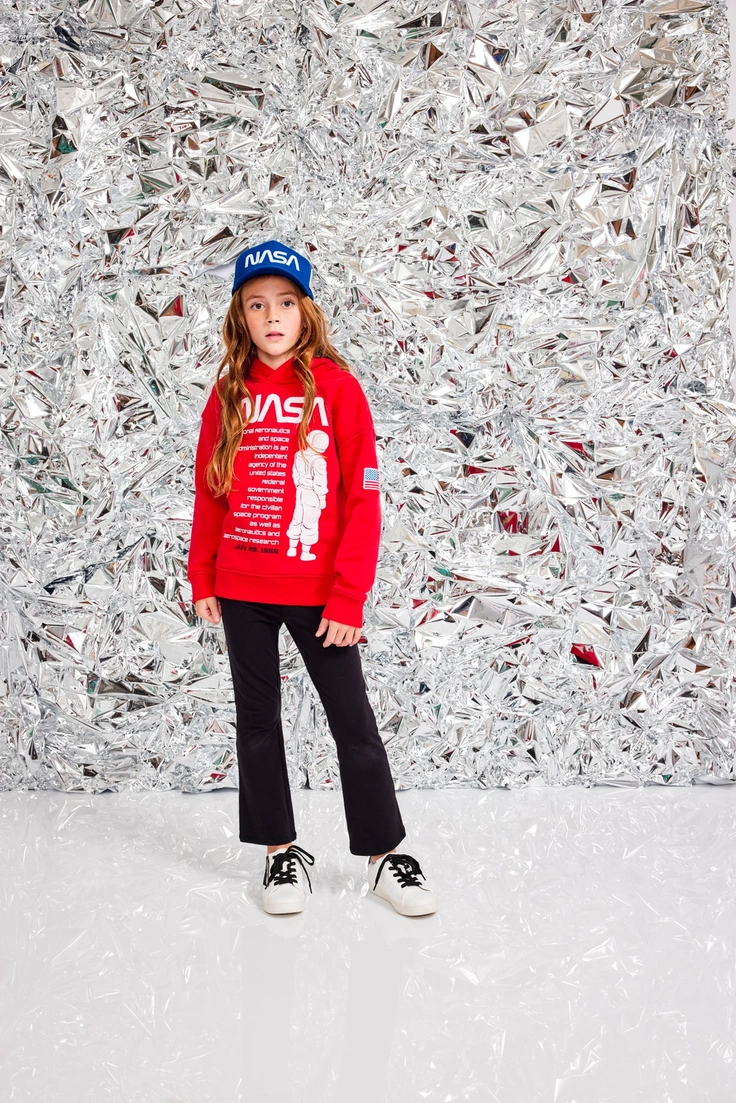 T-Shirt
Everyone loves a great t-shirt and the NASA collection really lands it in terms of style and comfort.
This comfy graphic top is made of light weight cotton jersey featuring crew neck, short sleeves and graphic at the front and sleeve.
There's also a NASA patch on the front and American flag on the sleeve.
Accessories
Complete the out-of-this-world look with one of four great looking caps. Available in Turkish Sea, Black, White, and Mars Red, each captures a space age spirit in its own way.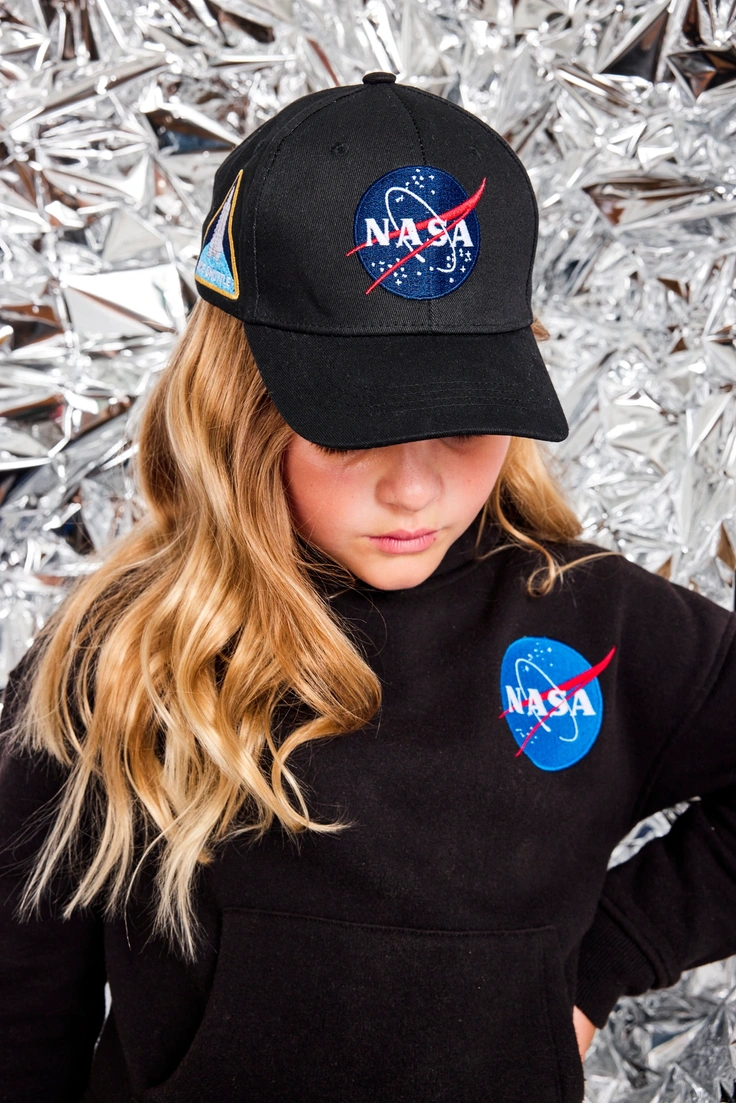 Ready to try Kidpik?
Tell us about what your child loves (and doesn't love!) and our stylists will do the rest. They'll receive customized, surprise fashion delivered on your preferred schedule to unbox and try on at home.
Get Styled
Skip, pause, or cancel anytime.