kidpik Named #1 in the 2019 Reader's Choice Awards!
kidpik Named #1 in the 2019 Reader's Choice Awards!
Everyone always wants to know: which is the best kids clothing subscription box? Well now it's official – it's kidpik!
We're so excited to announce that kidpik was named as a winner in the 2019 Subscription Box Reader's Choice Awards! And not just in one category, we are proud to have ranked in three popular categories:
Best Subscription Box for Kids - #1

Best Kids Clothing Subscription Box

- #1
Best Charitable Subscription Boxes - #6
Best
Subscription Box for Kids
kidpik was named #1 for the Best Box for Kids 12 & under. Last year, we were excited to take home the #2 spot in this category, and this year we are even more excited we've moved up to the top spot. We're so proud of this achievement – especially when you consider that we're one of the only boxes listed that cater directly to girls.
There are so many different subscription boxes for kids out there – from kids clothing subscription boxes (like ours) to arts and crafts boxes, book subscriptions, and science boxes. We love that readers chose a super-practical (but fun) box like ours to take the #1 spot. It just goes to show that kids and parents love the way kidpik delivers fun and exciting new fashion options every single month.
Thank you so much to our loyal fans and readers over at My Subscription Addiction for all the love! 💛 And that's not all…
Best
Kids Clothing Subscription Box
We were up against some really stiff competition in this category, but we're so proud to be voted by readers as the #1 best kids clothing subscription box in 2019. Last year, we were ranked #2 in this category, so it's really exciting to nab a top spot again and move up to #1!
Parents and kids love kidpik's mix-and-match, personalized approach to fashion. Because our kids' clothing subscription box offers free shipping, free returns, and flexible delivery schedules parents feel confident ordering a box for their kids. While we're not necessarily the cheapest (or most expensive) clothing box on the list, our clothes are amazing quality and great value. Especially when you decide to use our 30% discount and keep the entire box!
We'll continue to listen to our kidpik families to ensure we keep on delivering the kind of kids' clothing subscription box moms and kids want.
And finally, the third category we ranked in…
When Businesses Give Back, Everybody
Wins!
We're just as proud of our #6 ranking in the Boxes that Give Back category as both the other categories. kidpik was the top-ranked kids' fashion box listed and we will continue to be leaders in this practice. We really do believe that when businesses give back, everyone wins. It's why we introduced our girls give back program:
We'

r

e partnered with

GOOD+ FOUNDATION®

to provide clothing to girls in need

You can purchase and donate any items in your subscription box that your girl doesn't want for herself
Just

p

lace the item(s)

you'd like

to donate inside the prepaid return envelope and drop in any USPS box

You'll receive our 30% discount on your

kids' clothing subscription box

and we'll match your donated gift (everyone wins)!
It's a wonderful way to teach your girl about the spirit of giving and sharing kidpik and fashion love!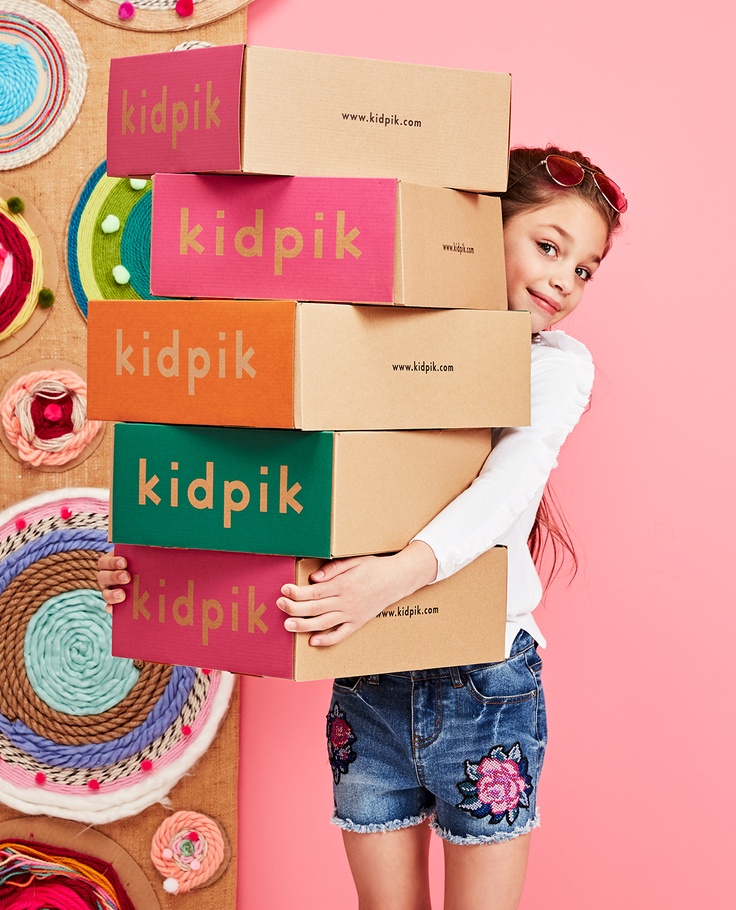 What Makes kidpik So
Unique?
There's a reason why so many readers voted for kidpik – we stand out in comparison to the other kids' clothing subscription boxes out there. Here's how:
We Specialize in Girls' Fashion
Unlike many other boxes, we focus solely on girls' clothes and fashion. It means you can trust that the clothes you get in your box are 100% in-style for your girl right now!
You Get Coordinated Outfits
Each month we specially select clothing for your girl that coordinates perfectly, so you can mix-and-match anything in your box. Each item sent is designed in-house by kidpik to easily coordinate together; that's how we provide you with 3 cute outfits for girls from the 7 items total in the box (including shoes)! Coordinated outfits mean it's easier than ever for your girl to pick out her own clothing and dress herself, fostering independence and increasing her confidence.
Each Box Is Personalized to Your Girl's Style
Starting with our fun quiz, kidpik is all about your girl's unique style. Whether she's trendy, classic, girly, or athletic, our stylists will customize your girl's box to match her style and preferences. Sign up to take our free quiz and find out your girl's style!
You Get
Shoes!
Finding cute shoes for your girl that match her outfits is one of the trickiest parts of styling. So, we include a pair of high quality, on-trend shoes with every box (if selected). For many of our subscribers, it's their favorite part of the box!
Unbox Fun
Part of our mission is to make fashion fun for your girl! Each month you'll unbox fun with 7 surprise items (you never know what you'll get) and a free gift for your girl to keep.
Enjoy A Super Flexible Subscription
With kidpik, you can choose how often you want to receive a box – you're never locked into a subscription. You can choose from a monthly clothing subscription box, two boxes per season, or one box each season. Change your frequency at any time, or even pause your subscription until your girl hits her next growth spurt.
Sign Up For Your Award-Winning Subscription
Today!
We've been a top-ranking kids' clothing subscription box for years now, with appearances in HuffingtonPost, Purewow, Buzzfeed and many more. So, if you haven't tried kidpik yet, what are you waiting for?
Not only are we award-winning, but we offer a totally risk-free way to find cute clothing perfect for your girl. After you sign up, we only charge you for the clothing you choose to keep – and you get 7 days after delivery to decide! With free shipping and free returns you've got nothing to lose.
What Awards
H
as Your Girl Won?
We love sharing our kidpik's awards, but we love hearing about your girl's achievements even more! Has she won any special awards or certificates lately at school or anywhere else? Feel free to leave us a comment below! 💛🏆
Ready to try Kidpik?
Tell us about what your child loves (and doesn't love!) and our stylists will do the rest. They'll receive customized, surprise fashion delivered on your preferred schedule to unbox and try on at home.
Get Styled
Skip, pause, or cancel anytime.