Grandparents: Subscription Boxes For Grandkids That Don't Require a Stamp
Grandparents: Subscription Boxes For Grandkids That Don't Require a Stamp
Are you a grandma or grandpa looking for ways to connect with your grandkids from a distance?
If you can't be there to give your grandchild a hug and a gift in person, what's the next best way to connect?
With a cool gift delivered, of course!
As a grandparent, you're always looking for ways to spoil your little loved ones, whether it's their birthday, or a Holiday.
Sometimes it can be hard to find a gift that doesn't require a lot of work to ship on your part.
Fortunately, there are some great gift ideas out there for your grandkids, if you know where to look.
From subscription boxes to experience gifts, there are so many ways to spoil and connect with your grandkids, even if you're on the other side of the country or the world!
So, while we normally write to moms, dads, and girls, this blog is dedicated to all the (really cool) kidpik Grandmas and Grandpas out there!
We've put together a list of our favorite gift ideas that your granddaughter is guaranteed to love, plus some practical tips to help you choose (and ship) the right gift.
8
Granddaughter Gift Ideas She'll Love
1.
Monthly
Clothing
Subscription Boxes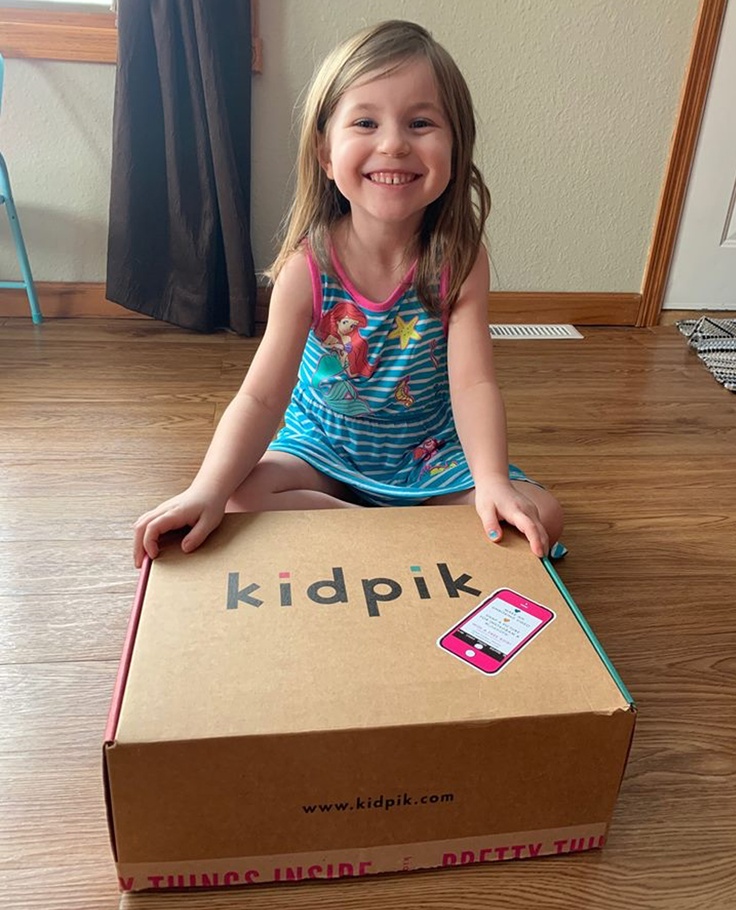 As a grandparent, you might want to give your granddaughter clothing – it's such a practical and fun gift option.
Once your grandkids are past the baby stage, it can be tricky to know what size to get, what style she'll love, and whether it'll fit in well with her existing wardrobe.
Plus, who wants to spend hours at the local mall, trying to find the perfect outfit and get it shipped? That's where a clothing subscription box like kidpik makes so much sense.
With kidpik, you can give your granddaughter a personalized, stylish gift she'll love, every month – without all the hassle!
A recurring subscription box will help you connect with your granddaughter as you both explore and learn more about her sense of style and personality.
It's all shipped free (with free returns) so you don't have to worry about organizing postage or getting everything perfect. kidpik will keep your granddaughter looking stylish and confident, month after month. You'll love seeing the videos and photos your granddaughter shares, as she confidently shows off her new style!
Want to know more? Read more about why subscription boxes for girls make the best gift.
2.
A Day Trip Together
If you can't see your granddaughter right away, why not promise a special experience for next time you get together?
You could create a pretty "IOU" voucher and email it through to mom or dad, with a few ideas on what you might get yourselves into... a trip to the mall, the zoo, or the park?
She'll love making plans with you and the anticipation will make it even more exciting. All sorts of adventures await!
3.
Photo Book
Does your granddaughter love to look at old photos and special memories?
If so, she'd love getting a customized photo book. As a grandparent, you're the perfect person to create this book because you have the largest collection of photos!
You might include photos from when she was a baby through to now, or photos of her mom, dad, and extended family.
Your granddaughter will love seeing her picture printed in a book now, and it'll become a special treasure as she gets older.
4.
Art
Subscription Box
There's something so very right about doing arts and crafts with grandma and grandpa. But if you can't be there in person, why not encourage your granddaughter's creative side with an art subscription box?
She'll receive a new art project that she can work on month-after-month that'll keep her busy on the weekends. You'll love seeing her photos of the amazing artworks she creates – and she might even send you a special piece to hang on your fridge.
5.
Give Shares
Buying shares for your grandkid is a smart gift idea on many levels. It means they'll have something put away and grow into the future – whether it's college, their first car, or even a deposit on their first home.
They'll also get the chance to learn about money, the stock market, and the amazing power of compound interest. They might not be "interested" right away, but they'll certainly pay attention when they realize their account has grown. Shares are an investment in their future and their education!
6.
Movie Tickets
If your grandkids love to watch movies or you know there's a new release coming out soon that they're excited about, why not send them a movie ticket?
Movie tickets are easy to deliver from any distance – most services offer email or gift card delivery options. Your granddaughter will love watching all the trailers and then choosing her favorite – whether it's with you on your next visit, or with her best friend from school.
7.
Reading
Subscription Boxes
As a grandparent, you want your grandkids to read books regularly, but it's hard for you to encourage reading when you're not there in-person.
The next best option is to order them a reading subscription box for kids, with monthly books they can collect and read. A subscription box with books will help get your grandkids to get excited about reading and motivate them to do it more regularly. Every couple of weeks when you catch up on the phone, you can ask your grandkids about this month's books and what their favorites are!
8.
One-off Clothing
Subscription Boxes
Maybe you just want to give your granddaughter a one-off or occasional gift, not necessarily a subscription.
This brings us right back to where we started – with kidpik's clothing subscription boxes – because you can also gift kidpik without signing up for a monthly subscription. kidpik offers a range of flexible options, or send a one-off gift card that your granddaughter can use towards new clothing in her first ever box. Gift sorted!
9
Tips
for
Choosing a Gift for Your Granddaughter
So, now you've got some cool granddaughter gift ideas… how do you choose which one to get for your girl? We've put together 9 tips to help you narrow down your options.
1.
Check
with Mom and Dad First
Make sure your granddaughter doesn't already have it (especially if it's a toy)! Plus, mom and dad get the final say on what comes into the house, so it's important to respect boundaries (especially if your gift is large or noisy!).
2.
Check
Their Current Interests
and
Style
Kids change fast – so, don't base your gift on something they mentioned a few months ago. Ask your granddaughter (and her parents) what her favorite things are right now.
This also goes for if you're ordering a kidpik clothing subscription box. Our four main clothing styles are classic, trendy, athletic, and girly, so you'll need to make sure you know which category she fits into. The good news is if you're not sure what style your granddaughter likes, we take her through our fun online quiz when you sign her up!
3.
Make it
Personal
A gift is so much more special when it's personalized. Plus, if you've selected something that you know your granddaughter will love, it becomes a lot more practical and useful. You might personalize your gift with a special note (see if your gift service offers this) or add special touches by choosing your granddaughter's favorite color, style, or something else.
4.
Make
Sure It's Age Appropriate
If your granddaughter is still quite young, this means avoiding anything potentially dangerous or small enough to be a choking hazard. But it also means avoiding gifts like clothing that might be best suited to older or younger girls. Here at kidpik, we find that a lot of grandparents struggle to get clothing for pre-teen girls – so we've specially selected styles for this age group and size range that aren't little girl clothes, but aren't too grown up, either.
5.
Be
Educational – But Not Too Much
Kids can tell when a present has been purchased for educational reasons. Instead, follow their interests and buy them something they'll love to use, explore, and play with. Your grandkids will learn best through play and fun! Read about what kids can learn from subscription boxes.
6.
Be
Practical
You'll find most online unique gifts for grandkids aren't the sorts of things kids would use or appreciate. When it comes to gift giving, try to be practical. Look for gifts she'll actually use over-and-over again or something that could just make her life easier overall. Generally, it's best to get something that suits her interests that she'll love to use.
7.
Surprise
Them, But Don't Go Too Overboard
Most kids love surprises! But that doesn't mean you should take a risk on the kind of present you give. Strike the perfect balance by finding out what they're into right now and then choosing something that fits (without telling them exactly what it is!).
8.
Think
About Timing
If you're ordering a monthly subscription box, the timing won't matter too much, because it's an ongoing gift. And e-gift cards arrive via email instantly, so you can order that on the day. But if you're ordering a one-off gift, make sure you order at least a week or so ahead of when you want it to arrive (especially important for Holidays and birthday gifts!).
9.
Make
Sure It Ships
One more thing – sending a gift in the post can be a bit annoying. It means you won't be able to ship all the things (at least, not without paying huge delivery costs), and it might mean a trip out to the local post office. But you can avoid all of that by ordering a gift that ships direct to your granddaughter, with free shipping!
Get Your Granddaughter a kidpik
Subscription Box
kidpik's subscription boxes are a cool gift that checks all the right boxes. And they're so easy to organize. Just purchase an e-gift card with a personal message from you (she can use towards any kidpik clothing subscription boxes!)
Or sign your granddaughter up for a monthly clothing subscription box to give a gift that keeps on giving.
Whatever you choose, she'll be absolutely thrilled!
What's Your Granddaughter Loving Right
Now?
One last thing – what's your granddaughter into right now? And what fun and unique gifts have you given her in the past that she's really loved?
Ready to try Kidpik?
Tell us about what your child loves (and doesn't love!) and our stylists will do the rest. They'll receive customized, surprise fashion delivered on your preferred schedule to unbox and try on at home.
Get Styled
Skip, pause, or cancel anytime.