Let's Break a Sweat: At Home Workouts To Do With Your Kids
Let's Break a Sweat: At Home Workouts To Do With Your Kids
One of the things I noticed I really love is working out with my kids. It helps me to calm down after a busy day and it helps them to work out some energy as they move around.
Perhaps more importantly, it's a moment we get to spend together.
Are you a busy parent who likes to exercise?
Then you need to know about these activities so you can get your workout in.
Dancing
Whether it's a rainy day, you just woke up or if you need to fight that afternoon dip, dancing is a great way to get moving.
Put your favorite Disney tune on or any of your own picks and DANCE. Shake that body and move it all around – success is guaranteed.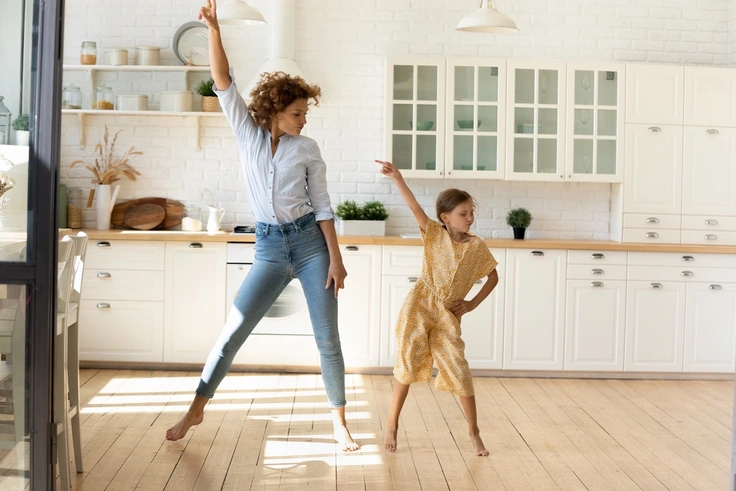 Outside is free
I personally love to go to the PARK to get fresh air and soak up some sunlight. You don't need a lot, just a ball and some good shoes.
Play catch, soccer, basketball, run around, have a water balloon fight, or chase your little one around the playground. You'll be exhausted in a good way. Remember to keep it light and playful, it's all part of the game of spending time together.
Don't forget to treat yourself and your little one to ice-cream on the way home during those hot days.
If you have older kids, perhaps they can join you for a run. I remember my mom going for runs several times per week and I joined her sometimes on my little pink bike. I absolutely loved it. I could spin my wheels and she got a workout while we were spending time together.
One other thing to do when outside is gardening. My mom is a great gardener and when we're at my parent's place, we like to help her.
Did you know that counts as a workout too? You're moving your body constantly. Gardening is a fun, energetic and healthy way of moving your body and you get to soak up some vitamin D along the way.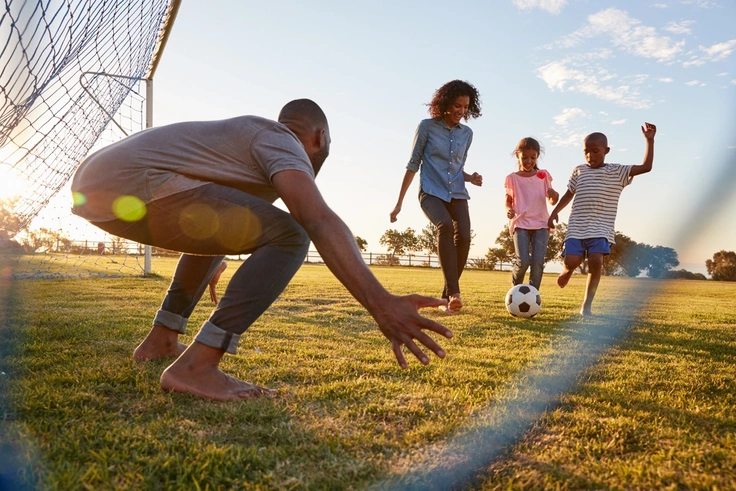 Go digital
Nowadays there are so many good workout options online. Try some programs and decide which one you like.
For all our Peloton fans out there, did you know they have a family program too?
I tried it out the other day and although my 2 year old wasn't excited right away, he really loved it in the end, so I added another 5 minute class to our practice.
They also offer yoga classes which can be beneficial for kids too.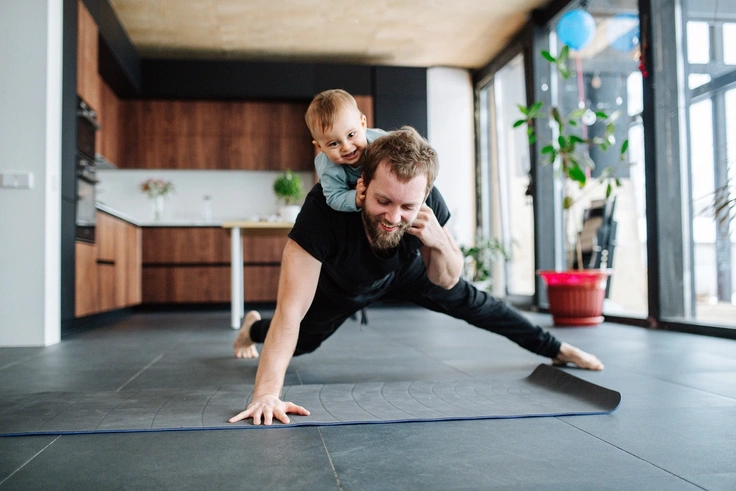 The traditional workout
Let's not forget about the gym. One of the reasons I rejoined my gym recently (I haven't been going since the pandemic) is because of the kids club they have and both of my boys love going there.
It's a win-win!
I get some well-earned ME time and the little ones get to understand that mommy likes to workout, while they can have fun at the kids club.
Not so traditional workout – Kids wonderworld
Don't we all want to immerse in a giant ball pit, jump around in a bouncy house, climb a gigantic rock wall, and wonder around in a magic place with a cool vibe.
If we stop thinking about the traditional way of working out and start seeing the world from our kid's perspective, we can join them in being a kid again.
If you're based in NYC, check out THE WONDER ROOM, a playful space for curious and imaginative families, especially fun for families with younger kids from 0-5 years old.
They just opened a few locations around NYC, not far from where we design our collections. MyGym is also an awesome children's fitness center with national locations to check out.
So, whether you go for a walk, do some yoga, join a gym, or just run around and play, there's an option for everyone to get daily movement in.
Just remember to use sun protection, gear up, have fun and try one of these comfy sporty outfits for your kids to get them excited about being active!
Written by Anna, KIDPIK's Community Manager
Ready to try Kidpik?
Tell us about what your child loves (and doesn't love!) and our stylists will do the rest. They'll receive customized, surprise fashion delivered on your preferred schedule to unbox and try on at home.
Get Styled
Skip, pause, or cancel anytime.