Girls Online Clothes Shopping: Find Her Perfect Fit for Dresses, Pants, and More
Girls Online Clothes Shopping: Find Her Perfect Fit for Dresses, Pants, and More
Girl's are shopping online for their clothes in record numbers.
Do you love shopping online for your girl? And does she love the excitement of getting something just for her in the mail?
Of course, who doesn't?! Imagine a box full of fashion and fun!
But sometimes it can feel like a risk when you can't physically try on an item before you buy it. Here at kidpik, we've thought long and hard about what it takes to create the ultimate shopping experience. So we've put together a guide to online shopping for girls' clothes to help you get the clothes that fit your girl just right.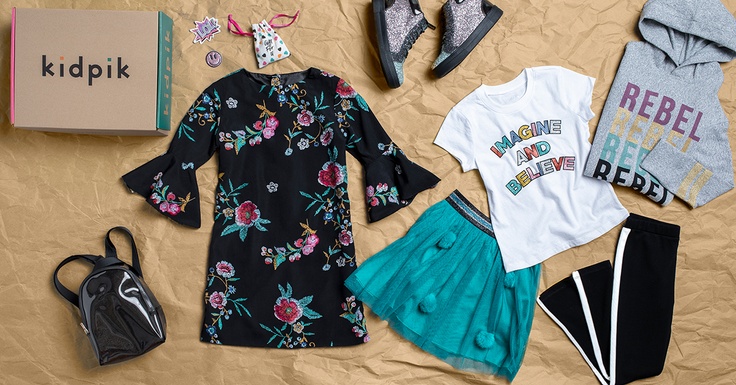 Why We LOVE Online Shopping For Girls' Clothes
First of all, let's just take a moment to appreciate how amazing online shopping really is. And just how far it's come over the past 10-20 years. Here's why we love shopping online for girls:
💛 It's convenient - Who doesn't love shopping for things in their pjs? Then getting your goodies delivered to your door on a silver platter?
💛 It's got so many choices - You're not limited to whatever your local mall has in stock.
💛 It's fast - A few clicks or taps on your screen and you're done… then a few days later, your order arrives!
💛 It's exciting - Opening a box full of clothes you love is like unwrapping a present, just for you! (For me? Oh, you shouldn't have! 😘)
💛 It's free delivery – Thanks in part to Amazon and Zappos, most online companies offer free delivery and returns.
Now instead of spending hours and money shopping for kids' clothes at the mall, you can save those trips and use the new free time to enjoy family entertainment, or meeting up with friends.
But How Do You Avoid Online Fatigue?
Even though we LOVE online shopping, we know it doesn't always work out. You might accidentally order the wrong size (easy to do if your girl fluctuates between sizes) or the clothing might not be what you expected.
Luckily, these issues can be avoided simply by buying your girl's clothing from an online shop that has a good return and exchange policy.
Try Before You Buy, Even If You Buy Online
You'll never be 100% sure if the clothes you shop for online will be right for your girl until she tries them on. Here's the thing…
* Sizing is different for different brands and stores*
* The type of fabric will affect how it fits
* What you see online is not always what you get
* And clothes can look different on everyone - we're all unique!
*Side note: Our fit here at kidpik is consistent because we design our own brand. Our Design, Merchandising, and Technical teams work together to ensure a consistent and perfect fit every time. We have an average of 30 years experience in making great fashion and appropriate clothing for girls. So our clothes are usually pretty spot on, as you'll read in our customers' reviews. :-)
Since there's no way to be certain about sizing and fit, it's ideal if your girl can try the clothes on in the comfort of your home before you buy them, even if you're shopping online for your girl.
So, Check the Return Policy!
That's why any online shop for girls really needs a good return/exchange policy! Check their terms and conditions or ask them a few questions:
* Can I try before I buy? (With kidpik's clothing subscription box, you only pay after you decide what items you want to keep!)
* Or at least, can I return it for a full refund if it's not right for me? (kidpik only charges you for the items you don't return!)
* How much time do I have to try/return items? (kidpik subscribers get 7 days after their box arrives, in the comfort of their home, they can decide what clothing they want to keep or send back.)
* Do you include a return envelope in case I need it? (kidpik includes a prepaid return envelope with every order to make it super easy.)
Once you're happy with the return policy, you can shop online for your girl with confidence!
Does It Fit? Tips For Trying On Girls Clothes
Once your online order arrives, your girl needs to try everything on and decide what to keep and what to send back. This can be tricky if you don't know what to look for! Here are some tips to help you pinpoint whether or not a piece fits and works for your girl.
👗 Dresses
The most important thing about a dress is that it makes your girl feel AMAZING!
But when it comes to the fit, you'll know it's her size if it's not too tight and the armholes don't cut in or gape. It should be easy to move (and twirl) in, and she should feel comfortable with the length.
Also, just as a side note… not every girl likes dresses, and that's totally okay! If that's your girl, see if she'll try a jumpsuit instead. They're super trendy right now and the perfect alternative to wearing a dress because they're easy to dress up or dress down.
🔺 Skirts
You can get so many different types of skirts right now... maxi skirts, hi-lo skirts, fit-and-flare skirts, pencil skirts, skater skirts, and a bunch of other styles. No matter what style you choose, there are two main things to check when your girl tries on a skirt at home:
* Does it comfortably sit on your girl's waist or hips without feeling uncomfortable digging in or falling down?
* Is it long enough that she feels comfortable but not too long that she can trip?
Skirts are super comfy (and you can do a LOT of things in a skirt), but if your girl's favorite activity is climbing on playgrounds or running around everywhere, you'll probably want to do fewer skirts and more skorts and pants. Either that, or add a pair of comfy leggings underneath her skirts.
👖 Shorts and Pants
Shorts and pants are wardrobe essentials for just about every girl. But they can be tricky to get the right fit. So, here's what you need to check when your online shopping order arrives:
* Do they button or zip up easily?
* Do they sit comfortably on the waist or hips (depending on the style) and stay up easily (even without a belt)?
* Do they stay in place and not ride up? Is the rise comfortable?
* Do they stretch? Can she bend over or sit down comfortably?
* Are they comfy enough to run around in? The more stretch the better.
Getting the right fit for pants can be tricky, but so worth it. Just think about how often you wear your favorite pair of jeans (that fit amazingly and go with everything)! Your girl will get a lot of wear out of her shorts and long pants if they fit right, look good, and are comfortable. Most kidpik pants have an adjustable waist.
🏃 Leggings
Leggings aren't just loungewear (even though they're mega comfy). Your girl can wear them for playtime, exercise, under dresses/skirts, and just about anywhere. So getting a great pair of leggings can really boost her wardrobe options, especially when you're between seasons.
Your girl's leggings should be comfy but not baggy, and either ankle-length or calf-length. Leggings are super stretchy, so they'll usually fit your girl longer than other types of pants. And if she's between sizes, you can either size-up to get more wear out of them, or size-down for a snug fit.
👕 Shirts and Tops
Shopping online for girls' tops is usually easier to get the right fit than shopping for pants (yay!).
To check the fit when your girl tries on a new top, make sure the armholes are comfortable - not gaping. Then depending on the style, the bottom seam should finish at your girl's hips and overlap with the top of her pants or skirt or even longer over leggings.
When it comes to choosing the right size, you have to pay attention to the fit and fabric. If your girl likes a slim fit and the top is made from stretchy material, you could probably size down. And if she likes her tops to be a little roomier (or you want to make sure it fits through the next growth spurt), you could always size up.
👚 Jackets
A proper fitting jacket or coat looks amazing and really finishes off an outfit, especially for fall fashionistas! Once your girl's online shopping arrives, you can check if her jacket fits properly by making sure…
* It easily buttons up and doesn't gape between the buttons
* When buttoned up, it doesn't pull at the chest or make an "X" crease in the fabric
* It doesn't pull at the shoulders (too small!) and there are no air pockets on top of the shoulders (too big!)
* If the sleeves are full-length, they should fall just below her wrists when her arms are by her side
* She can freely move her arms (break out a dance move!)
👡 Shoes
Whether you've shopped online for girls' sandals, sneakers, boots, flip-flops, flats, or canvas shoes… a good fitting shoe is non-negotiable! But it's tricky to get right, especially when your kids feet grow... So. Dang. Quickly!
So, pay close attention to how her new shoe fits, especially when she takes those first few steps. If your girl tries on a pair of shoes and they're putting pressure on her foot, she'll probably need to size up. Or if her foot is moving around too much inside the shoe, she might need to exchange them for the next size down.
And of course, the shoe should have flexibility, fit her style and match at least a couple of outfits that are already in her wardrobe.
If It Doesn't Fit, Send It Back!
The clothes you buy online for your girl should make her feel comfortable and happy! So if your girl tries something on and it doesn't fit her or it's not her style, you should be able to send it back, no questions asked.
Ready For Zero-Risk Online Shopping for Girls?
You don't have to head to the mall or spend hours looking at online stores for your girl's clothes. You can get amazing quality, on-trend, fully styled kids' fashion outfits with kidpik's subscription box. It's online shopping for girls without the hassle or stress over getting sizing right.
You only pay when you decide to keep the items in your box, and there's free exchanges in case you need to size up or down. It's the totally risk-free (and fun) way to shop online for your girl.
Ready to get started? All you have to do is...
Sign up for a kidpik box!
We'll take your girl through a fun quiz to find out her favorite color, pattern, fit sparkle level size and other preferences. This way, she can define her own unique look.
Then relax.
Seriously, that's it! Once your box is delivered, your girl can try everything on in the comfort of your home, then you have 7 days to decide what you want to keep, exchange, or send back - even if it's every piece of clothing. Easy peasy and absolutely risk-free. So get started today!
In the meantime, if you want to get some outfit inspiration, go take a look at our lookbook for some of our favorite piks this season.
Happy online shopping, girls!
Ready to try Kidpik?
Tell us about what your child loves (and doesn't love!) and our stylists will do the rest. They'll receive customized, surprise fashion delivered on your preferred schedule to unbox and try on at home.
Get Styled
Skip, pause, or cancel anytime.