7 Ways to Show Off Your Outfit Subscription Box on Social Media
7 Ways to Show Off Your Outfit Subscription Box on Social Media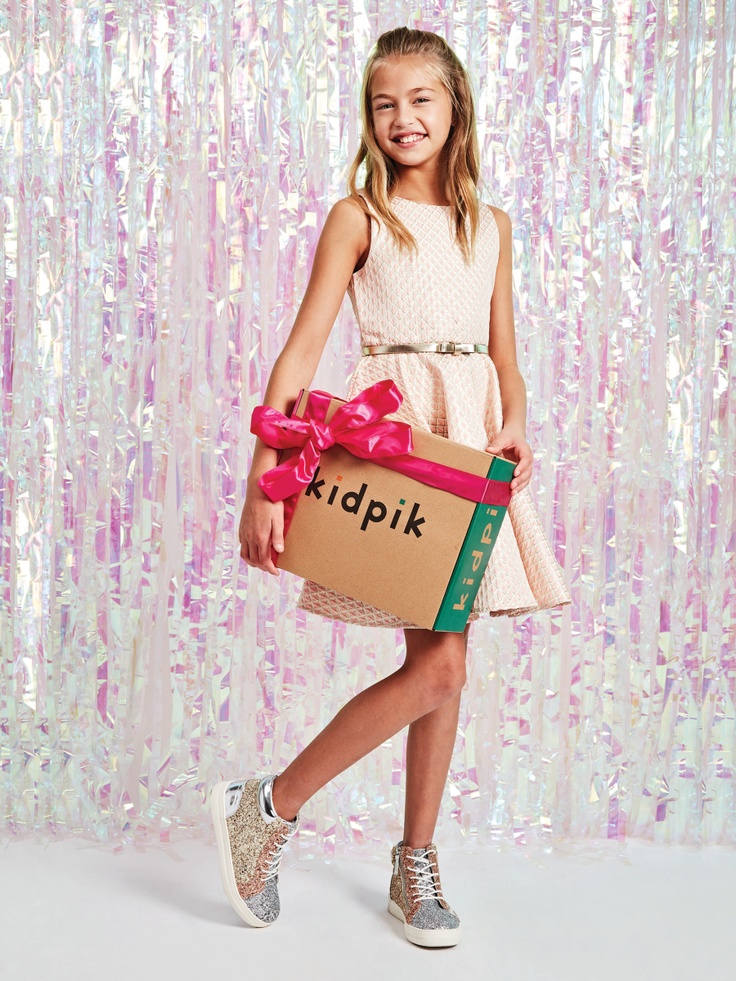 Unboxing videos are so much fun to watch! You can really feel the anticipation as you see your favorite fashionistas open up each layer of their latest outfit subscription and reveal what's inside.
Unboxing videos are even MORE fun when you make and share them yourself!
In this article, we'll share tips for girls on how to show off their new outfits and fashion picks on social media, just like their favorite influencers!
We'll also feature some of our top kidpik unboxing videos so you can get some ideas for your own video - and who knows? You may get featured here someday too!
1. Snap a Pic Of Your Delivery Box
After your box arrives, take a pic on your phone or camera to share on Snapchat or Instagram stories. Then you can snap some more pics as you open it and create a series. Use the photos to tell a story and show your friends what happens next... and share the fashion outfits in the box!
Tip: make sure you cover up any personal details like your name and address label before you snap the pic!
2. Do a Flatlay!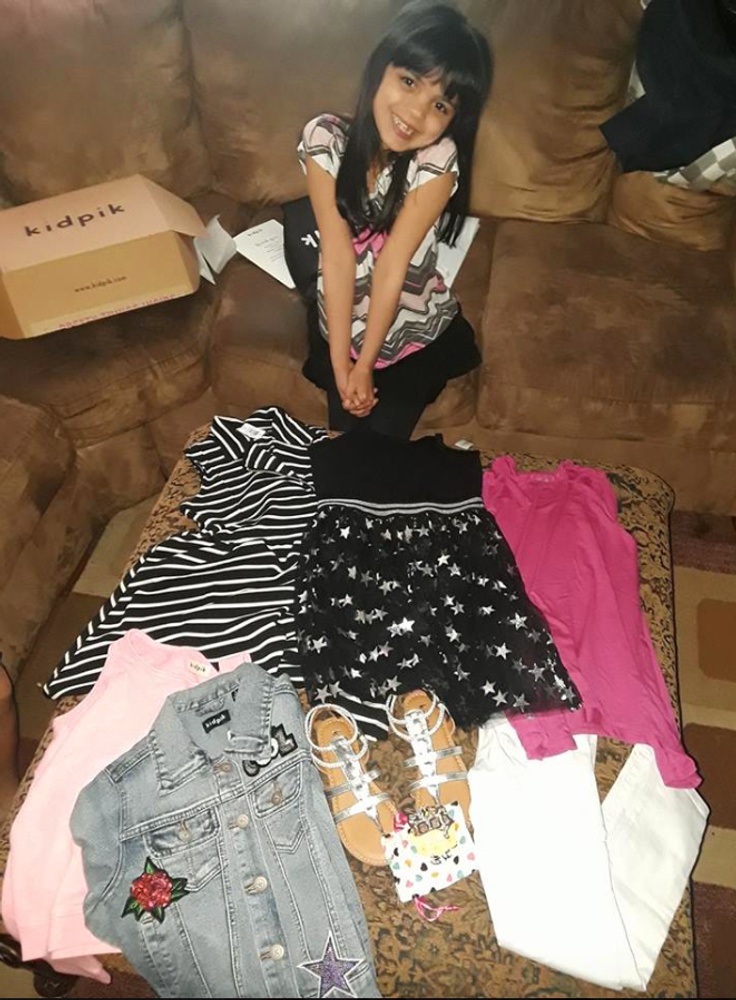 A flatlay is a type of photo where you lay out all the styles you received on a flat surface and then take a picture from directly above. It's the perfect way to show all the items you received in your fashion outfit subscription box!
To prepare your flatlay, mix and match the different pieces from your box. You could even use things like a notepad and pen, a book you're reading right now, or some pretty flowers from the garden to add interest and new textures to your story.
To create your flatlay, choose a clean, flat surface. A white bedsheet works great for this, or you might use your tiled or wooden floor for fun texture. Then lay out each of the items so it looks interesting from above. You might need to play around with the layout and combination before it comes together. Then you'll take a picture on your camera or phone from directly above the clothes you've laid out, so find a sturdy chair to stand on! Yay, now you've created a super cute flatlay of your outfits that you can share on social media!
* Safety first - It's a good idea to get your mom or dad's help with this one or better yet - ask a tall family member to take the shot for you!
3. Create a Gif
Gifs are awesome, right? You can show movement and tell a little story with just one image. You can use a gif maker to turn your outfit into a fun moving image like the ones below!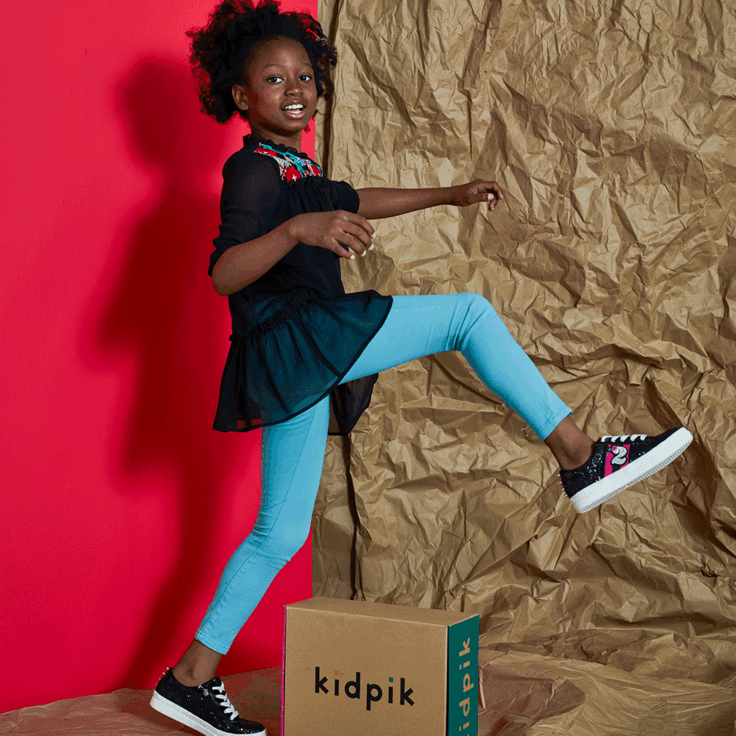 You might want to make your gif at the same time you create your flatlay - simply keep your camera in the same spot, but adjust the items in your flatlay to move them a little at a time for each photo. Then upload your series of photos to Giphy or a similar gif maker. Then you've got some cool moving pics to share on Facebook, Instagram, or Snapchat!
4.Use #Hashtags
Whenever you share something about your outfit subscription box on social media, make sure you use hashtags to help more people see it! We love it when our awesome customers use the #kidpik hashtag, so we can find and share their pics with our community. But other hashtags you can use might be:
#OOTD (outfit of the day)
#instafashion (for Instagram)
#fashionista (because that's what you are, girl!)
#lookbook (for outfit inspiration)
#streetstyle (for sharing looks while you're out and about)
#kidsstyle / #stylishkids (to help other kids find you!)
Using these hashtags will help more people in the fashion community see your awesome new outfits and get inspired!
5. Tag the Brand!
We LOVE seeing your subscription box once it arrives and hearing what you think about it. So make sure you use the @ symbol to tag us whenever you post online.
Facebook: @kidpikworld
Instagram: @kidpik
Twitter: @kidpikworld
6. Make a Boomerang!
A Boomerang is like a very short (2-3 second) video that gets replayed backward and forward over and over again. You've probably seen them on Instagram.
We love using Boomerangs to show:
💛 Your fashion subscription box opening and shutting
💛 Posing in a cool new outfit
💛 Jumping for joy!
Once you've got your Boomerang recorded, you can post it on Instagram, Facebook, or both.
7. Share Your
Outfit Subscription
With An Unboxing Video!
We've saved the best for last… unboxing videos are our FAVORITE way to show off a new outfit subscription delivery from kidpik.
You've probably seen all sorts of unboxing videos on YouTube. Kids opening new toys, makeup, technology, and of course… clothes! We love a good unboxing video because not only do you get to experience the anticipation and excitement, but you get to see it all in action. In fact, we love them so much that we're going to tell you how to make your very own!
How To Make An Unboxing Video To Show Off Your kidpik Delivery
When you create an unboxing video, the most important thing is that you have lots of fun. And if you want to share it on social media and (hopefully) get more than a few views, we've got some tips and tricks to help you make it look great.
💛 Get the tech right - you don't have to use a fancy camera and microphone, simply use your smartphone. It is important to make sure the sound is clear, that the lighting is bright and the image is steady. Do a short test video with your setup before you start, to make sure it gets a pass on sound and display quality. Also Mom or Dad can be of help with the tech and taking the video.
💛 Do an intro, but make it quick - your viewers want to meet you and see the exciting part… the unboxing, and what's inside!
💛 Pay attention to the detail - the best unboxing videos talk about EVERYTHING from the sparkly sequins on your new shirt to the cute pattern on the tissue paper it's wrapped in. So let your viewers see every element you get as part of your outfit subscription unboxing.
💛 Be real - it's okay to share your surprise and excitement, and it's also okay to say if you're not sure if an item in the box isn't right for you. Just be yourself!
💛 Record your first reaction - make sure you capture your REAL reactions the first time you unbox and look at the items. The best unboxers resist having a peek inside the box before they hit record.
💛 Jazz it up - after you've recorded your video, you can use apps and programs to add effects, royalty-free music, and voiceovers - but only if you want to. This can be a fun activity and a great way to improve your video editing and production skills, but you might need a few hours (and some patience) to get it done.
💛 SHARE! - once your video is recorded and edited, it's time to release it online! Make sure you use the video description and video title options to give your video a clear title like "Elly Unboxes Excitement With The Latest kidpik Subscription Box!"
Some Of Our Absolute Favorite Unboxing Videos 💛
In between putting together your super cool kidpik boxes, our team loves to take a break and watch unboxing videos. We love seeing the look on our little fashionistas' faces when they see all the super cute outfits we've packed in their outfit subscription box. Here are some of our favorite kidpik unboxings from the last few years...
Allie's
Outfit Subscription
Unboxing
We love Allie's unboxing video! In this video, she goes through each piece and gives us her first reactions to everything, which is always super fun for us - and for any viewers. We especially love that she does a fashion show at the end so we can see what each item looks like and how to mix and match pieces for different looks.
Savannah's First kidpik!
Savannah's unboxing video is seriously pro and fun! She shows us each piece in detail and says what she loves about it. And she really, really loves sparkly things. We love how she stops and puts the pieces together when she notices how they match and then tries them on and presents us with a fashion show at the end.
Daisy & Briar Rose Open Their Boxes Together!
In this super cute video, sisters Daisy and Briar Rose check out their kidpik outfit subscriptions together, while their mom joins in from behind the camera. Their Mom was super helpful for viewers too, by adding a video at about the 6:30 mark to show the process she went through with her girls to order their boxes. This can help your friends and viewers see how easy and fun it is to get their own outfit subscription box! Finally, we love the epic fashion show with both girls showing off their favorite pieces.
The Gem Sisters Open Their Boxes Together!
We love how these girls opened their boxes in sync… 1, 2, 3… SQUEAL! These girls are hilarious and we love the dynamic they've got going on between them. So if you can unbox with a friend or sibling… even better!
Tip: like the Gem Sisters, you can ask your audience to interact - leave a comment, subscribe, leave an emoji, or hit the "like" button! The more people who interact with your video, the more people will get to see it!
Hayley Opens Her
Outfit Subscription
Box
This is a super adorable unboxing video! Hayley gives us her reaction to each piece of clothing as she takes it out and you can tell what she loves the most… dresses!
An Important Tip
Make sure you have your mom and dad's permission before you follow any of the steps we've listed here. You should only create and share videos and pictures with your parents' full approval and under their supervision.
If your parents aren't comfortable with you showing off your outfit subscription on social media, maybe they'll let you send it via email to a few select friends and family members. Or perhaps they'll let you create a video just for fun that you can show off when friends and family come over. Whatever you do, have fun and follow the rules.
Get Your
Outfit Subscription
Box and Unbox the Excitement!
If you are already a member of the kidpik fashion subscription box family, it's time to plan the unboxing video of your next box!
And if you don't have a outfit subscription with kidpik yet… why not? You don't have to waste time and head to the mall or worry about coordinating which bottom goes with what top and in what color. Instead, you can get amazing kids' fashion that is affordable, fun and coordinated for your girls' unique look and likes, with our kidpik outfit subscription box.
Ready to get started? It's super easy. When you set up your account, we'll take you through a fun quiz to find out the looks, colors, patterns, fit, and amount of sparkle she loves. Also how often you want to receive your outfit subscription. Then our stylists will pick clothes that match your preferences and we'll deliver your box straight to your door! Easy peasy.
Once your outfit subscription arrives, you can unbox the excitement (make sure you record it!), and try everything on at home. Then you'll have 7 days to decide what you want to keep, exchange, or send back FREE of charge - even if it's the whole box!
We're super excited to see your amazing unboxing videos/photos and how you style your new clothes, so don't forget to use the hashtag #kidpik and tag us when you share your cool new clothes!
Happy Unboxing, Fashionistas!
Ready to try Kidpik?
Tell us about what your child loves (and doesn't love!) and our stylists will do the rest. They'll receive customized, surprise fashion delivered on your preferred schedule to unbox and try on at home.
Get Styled
Skip, pause, or cancel anytime.