Girls Winter Clothing: 16 Ways to Layer Cute Clothes For Girls
Girls Winter Clothing: 16 Ways to Layer Cute Clothes For Girls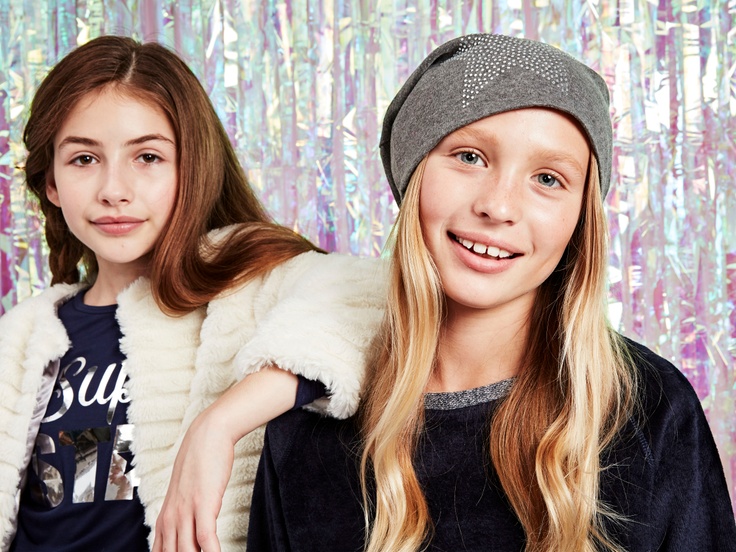 Girls Winter clothing that creates cute fashion outfits that keep you warm.
Dreaming about the end of winter already?
In many parts of the country, we've still got some time before the temperatures will start going up. But in the meantime, don't let your fashion fall behind! You can keep looking cute while staying comfortable and warm with these layering tips.
1. Choose Bright Colors
This time each year, it can feel a little gloomy. The days are shorter, colder, and darker. But that doesn't mean you should dress like the weather! Don't be afraid to brighten up your wardrobe with cute clothes for girls in your favorite colors and patterns.
2. Lightweight Layers Are Best!
One of the biggest winter fashion mistakes is bulking up too much. Even when it's super cold, it's usually better to wear lightweight, thin clothes and then layer it up from there. Just top it off with a warm jacket. This ensures you don't end up looking like a marshmallow and you can stay comfortable whether you're indoors or outdoors by adding and removing layers.
3. Go Heavy and Thick On Your Outer Layer
Even though we love lightweight layers, when it's really cold outside, you'll still need some added weight and thickness. Try to add thick jackets or knits to your outer layer only and limit yourself to wearing just one bulkier piece at a time over your favorite cute clothes. Girl, it's all about balancing out your heavy pieces with pieces that are lighter – it's that simple! That way you can feel warm without feeling like a giant snowball.
4. Find Key Base Pieces
When it comes to layering, you need to think as much about your base layer as you do about your outer later. Because while your outer layer (aka jacket) is going to be visible when you're out walking places, any time you head inside, you'll need to bring it back to your base layer (aka whatever's on underneath). So, make sure your t-shirt or dress sits nicely with your leggings or jeans, and the whole outfit works on its own without your jacket. One trick to really nailing your look is to make sure you have enough accessories to add interest once you take your jacket off – like a necklace, purse, or scarf.
5. Make Double Jackets Look Cute
Sometimes you'll need to wear more than one jacket to keep warm outside. But it doesn't have to be a fashion crime – in fact, layered jackets are up there as some of our favorite cute clothes for girls! Try mixing different textures and styles, like a structured denim jacket or overcoat with fuzzy polyester or a chunky knit cardigan. Or play with length and layer a cropped jacket over the top of a longer jacket, or a long coat over something much shorter. Suddenly, your outfit for super cold weather looks totally chic!
6. Leggings Are a Girl's Best Friend
Leggings are the perfect winter fashion item for girls. If you're wearing a coat up top, leggings can balance this out with a smaller silhouette on your legs, while keeping you comfortable and warm. And if you have an active day planned, they're a lot easier to move around in than jeans or chinos!
7. Keep Your Favorite Dresses
If you love wearing dresses and skirts, don't put them away until spring! You can keep wearing your favorites right through even the coldest weather. Simply layer them with leggings, skinny jeans, lightweight sweaters, and warm jackets. That way, you can wear your favorite cute clothes for girls year-round.
8. Make Loungewear Cool Again
Is it OK to wear sweatshirts and pants? Do they count as cute clothes for girls? You bet! Feel comfy and warm in your sweats without sacrificing style – just add a cute scarf, tuck your pants into your boots, and layer a more structured jacket over the top. Or if you're just hanging at home, you can totally rock the sweats on their own!
9. Mix Lengths
Don't be afraid to experiment with length in your outfit. It'll often look best if you have a few pieces that finish at different points. For example, full-length leggings, cropped boots, a knee-length dress, and a cropped jacket. Or you might choose a cute printed tee that ends at your hips and a long jacket that drapes down to your knees. Mixing the length of your layers adds interest and style, and it stops any one part of your outfit from looking bulky.
10. Invest In Versatile Winter Shoes
We can't talk about how to layer cute clothes for girls without covering shoes! Shoes are so important to consider in winter – you need something that'll work with all those layers and keep your feet toasty warm in the cold. There are so many boots and sneakers that will complete your look.
11. Think Outside the Box When It Gets Freezing
Winter is such an exciting time for fashionistas – it's a chance to really get creative and think outside the box with all those layers. So, use this season to experiment and layer cute clothes for girls in ways you don't normally! Add an extra layer of socks, an extra scarf, or double up with two pairs of leggings. See what your dress looks like under or over your shirt, and mix in textures and colors you wouldn't usually go for. With so many layers, there are tons of opportunities to incorporate your style and personality into your winter wardrobe.
12. Accessorize to Keep Your Hands, Toes, and Head Warm
Brrrh! You'll really know it's cold when you can't step outside without gloves, a scarf, and a beanie! Keep your fingers, head, and toes warm with all the accessories that double up as fashion statements. And don't forget socks – choose a cute pattern in case you want to show them off! Here's a "handy" tip (get it?): if you find yourself forgetting your gloves, leave them in your coat pockets so you always have a pair with you when you're out.
13. Add Shape with a Belt
If your outfit starts to look a little bulky with all those layers, add a belt over the top! It'll help pull the layers together and add some more shape to your silhouette. And when winter's over, you can use it to cinch in dresses and loose tees.
14. Master the Art of Tucking
The thing about layers is that you don't want everything to hang loose (unless that's the look you're going for). Add a little more definition by carefully tucking your shirt into the top of your pants or skirt. And tuck your pants into your boots. If you find your pants tricky to tuck into your boots, tuck them firmly into your socks first!
15. Think About Waterproofing
There's nothing worse than being cold AND wet! In the winter, it's especially important to keep dry while you keep warm. So make sure you add a water-resistant coat and boots as your outer layers if it's rainy or snowy out.
16. Winter Layering In YOUR Style
Every fashionista has their own unique way of styling for winter and layering different pieces. Below, we've put together some specific tips for each of kidpik's four style categories. All you need to do is check out the tips for your unique style below!
(Psst! If you don't know which category you fall into, you can find out in our fun style quiz when you sign up!)
Classic Cool
Choose classic colors that mix easily for lots of mix-and-match outfit options (go with mainly neutrals and add a pop or your favorite colors)

Layer your favorite tops and dresses over a block colored top

Rock your chinos and denim skinny jeans

Cinch your dress or cardigan in with a belt
Finish off your outfit with a denim jacket and scarf
Girl Glam
Look for soft textured or faux fur jackets

Try a chunky-knit cardigan

Layer with flowy dresses and skirts
Wear pastels and florals – they're totally allowed in winter

Accessorize with a knit scarf and beanie

Look for sequins and glitter
Trendista
Layering is your time to experiment with mixing textures and styles
Go for fun faux fur jackets

Brighten up the day with loud colors and shiny metallics

Keep it trendy with colored skinny jeans
Always Active
Layer leggings with long-line tees, dresses, and skirts
Wear hi-top sneakers with just about anything

Stay comfy and warm with sweatshirts, sweatpants, and hoodies

Wear lighter clothes underneath so you can peel back the layers as you get moving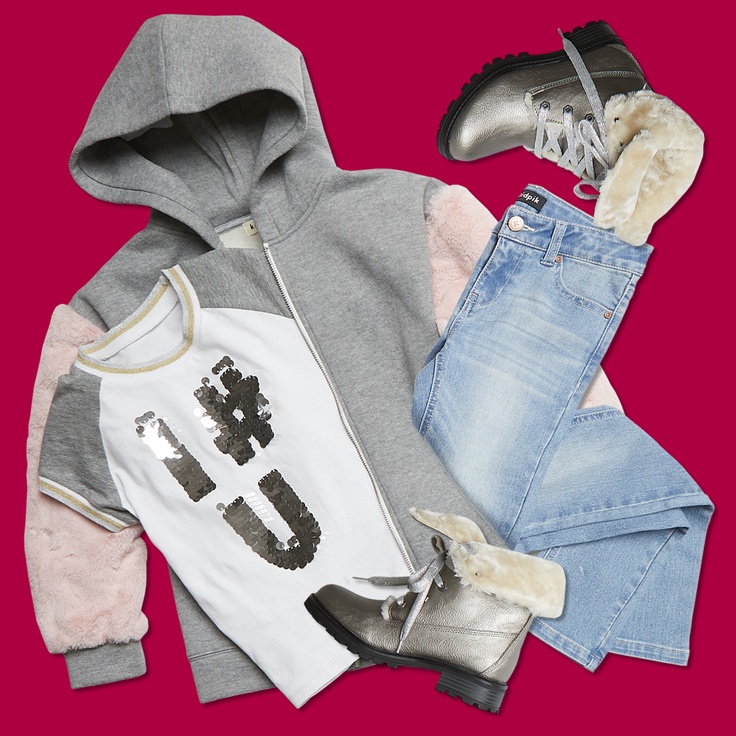 Want More Winter Outfit Ideas?
Check out our previous article, Winter 2018: 10 Cute Outfit Ideas for Girls for more tips on how to choose cute clothes for girls in winter. Plus, get ideas to help transition clothing between seasons and style your outfits for cool weather.
Get More Winter Styling Options Delivered
Does your winter wardrobe look more drab than cute? Clothes for girls should make you look and feel amazing, even when it's cold outside. So if you need a few more winter styling options to mix, match, and layer this cool season, why not sign up for a kidpik box? There are so many reasons you (and your parents) will love kidpik:
Get fashion styled for YOU and your unique personality

Get 3 fully coordinated, head-to-toe outfits
Enjoy stylish, fashion-forward and high-quality pieces

With everything delivered straight to your door to try on at home

It's a flexible

clothing subscription box

you can start, pause or stop at any time

Plus, enjoy free shipping and returns only pay for the items you choose to keep

It's the most convenient, low-risk way to buy

cute clothes for girls

online
Best of all… you won't have to head out in the cold to shop for new clothes!
Ready to try Kidpik?
Tell us about what your child loves (and doesn't love!) and our stylists will do the rest. They'll receive customized, surprise fashion delivered on your preferred schedule to unbox and try on at home.
Get Styled
Skip, pause, or cancel anytime.