Why Subscription Boxes Make the BEST Valentine's Day Gift for Kids
Why Subscription Boxes Make the BEST Valentine's Day Gift for Kids
Valentine's Day might be one of our favorite holidays here at kidpik. We're all about the love. 💛 And there's nothing sweeter than showing your girl how much you love her with a personalized Valentine's Day gift – just for her!
So, what are you going to get your girl for V-day? A subscription box – of course! There are tons of subscription boxes out there...toys, games, education, and more. But we're going to talk about our favorite option - clothing subscriptions! So, here are 14 reasons why they make amazing Valentine's Day gifts for kids…
1. It's Personalized and Uniquely Her
Nothing says "I love you" and "you're super special to me" like a personalized gift. But trying to personalize a gift or find something that's just right at your local mall can take up hours of time you just don't have. A subscription box is perfect, though. With kidpik, for example, all your girl needs to do is take our style quiz and her stylist will put together items that are uniquely her. That means she gets a super special gift and you don't have to spend hours guessing what to get her. Double win!
2. It's the Gift That Keeps on Giving
Valentine's Day is special, but it's over so quickly. We should say "I love you" and treat our favorite people more than just one day a year, right?
A subscription box is the gift that keeps on giving because it'll come every month or so (depending on the frequency you choose). When you give her a subscription for Valentine's Day, your girl will get a regular, special reminder about how much you love her.
3. It's Practical – Every Girl Needs New Clothes
The best gifts are practical ones. Chocolates and roses are all very well and good, but a few days later you've got nothing to show for it. Besides, nobody needs flowers and chocolate (even if they love them), but everybody needs clothes. When you get your girl a clothing subscription box for Valentine's Day, there's a good chance she'll find a new favorite outfit that she'll love and wear again and again, not just enjoy once.
4. It Helps Her Develop Her Sense of Style
A clothing subscription box is an exciting opportunity for your girl to experiment and try new outfits she wouldn't normally get. A few boxes in and she'll know exactly what she loves to wear most and what clothes look and feel best for her. And that leads us to the next point…
5. It'll Help Her Grow in Confidence
When your girl develops her sense of style, she'll feel so much more confident. Plus, knowing that she has your full permission to be herself and dress in her own style is so empowering!
6. It's Memorable
Think back to your own childhood. Do you remember the times when you got mail that was just for you? Or when you opened up a present that became your new favorite thing? That's just one reason why a subscription box makes the best Valentine's Day gift for your kid – and one that she'll remember forever!
7. It's a Surprise
Kids love surprises. The thing about a subscription box is you'll never know what's inside until your girl unboxes the fun! Because every month is different and every box is tailored to your girl's preferences, she'll get a surprise every time. And the best gifts are thoughtful ones you weren't expecting, right?
8. It Suits Every Diet
Valentine's Day is tricky for some families because while everyone's giving out chocolates and sweets not every kid can eat them. A lot of children today are vegan, gluten-free, dairy-free, nut-free, low-fat, or sugar-free. Whatever your girl's lifestyle, a clothing subscription box is sure to suit—and it'll be around for a lot longer than a box of chocolates!
9. It's Risk-Free
Unlike other Valentine's Day gifts for kids, a clothing subscription box is one gift you can return easily, no strings attached. That feature is especially awesome because your girl can try everything in the box on at home – no yucky mall changerooms. And you don't have to worry about getting the sizes just right (always a source of stress when it comes to online clothes shopping). With free shipping and returns, if your girl doesn't fit or want something in her box, she can send it back (and it won't cost a thing).
10. It's Not Handmade, But It IS Handpicked
We love handmade gifts! There's something so special about a handcrafted card, made with love. While we don't handmake our boxes or the items in them, we DO handpick them for your girl. Her stylist carefully considers her preferences and style and puts together outfits for girls she's (probably) going to love. So, when you order a subscription box for kids, she gets a gift with a very personal touch.
11. She Won't Be Expecting It
Your girl might be expecting roses or chocolates or maybe some other kind of sweet treat. So, imagine her total surprise when she sees you got her something totally different for Valentine's Day! Gifts you don't expect are just that much more special.
12. It Comes With So Many Extra Bonuses
Every kidpik box comes with a free gift your girl can keep forever. But, that's not the only bonus feature—it's so much more than just a fashion box! Read more in our previous blog, 14 Things You Can Expect From Your kidpik Clothing Subscription Box.
13. It's Super Convenient
When you're a busy parent, Valentine's Day can creep up on you. Wasn't it just Christmas? Yes, yes it was.
Luckily, you don't have to head out to the mall to grab a last-minute gift or spend hours trying to come up with the perfect Valentine's Day gift for your kid. Ordering a subscription box online is fast and convenient, and you can do it all from the comfort of your own home. Which brings us to the final point…
14. It's Instant
So, even if it's the night before Valentine's Day or the day of you can still get your kid a last-minute gift (and they'll never have to know). All you need to do is sign up for an account to get started and order your girl's first box. Or if you prefer, you can email or print a gift card your girl can use towards her box – and it's delivered instantly! It's so fast and so easy.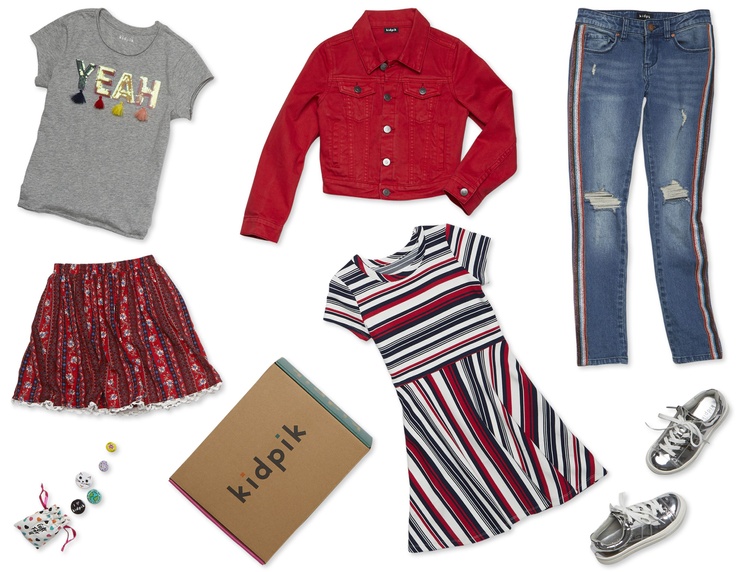 Order a
Subscription Box
For Valentine's Day!
We think you'll agree that a subscription box like kidpik is the perfect Valentine's Day gift for any little girl you love. To give your girl a kidpik subscription box, just follow these 4 easy steps:
Sign up for your kidpik account

(it's free!)
Do the fun quiz with your girl to find out what she LOVES (also free!)
Sit back and wait! Our stylists will put together your girl's box and deliver it straight to your door (you guessed it – also free!)
Your girl gets to unbox the fun, try everything on, and whatever she doesn't want to keep gets shipped back to us at no cost to you
OR if you prefer, order a kidpik gift card and get it emailed to you instantly for the fastest (and bestest) Valentine's Day gift ever.
How Do You Celebrate Valentine's Day?
Over to you now…we'd love to know how you plan to celebrate Valentine's Day as a family. Do you have any special traditions or activities planned?
Hope you have a happy Valentine's Day 💛 from the team at kidpik!
Ready to try Kidpik?
Tell us about what your child loves (and doesn't love!) and our stylists will do the rest. They'll receive customized, surprise fashion delivered on your preferred schedule to unbox and try on at home.
Get Styled
Skip, pause, or cancel anytime.