Back To School Shopping Guide: What Your Child Really Needs
Back To School Shopping Guide: What Your Child Really Needs
There's a sense of anticipation in the air. It's back-to-school shopping time! This season brings the excitement of new beginnings and the annual tradition of refreshing your child's wardrobe. Let Kidpik take the stress out of this tradition with curated subscription boxes. Each box is jam-packed with trendy and comfortable outfits for kids ranging from size 2T to 16 years.
We all know that dressing up for school is about more than just looking good. It's about feeling confident and ready to take on a day of learning, playing, and making memories. With this in mind, our style experts put together some thoughts about what your child needs for back-to-school and how to make it stress-free!
Back-to-School Shopping Made Better: Kidpik Subscription Box
To start, let's address one of the most efficient and stress-free solutions for assembling the perfect back-to-school wardrobe for kids. Kidpik offers back-to-school subscription boxes that are just a click away. Each box comes filled with mix-n-match outfits and shoes that can transition from the box to your child's closet in a blink of an eye. There's a Starter 6-piece box, a Deluxe 8-piece box, and a Big Box with 12-pieces that can get kids past the first days of school and even into the next season.
Mix-n-Match: Head to Toe Looks with Shoes
Children need a sense of independence and parents need easier mornings. That's the magic of a Kidpik subscription box. Each box comes with full outfits, including shoes if ordered, that's exactly what they will love. Take a fun 3-minute quiz and before you know it a box of mix-n-match styles in their favorite colors and styles will arrive at your doorstep.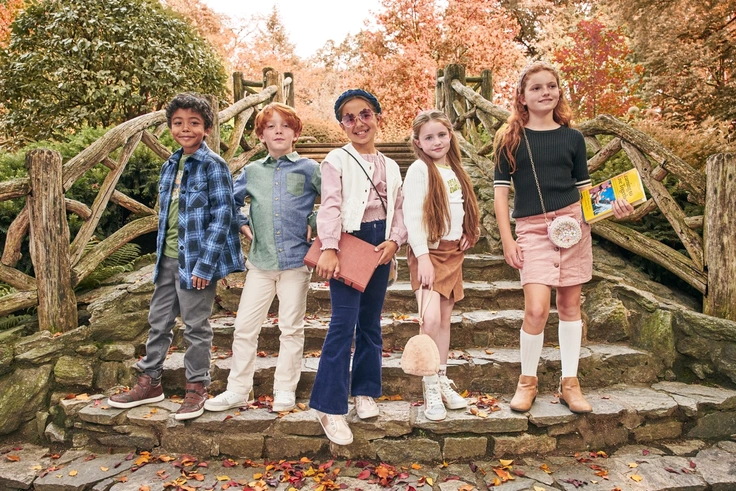 Trending Now: Casual and Comfortable
First and foremost, kids want to be comfortable. That means soft fabrics, pants that go from classroom to playground easily and allow for a range of activities, and tops and bottoms that are easy on and off. Kidpik's back-to-school collection is filled with joggers in the softest washes, t-shirts that offer all day comfort and are great for layering, and even dressier looks that feel like they could be sweatpants!
Dapper Dressing: Boys Beyond Basics
Every once in a while, special occasions at school call for a slightly more formal dress code. Did someone say picture day? At Kidpik we know that formal does not have to mean uncomfortable. Consider a button-down shirt with special details in the pocket or in a bright color. There's even a range of plaids they are sure to love. Pair it with a khaki combo French Terry and it's a look that stylish yet comfortable enough for the whole day.
Dress to Impress: Florals, Stripes, and Solids
Dresses are a no-brainer when it comes to easy, stylish dressing. Just like adults, girls can also benefit from the simplicity and versatility of dresses. Whether your little girl is a fan of solid colors, stripes, or florals, Kidpik has a range of dresses that will make her look and feel her best. Styles are also available in long and short sleeves that make layering with a denim jacket or sweater easy.
Ready to try Kidpik?
Tell us about what your child loves (and doesn't love!) and our stylists will do the rest. They'll receive customized, surprise fashion delivered on your preferred schedule to unbox and try on at home.
Get Styled
Skip, pause, or cancel anytime.