Packing the Perfect Girl's Wardrobe by Summer Destination Locations
Packing the Perfect Girl's Wardrobe by Summer Destination Locations
Summer is right around the corner, and that means vacation time is near! Whether it's a trip to the beach, a lake, the mountains, or city, choosing the right outfit for your girl will ensure that she's confident and comfortable wherever the family may go. With kidpik clothing subscription boxes your girl will be ready to soak up the sun in this summer's hottest kids' vacation-wear!
Summer's Fashion Forecast
This summer's trends are fresh, floral, colorful and sporty, while pre-washed colors and pastels seem to be here to stay. Ruffles, fringe, tassels, sparkles and embroidery are exciting additions to colors and patterns that lean towards the bright and bold. Denim is a must have too – in both traditional blues and a variety of colors.
Planning Ahead
Finding the best clothing, shoes, and accessories for girls to wear on vacation can be a bit tricky. You've got to prepare for a variety of possible activities and changing weather, plus your girl wants to look fashionable, comfy and cool. But don't worry. At kidpik, we've thought of it all! You take care of the vacation planning, and we'll make sure your girl has summery and fun outfits that are easy to match and ready to go, no matter what adventures she's got planned.
First, let's talk about some of the different things you'll need to consider when choosing vacation outfits for girls. Then we'll share some of our favorite vacation-friendly outfits that are cute, comfy and easy to wear.
A bit of research on your vacation destination can help ensure that you'll be ready for whatever Mother Nature brings, whether it's a cold summer rain in the mountains or windstorm at the beach. Here are a few things you may want to consider when choosing vacation clothes for your girl:
What's the weather going to be like?
Are there any cultural customs to adhere to?
How many days of clothing will we need?
Will we be eating at any dressy restaurants?
What type of activities will we be doing while we are there?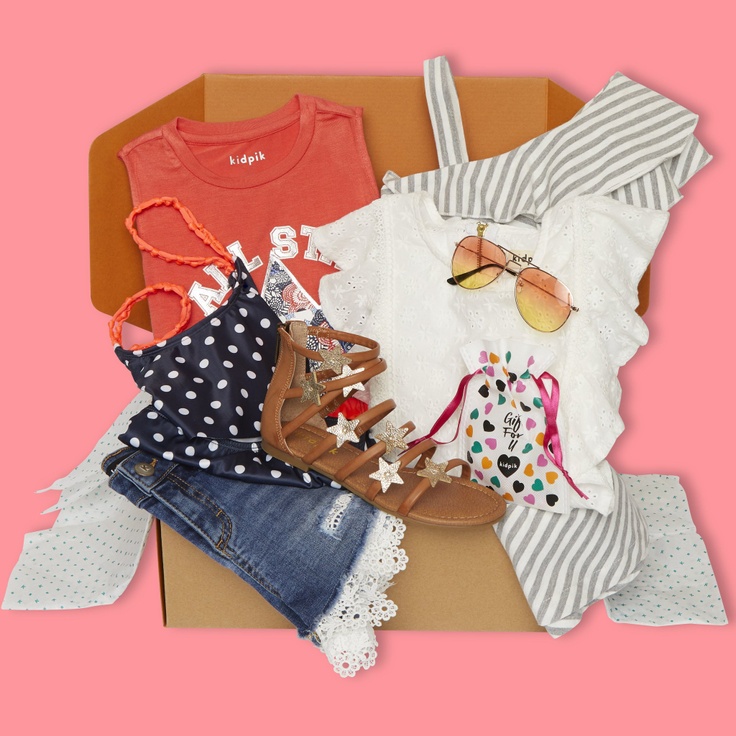 Vacation Clothing Ideas by Destination
With so many different possible scenarios, it's almost impossible to plan for everything. But with kidpik clothing subscription boxes and the right mix-and-match girls clothes, you can create trendy and comfortable outfits for your girl that will work wherever you go. Here are a few of our favorite picks that are vacation friendly and versatile enough to work for whatever adventures she'll encounter.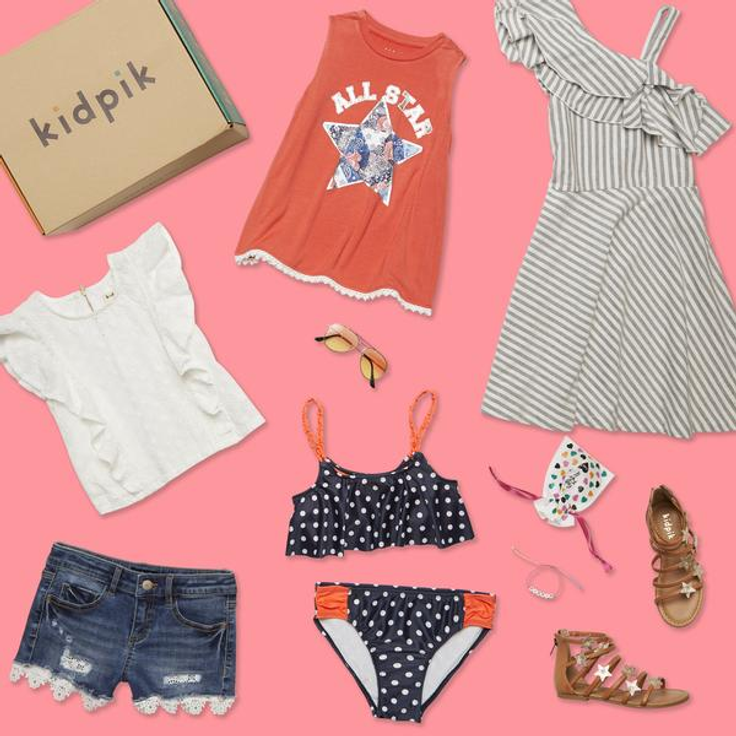 The Beach Vacation
Summer's style is all about cool profiles which makes packing for the beach a breeze. Keep in mind the days will be hot and the nights will be warm, so lighter colors and lightweight fabrics that help keep her cool are a must.
Frayed denim shorts work well with a soft cotton tee and sandals creating a look that's casual yet on-trend. Capris with a billowy blouse, or even loose pants with some feminine flower patterns can all create a look that's fashion-forward and fun while keeping her comfy and cool.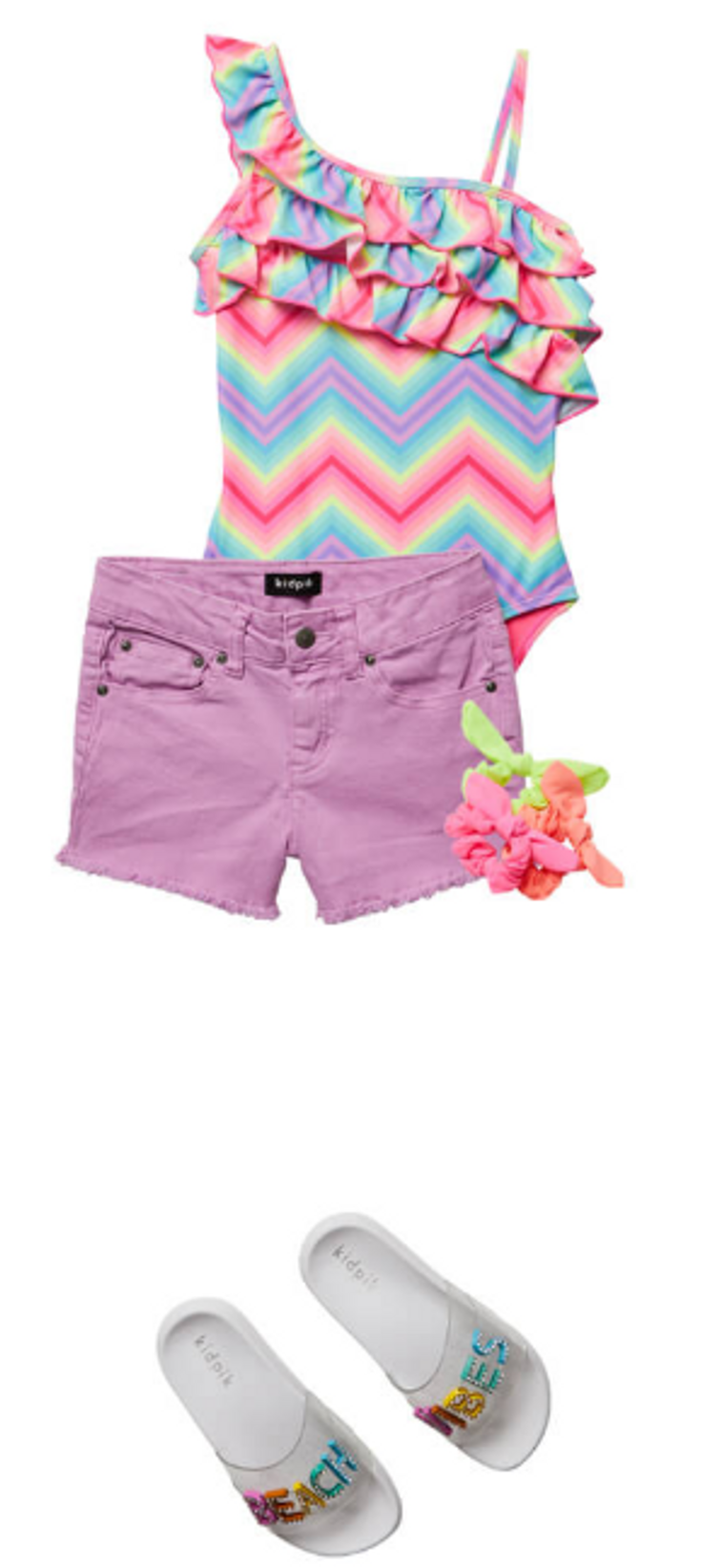 We love this beach-ready look! It's quick and simple and so much fun. The colorfully patterned swimsuit with a pair of colored denim shorts and beachy flipflops create a look that's perfect for enjoying the sun, sea, and sand. And don't forget a matching hair tie to pull it all together.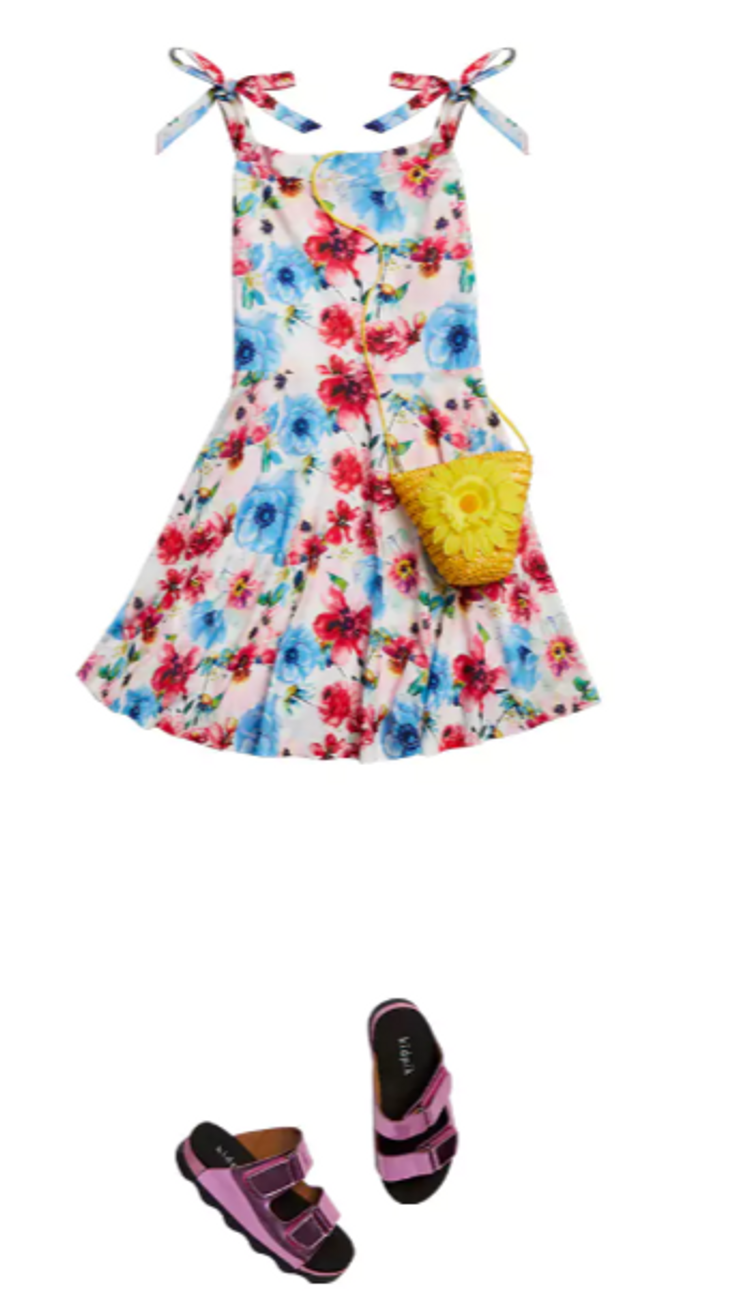 For dinner, a flowing flowery sundress with bow tie straps, a comfy pair of sandals and a straw purse will have your girly glam girl dressed to impress!
The Lake Vacation
Denim is perfect for vacations and 4th of July celebrations at the lake, plus it's easy to mix-and-match with any of her favorite tops. We love the casual look of this classic denim jumper paired with a brightly colored tank and matching shoes. It's cool, comfy and perfect for exploring, running and playing.
A striped cotton tee shirt layered with trendy denim overalls and comfy shoes is another laid-back lake-worthy look that will keep her smiling and styling while she's waiting for dinner to cook on the grill.
A Mountain Vacation
Warm, sunny days paired with cool starry nights, plus an abundance of outdoor activities make a mountain vacay a refreshing summer getaway. Most people think of going to the mountains as a cold weather trip, but mountain cabins and resorts are becoming vacation hot spots during the warmer months, too.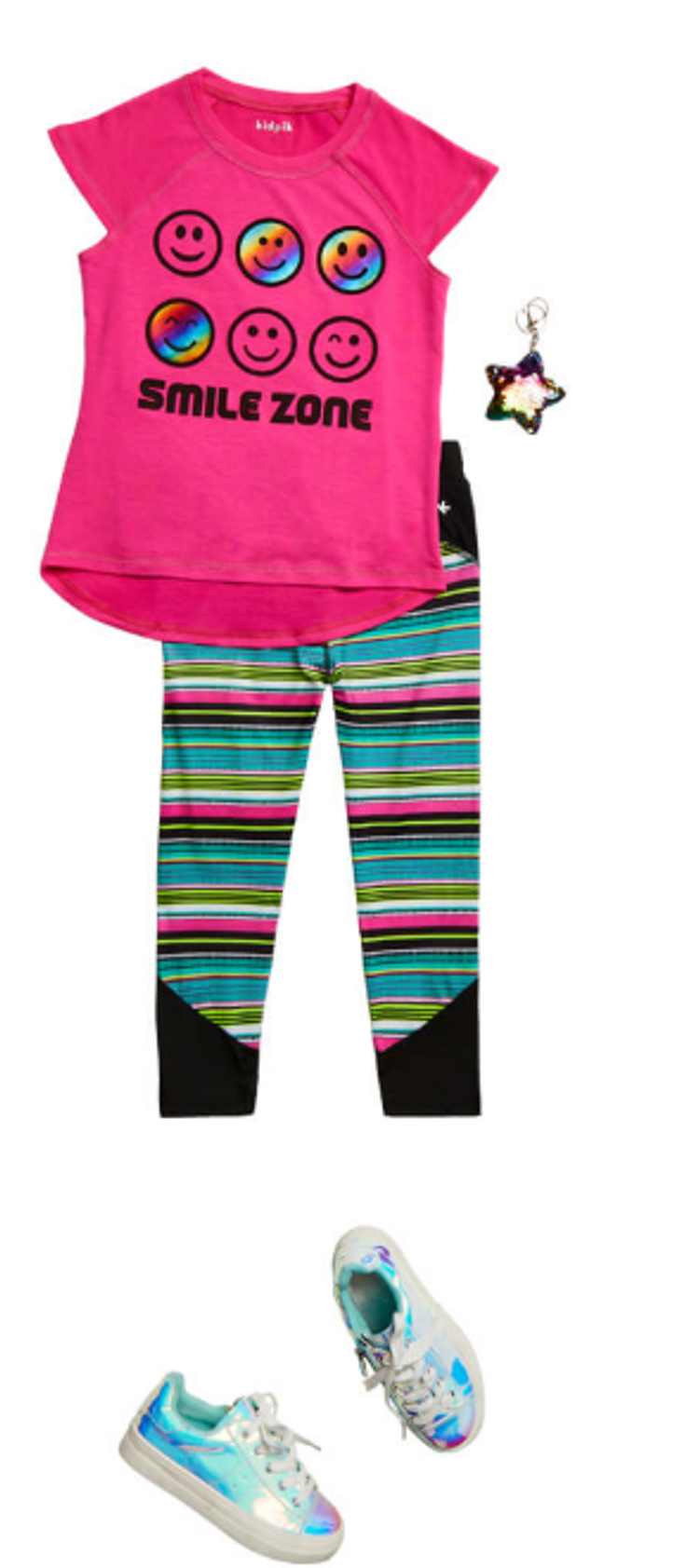 If your girl loves being active outdoors, this style is perfect for her! Combine some plain or patterned leggings with a matching tee or tank along with a pair of sneakers or sturdy boots and your girl will be ready to hike, bike, climb and do any other outdoor activity in style!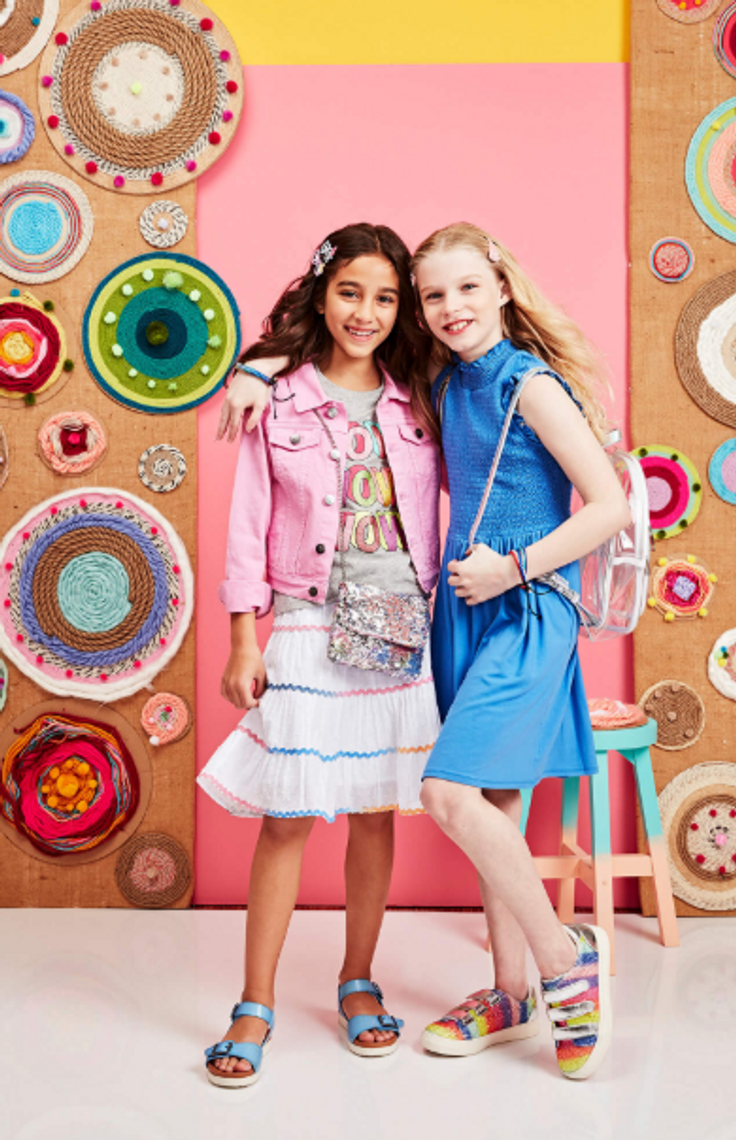 At night, a cute skirt and tee is perfect for casual mountain town dining. Add a colored denim jacket to help fight off any chill in the air, and a matching purse to tie it all together for a fashion forward look any girly girl will adore.
A ruffled sleeve dress is another great versatile piece for a mountain vacation. Paired with colorful sneakers it's comfortable to wear and perfect for exploring all the town has to offer. Plus, you can dress it up by switching the sneakers for a pair of flats or sandals. Add a light denim jacket for warmth and cute small purse style.
A City Vacation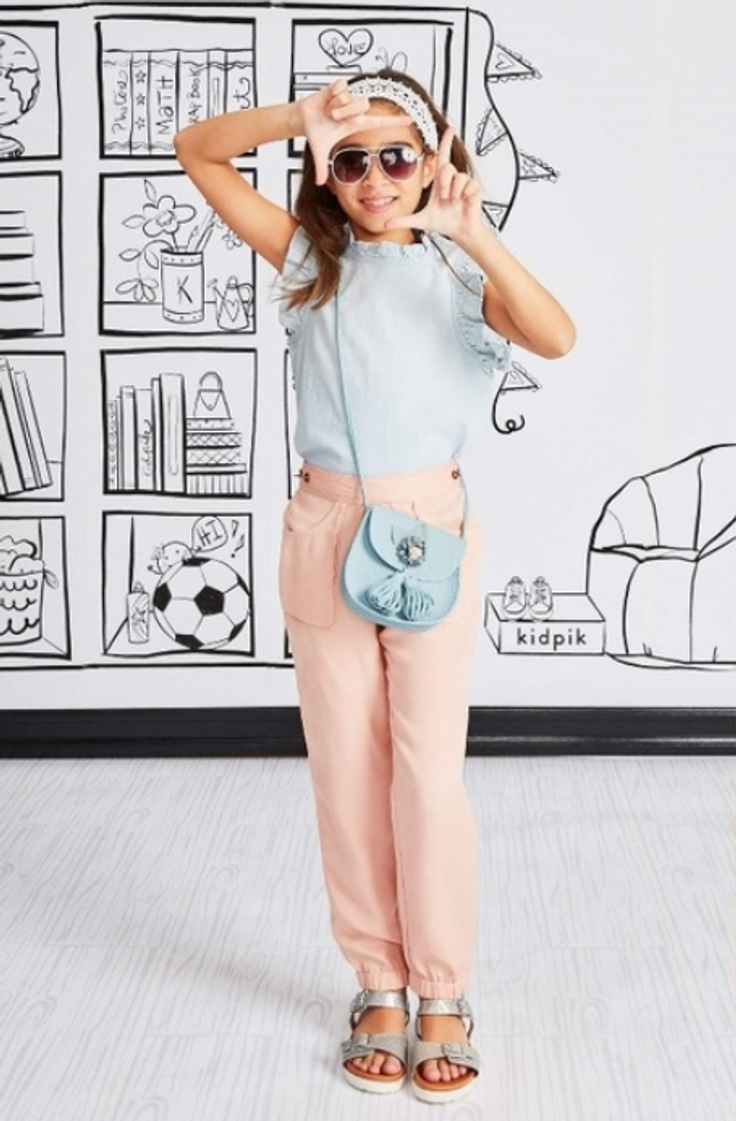 Packing for an urban retreat in summer can be a feat, but with kidpik clothing subscription boxes your girl will have just what she needs for a city vacation. A stylish pair of lightweight pants with a ruffle sleeve tank is trendy and cool, yet easy to move around in. Finish the look with shiny sandals, a lacy headband and matching cross body bag.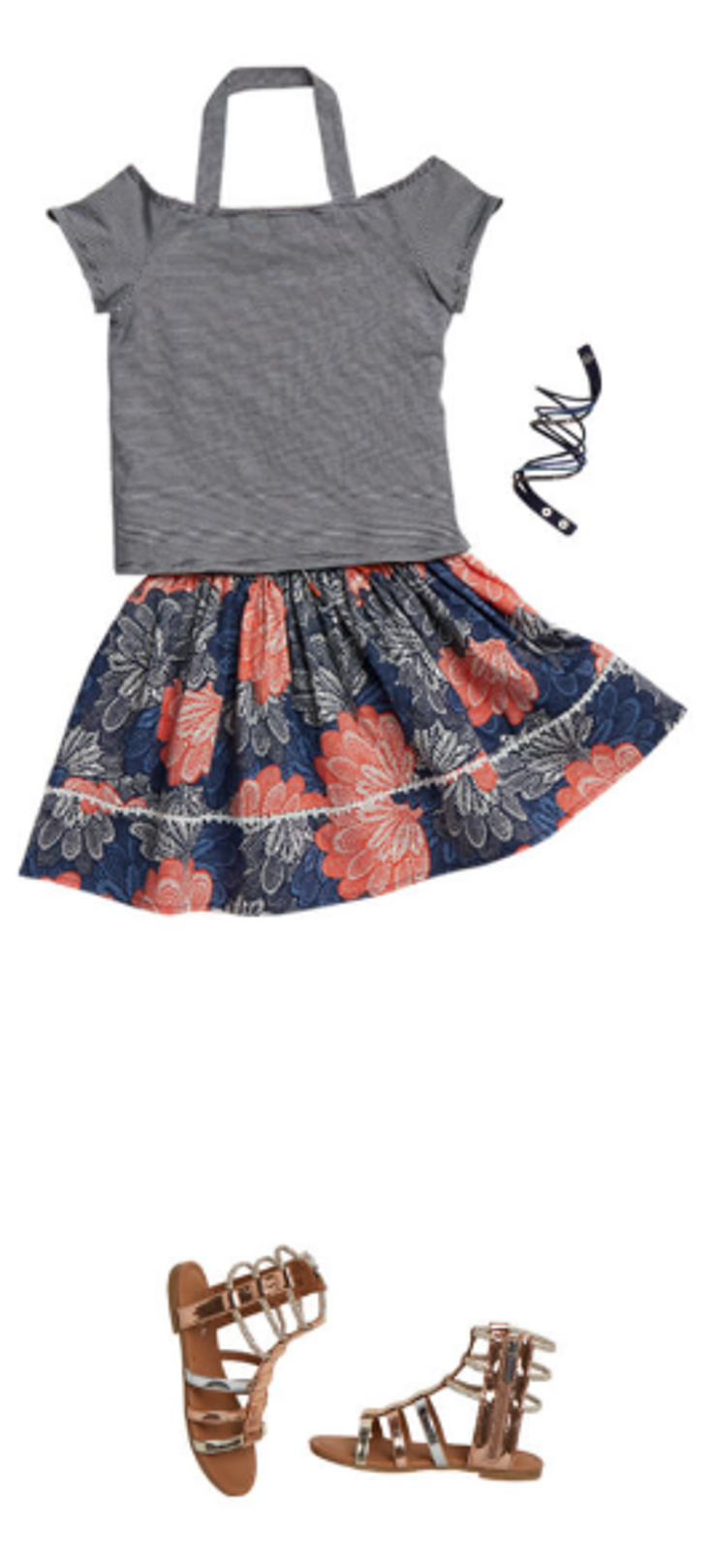 For a nighttime look that your classic chic girl will love, an off-the-shoulder dress with ruffle-trimmed sleeves or a cute summery skirt with matching shirt works well with strappy sandals and accessories.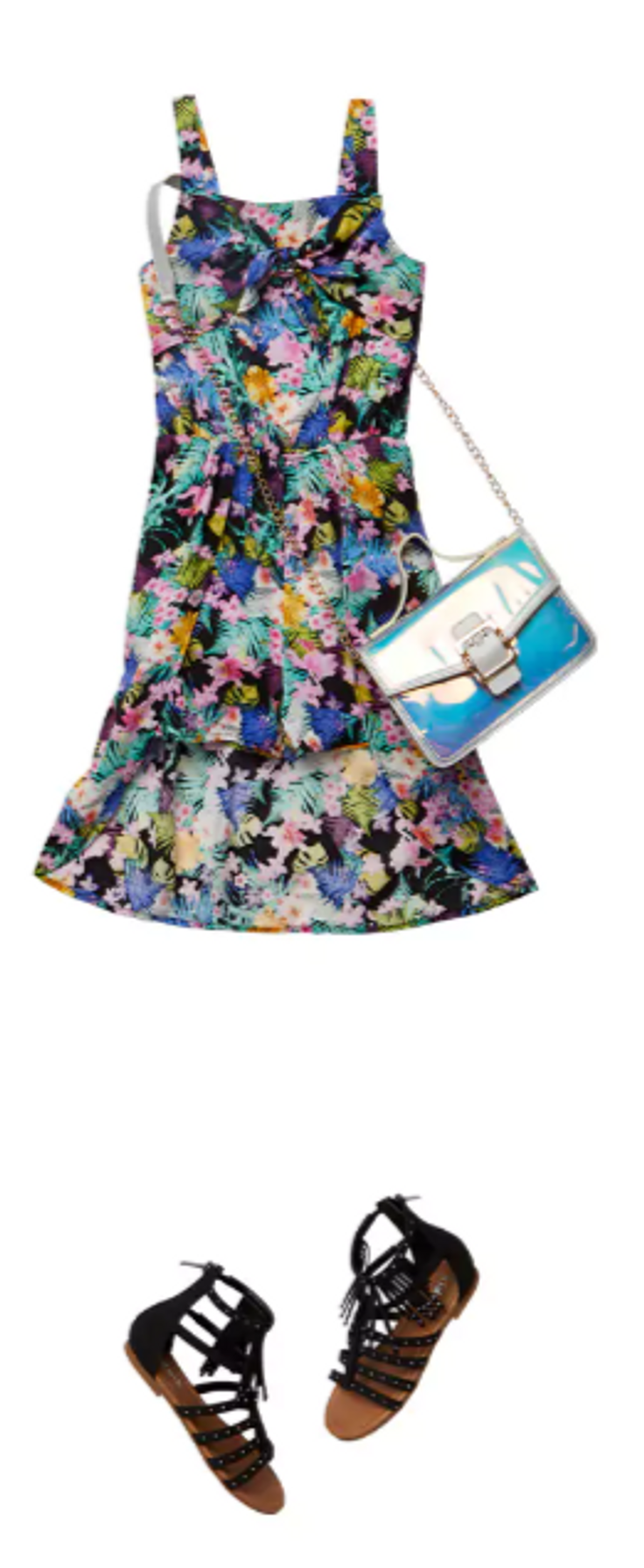 This fitted floral dress with layered short and fringed strappy sandals is another trendy look that works perfectly for the city, day or night. Don't forget accessories such as a shiny purse and earrings!
Travel Outfits for Girls – The Basics
Packing for a vacation is never as fun as planning for one. Below, we have put together a list of basic packing tips that will help get you started on creating and packing a summer wardrobe your girl will love. Then, once you add in the right mix-and-match pieces, you'll have versatile summer vacation outfits that are perfect for your girl no matter when you go.
one T-shirt for each day you will be gone
one pair of shorts for each day
one pair of socks for each day
a pretty summer dress
a pair of jeans
one or two long sleeve T-shirts
one warm outer layer such as a waterproof jacket
shoes including a pair of summer sandals, flip flops for water sports, and closed-toe shoes such as sneakers for walking, bicycling, hiking, or amusement parks.
a hat to protect her face from the sun & don't forget the sunblock.
a bag to carry extras such as a beach towel and float, or a change of clothes if needed
hair accessories and jewelry
Get Mix-and-Match Outfits for Girls
Still not sure how to find summer vacation outfits your girl will love? Why not take the stress out of figuring out coordinated girl's outfits for your summer vacation and let us do the work instead! With kidpik clothing subscription boxes, all the outfit coordination is done for you.
Here's How kidpik Works
Whether your girl is active and outdoorsy, classically chic, a trendista or a glamorous girly girl, with kidpik she'll have the summer's cutest and trendiest fashionable pieces curated to fit her own unique personality and style.
First, you take our fun style quiz and tell us all about her favorite styles, patterns, colors, and kids' fashion looks. Then her stylist will get to work finding mix and match tops, shorts, skirts, dresses and shoes that are curated to your girl's unique likes and personal style.
Soon, her first girl's subscription box will arrive at your door! Each kidpik clothing subscription box comes with 7 high-quality and on-trend items including a pair of fabulous shoes! You keep what you want and return what you don't. It's that simple!
Your girl is going to love the exciting unboxing experience, and you are going to love not having to spend time at the mall combing through racks of clothes trying to find coordinating outfits. She'll be fashion-forward, confident and happy rocking her personal style – and you'll be thrilled with the quality and price!
If you're ready to get new and exciting fashionable outfits monthly or bi-monthly that your girl will love, sign up for kidpik clothing subscription boxes today!
What's Your Girl's Favorite Summer Vacation Destination?
Where is your girl's favorite place to summer? And how do you prep her outfit so she's stylish and comfortable all day long? Let us know in the comments below!
Ready to try Kidpik?
Tell us about what your child loves (and doesn't love!) and our stylists will do the rest. They'll receive customized, surprise fashion delivered on your preferred schedule to unbox and try on at home.
Get Styled
Skip, pause, or cancel anytime.